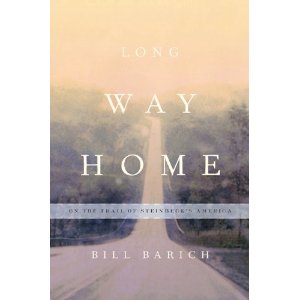 978-0802717542 – Walker & Co. – Hardcover – $26.00 (e-book version also available)
Bill Barich is a fine writer, comfortable with words, a natural storyteller who is self-aware and a careful observer of character as well as landscape.  He's got a great narrative voice that makes his books very easy to read and deeply engrossing.
In the summer of 2008, Barich, who has lived in Dublin, Ireland for some time, decided to take a journey across America, essentially following in the footsteps of the great John Steinbeck, who made the cross-country journey (ostensibly to rediscover America, but more likely a stab at rediscovering his own literary voice, which resulted in Travels with Charley in 1962).
Of course Barich and Steinbeck differ in significant ways.  And the early 1960's were a very different time than 2008 for America.  Barich's trip came at the time of our massive economic collapse, and the rising presidential campaign of Barack Obama, both of which become thematic backdrops for his story.  Steinbeck traveled in pick up truck with a home made camper out back, and with his dog, Charley, whereas Barich drove a rented Ford Focus (almost 6000 miles!) and stayed in motels.  But Steinbeck is the ever present model for the later traveler, whose outlook is certainly as different as the country he explores.
In fact, Barich's story is engrossing from beginning to end.  He starts the trip in Maryland, and stays on US 50 west to the Golden State, with stops and sidetrips along the way that are always interesting, even though often sad and sometimes even depressing.  He is, after all, reporting on America as he finds it, which includes features and political themes that are not always what we might have wished or hoped for.  It's an honest portrait, and a story well told.  I've done my share of cross-country traveling, and very much enjoyed this book and my conversation with Barich about it.  There's a good deal of back story and detail in this conversation we had some fun with and which I hope listeners will enjoy.
Bill Barich is the author of seven books, including Laughing in the Hills, which was named one of the hundred best sports books of all time. Other works include a novel, Carson Valley, and another work of nonfiction, A Fine Place to Daydream: Racehorses, Romance, and the Irish and recently, A Pint of Plain which describes the decline of the traditional Irish pub. A Guggenheim Fellow, and literary laureate of the San Francisco Public Library, Barich now lives and works in Dublin.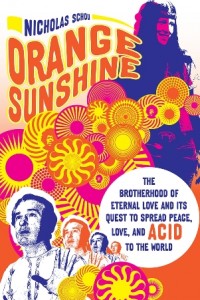 978-0312551834 – St. Martin's Press – Hardcover – $24.99
Nick Schou writes for the excellent OC Weekly (one of the several Village Voice papers) based in Orange County, California, home of Disneyland, Knott's Berry Farm, UC Irvine, the Los Angeles Angels of Anaheim, Little Saigon, and of course seemingly endless tracts of California suburbia.  But Orange County in the 1960's was also the birthplace of some of the most amazing scenes of hippiedom, and the little known "Brotherhood of Eternal Love."
In this book, Schou tells their story from beginning to end, and it is a pretty incredible saga, including what was probably the largest LSD manufacturing and distribution operation of all time, a world wide hashish and marijuana smuggling cartel, incredible tales involving Timothy Leary, and much, much more.
Known as "Hippie Mafia," the Brotherhood began in the mid-1960's as a small band of surfers (and in many cases petty criminals) in Southern California. After they discovered LSD, they took to Timothy Leary's mantra of "Turn on, tune in, and drop out" and resolved to make that vision a reality by becoming the biggest group of acid dealers and hashish smugglers in the nation, and literally providing the fuel for the psychedelic revolution in the process. In Orange Sunshine, Schou journeys deep inside the Brotherhood, combining exclusive interviews with many of the group's surviving members, former hangers on and supporters, and interstingly, the law enforcement establishment who pursued them and by doing so helped to launch what has now become an institutionalized government war on drugs.
Schou tells a compelling story of sex, drugs, and rock 'n' roll (and more drugs) that runs from Laguna Beach to Maui to Afghanistan, and a time when America moved from the golden era of peace and free love into the much darker time that soon followed, marked by hard drugs, international crime and paranoia.
Talking to Nick Schou gave me a chance to explore with him some of the background to the book, and to talk about the large amount of research he did to put it together, and the challenges he faced in getting some of the participants to even tell him what they did in those days.  We also talked about some of the more startling elements of the story of the Brotherhood, their involvement with Timothy Leary and Ram Dass, Orange County then and now, and much more.
This is a fascinating story, one that helps us understand some of the complex issues that began in the sixties and are still with us today.  This kind of grassroots history is important to document as it can give us all a chance to better comprehend the always diverse and sometimes simply amazing culture in which we live.