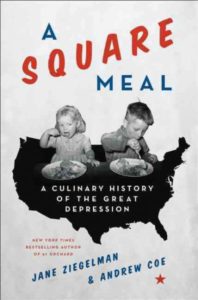 A Square Meal: A Culinary History of the Great Depression – Jane Ziegelman and Andrew Coe – HarperCollins – paperback now available – 9780062216427 – 336 pages – $15.99 – ebook versions available at lower prices.
First, let me say that this is one of the most interesting, readable and thought-provoking works of American history I have read in a long time. It's interesting to think about how two writers can work together to create a consistent and compelling authorial voice – Andrew and Jane have done that brilliantly. One must assume they have a very special marriage that enables them to both collaborate and live happily together.
If you are interested in food and how the American palate has changed over time, this book will certainly have much to offer. But I think the story here is broader than it may first appear. It's not just a "culinary history" but a comprehensive social history of one of the most important periods of American life told through the issues surrounding food and nutrition in a challenging time.
Yes, it is "an in-depth exploration of the greatest food crisis the nation has ever faced – and how it transformed America's culinary culture," but I think the larger story is that this book uses food as the lens to through which to view how Americans lived during our greatest economic and cultural crisis.
History writing that brings the past to life and engages us in the human dimensions of the big moments of the past is real storytelling. This kind of writing helps us understand and sympathize with the people who came before us. It makes us better able to deal with our own crises, of which there are indeed many.
So this book is important whether food is "your thing" or not. I'd recommend reading it no matter your specific interests, just because it will make you think, will make you care, and will help you to feel that the past really is always prologue. It was a great pleasure to have the opportunity to talk in person with Jane and Andrew about A Square Meal.
Jane Ziegelman is the director of the Tenement Museum's culinary center and is founder and director of Kids Cook!, a multiethnic cooking program for children. Her writing on food has appeared in numerous publications, and she is the coauthor of Foie Gras: A Passion.
Andrew Coe is a writer and independent scholar specializing in culinary history, and the author of Chop Suey: A Cultural History of Chinese Food in the United States, which was a finalist for a James Beard Award. He appeared in the documentaries The Search for General Tso and Eat: The Story of Food. Jane and Andrew live in Brooklyn, New York. And recently, A Square Meal was announced the winner of the 2017 James Beard Award for best nonfiction book of the year.
NPR's Fresh Air did a wonderful interview (called "Creamed, Canned and Frozen") with Jane and Andy about this book in August, 2016. And I interviewed Andy about his book, Chop Suey for Writerscast a few year ago.
Photo of the authors by Sasha Maslov for The New York Times.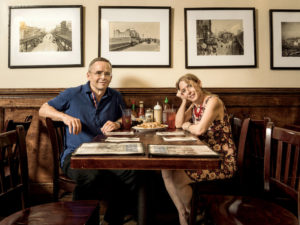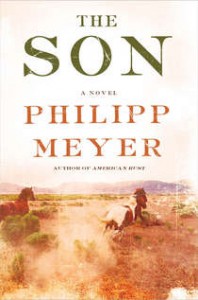 978-0062120397 – Ecco Press – Hardcover – $27.99 (ebook editions available at lower prices)
It is wonderful these days to come across a novel with big ambitions.  It is even better to come across one that succeeds so brilliantly as The Son, which is only the second novel by Philipp Meyer.  His first book, American Rust, was published in 2009.
The Son is rooted in Texas, which gives Meyer the chance to be epic, as the place itself, so large and so much a part of the romantic history of the American West, enables story telling on a grand scale.  There are three generations of stories in the novel, told in three separate voices, all of members of the same family, living out the story of European America.  It's a terrific story, complicated and sometimes challenging to keep straight whose voice you are hearing, which period you are in, but I was hooked from the outset of the book and could not put it down.  Admittedly, I am a sucker for stories that show American Indians as real people, not as stick figures, and which admit (and celebrate) the complexity of human beings rather than trying to judge them from the perspective of the present.
Meyer is a terrific writer throughout. To be this good so early in his career may put alot of pressure on him going forward.  It is difficult for any writer to continually come up with great stories and tell them well.  Talking to Meyer here about his work, and about how he came to write The Son, I gained a good deal of respect for this writer and his literary vision.  The next book I am reading this summer is American Rust and I am going to be looking forward to Meyer's next book, which I hope to be reading in the not too distant future.  Philipp Meyer is the real deal, a great writer telling stories of America that help is define who we are in this late era of the American Empire.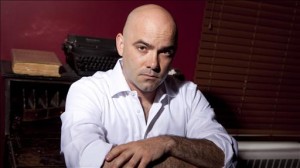 *Note to listeners – Meyer and I had an unusually long conversation, this interview runs a bit more than 42 minutes, I hope well worth your while to hear all the way through.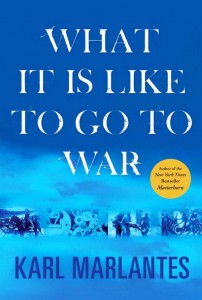 978-0802119926 – Atlantic Monthly Press – Hardcover – $25.00 (e-book and audiobook editions available)
I read Karl Marlantes' novel, the extraordinary Matterhorn last year (and interviewed him about it for Writerscast – you can listen to that interview here).  I don't think I am alone in believing that Matterhorn is perhaps the finest and most important war novel of the Vietnam generation; for me at least, it belongs in the pantheon of great American war novels (going back to WWI, Thomas Boyd's Through the Wheat is another great novel written by an former Marine).
It took Karl Marlantes more than 30 years to write and publish the novel we read as Matterhorn its final form.  His new book, What It Is like to Go to War, now follows as a deeply thoughtful and moving work of nonfiction about the nature and meaning of war, and what it means to the individual warriors who participate who fight, as well as to the society that gives them that responsibility.
There are many parallels between the two books.  I'd recommend you take on the novel first, spend some time thinking about its story and characters, and then move on to this new work of nonfiction, which is a combination of personal memoir, meditation and social, political and cultural analysis and polemic.
Insofar as fiction gives us our deepest emotional and spiritual truths, Matterhorn cannot fail to move you and allow you to feel the reality  of what it is like when our best and brightest go to war.  Then What It Is Like to Go to War gives us another carefully wrought perspective, what Marlantes has learned from his own experiences and from many years of studying and thinking about war and society.
And we should all be paying attention to what he says here.  America has had more people fighting wars for a longer period of time than at any other time in our history.  Indeed what does this say about contemporary American society?
In 1969, when he was just 23, Karl Marlantes was an inexperienced lieutenant in charge of a platoon of Marines whose lives were in his hands.  His experiences in the jungles of Vietnam , molded and shaped him throughout his life.  He has thought deeply about his wartime experiences, how they affected him and his comrades, as well as how other soldiers before and since have gone through similar experiences.  In What It Is Like to Go to War, Marlantes weaves accounts of his own combat experiences with analysis, self-examination, and powerful ideas drawn from his wide reading from Homer to the Mahabharata to Jung.
Unlike many of us who feel that war must be ended in modern society, Marlantes starts from the belief that war is an inevitable component of societal and political being.  What he is after is to make us think about preparing warriors not for fighting, which we already do quite well, but for living with the effects on those who go to war that derive from participating in the morally unnatural but societally sanctioned acts of killing other human beings.
Most societies that preceded us have used powerful rituals, myths and ceremonies to integrate acts of war into the fabric of their cultures, and to reintegrate their warriors thoroughly into their societies, while our secular, materialist society really offers no tools or methods to warriors (or for that matter to civilians) to create a holistic "story" of why and how war is meaningful and necessary.
One of the many points he made in this book really struck me is that those who send men and women to war are themselves warriors, that actual soldiers (as opposed to guns and bombs) are their weapons.  These individuals must fully comprehend what they do, and must find ways to integrate their own acts of war as much as the soldiers on the battlefield who wield the weapons and who witness so much death and destruction on both sides of battle.
I found that the author's afterword to the book was very important to my understanding and acceptance of his work:
"We must be honest and open about both sides of war.  The more aware we are of war's costs, not just in death and dollars, but also in shattered minds, souls, and families, the less likely we will be to waste our most precious asset and our best weapon: our young."
"The substitutes for war…are spirituality, love, art, and creativity, all achievable through individual hard work."
I can't recommend this book to readers enough.  It's book that, like the work of my friend, Paul Chappell, (Will War Ever End and The End of War) has the potential to shift our societal dialogue about war and what it can and should mean to a modern society.
There's a fine review of What It Means to Go to War in the NY Times and a very worthwhile interview with Karl on Livewriters about Matterhorn.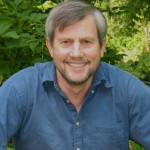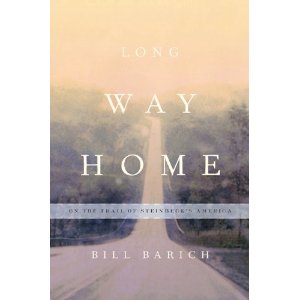 978-0802717542 – Walker & Co. – Hardcover – $26.00 (e-book version also available)
Bill Barich is a fine writer, comfortable with words, a natural storyteller who is self-aware and a careful observer of character as well as landscape.  He's got a great narrative voice that makes his books very easy to read and deeply engrossing.
In the summer of 2008, Barich, who has lived in Dublin, Ireland for some time, decided to take a journey across America, essentially following in the footsteps of the great John Steinbeck, who made the cross-country journey (ostensibly to rediscover America, but more likely a stab at rediscovering his own literary voice, which resulted in Travels with Charley in 1962).
Of course Barich and Steinbeck differ in significant ways.  And the early 1960's were a very different time than 2008 for America.  Barich's trip came at the time of our massive economic collapse, and the rising presidential campaign of Barack Obama, both of which become thematic backdrops for his story.  Steinbeck traveled in pick up truck with a home made camper out back, and with his dog, Charley, whereas Barich drove a rented Ford Focus (almost 6000 miles!) and stayed in motels.  But Steinbeck is the ever present model for the later traveler, whose outlook is certainly as different as the country he explores.
In fact, Barich's story is engrossing from beginning to end.  He starts the trip in Maryland, and stays on US 50 west to the Golden State, with stops and sidetrips along the way that are always interesting, even though often sad and sometimes even depressing.  He is, after all, reporting on America as he finds it, which includes features and political themes that are not always what we might have wished or hoped for.  It's an honest portrait, and a story well told.  I've done my share of cross-country traveling, and very much enjoyed this book and my conversation with Barich about it.  There's a good deal of back story and detail in this conversation we had some fun with and which I hope listeners will enjoy.
Bill Barich is the author of seven books, including Laughing in the Hills, which was named one of the hundred best sports books of all time. Other works include a novel, Carson Valley, and another work of nonfiction, A Fine Place to Daydream: Racehorses, Romance, and the Irish and recently, A Pint of Plain which describes the decline of the traditional Irish pub. A Guggenheim Fellow, and literary laureate of the San Francisco Public Library, Barich now lives and works in Dublin.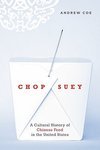 978-0195331073 – Hardcover – Oxford University Press – $24.95
Andrew Coe is a very fine writer indeed – his experience as a journalist shows.   Like Mark Kurlansky (Cod, still one of my favorite books among many others he has written), Andrew takes deeply researched historical information and presents them smoothly, telling stories that are packed with fascinating details to bring a subject we think we know into much clearer perspective.
In Chop Suey, Coe takes us on a long journey, beginning in 1784 with the earliest contacts between Americans and China.  Throughout, it is hard not to be surprised and sometimes embarrassed by the incredible self centered and disrespectful Americans.  At times they were better at understanding and working with the absolute foreignness of Chinese culture and experience than were the Europeans, but only marginally so.  At the time the first wave of Chinese immigrants came to America in the mid-19th century, only a few Americans knew anything meaningful or substantive about China and the Chinese, and much of what they did "know" was untrue or seriously exaggerated.  And later, American xenophobia reached astonishing heights, as Coe documents, with the now forgotten banning of citizenship to Chinese people who had as much right to be here as any other immigrants.
The gulf of understanding between Americans and Chinese had a great deal to do with the way Chinese food was received in this country, but Coe documents in compelling detail, the way that Chinese cuisine came to become the integral part of the American cuisine that it is today, with over 40,000 Chinese restaurants of many different kinds.  With the gradual Chinese migration to the East Coast, eventually New York "Bohemians" discovered Chinese restaurants, and made wildly popular, the seemingly new dish, chop suey.  In fact, according to Coe, it was a peasant cuisine from one part of China that came to dominate Chinese-American restaurants.
There are many great stories along the way to where we are today.  Coe talks about how American Jews fell in love with Chinese restaurants and in particular makes a great story of President Richard Nixon's 1972 trip to China and how it opened minds and palates across America.  This was a particularly fun part of the book for me.  For anyone who loves food of any kind, and especially the intersection of food and culture, this book will be a pleasure to read.
Talking to Andrew was a pleasure.  He gives a terrific interview – fully in command of his subject, and really fun to talk with.  I think that hearing our discussion will encourage readers to seek out this wonderful book.  I am certainly looking forward to his next book.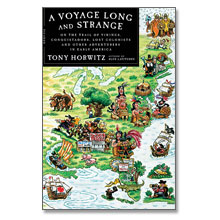 978-0312428327 – Paperback – Picador – $18.00
What a great book!  This is one of those modern nonfiction books by a really smart and talented writer that communicates a great deal of information almost effortlessly.  Tony Horwitz takes us on a wonderful journey, his own individualistic, funny, sometimes painful, and always fascinating tour of North American history. It all started with a chance visit to Plymouth Rock that made him realize how little he knew about the early colonization and settlement of North America before the Pilgrims arrival in 1620.  It wasn't long before he set out on a very long journey, as he puts it "in the footsteps of the many Europeans who preceded the Pilgrims to America."
He traces many stories and visits many places on his own epic trek — from Florida's Fountain of Youth to Plymouth's sacred Rock, from desert pueblos to subarctic sweat lodges. Tony has a healthy regard for history and an equally healthy disregard for accepting the accepted wisdom and stories about the Europeans of all kinds who managed to get to America, muck about the place, sometimes with disastrous or horrific results, and he does not forget to talk about the people who were already here when the Europeans arrived.  Overall, he is funny, tells great stories, brilliantly illuminates the people, places and myths that dot our past, and while it is trite to say, he definitely brings a long run of history vividly to life.  For those of us who do know our American history, this book is fun and rewarding, and for those who missed it, I can think of no better way to learn about this early period of North American history up close and personal than to read A Voyage Long and Strange.
I heard Tony talk about this book and read from it at the Martha's Vineyard Book Festival this summer and knew instantly that I wanted to read it myself.  He definitely has one of the most engaging approaches to history and story telling you will ever run across.  Probably reflecting his own engaging personality, as my interview with Tony will show you.  He has a great website with alot of information about this, his newest book, and his other four books at www.tonyhorwitz.com.