Scott Gummer: Parents Behaving Badly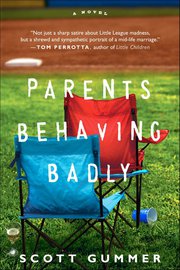 978-1451609172 – Simon & Schuster Touchstone – hardcover – $23.00 (ebook versions available)
Scott Gummer's Parents Behaving Badly appealed to me right away – a novel about Little League, what more fun could you want?  Baseball is one of my greatest passions and having been a Little League parent and coach, I was looking forward to reading a novel set in this rich environment that so full of potential for conflict and frustration, as well as great joy.
In any kid sports environment, you have parents' overwrought desires and expectations, the fraught interactions of coaches and parents, and the difference in outlook between any given 10 year old and any parent is especially fertile ground.  And don't forget the potential for unexpected romance among the suburban parental set.
Reading Parents Behaving Badly, which is, by the way, laugh out loud funny, did not disappoint in any way.   Gummer is funny and extremely perceptive, and what really makes the novel work is that he tells a good story, writes believable characters, explores their inner lives, and keeps us guessing about what will happen next.
And there's more here than Little League, fun and sometimes as painful as that particular piece of Americana can be.  His main character is back in the hometown he grew up in, along with his wife, and they've been married long enough for them to know each other all too well.  Gummer is very sharp in his depiction of the mid-life married life of modern American suburban couples, especially the challenges they face as their lives become focused on their children at the risk of losing sight of themselves and their relationships.  He uses Little League, small town life, pop culture and thwarted desires as fodder for a wonderful story that ultimately ends better than one might have imagined.
Tom Perrotta gave a great blurb to author Gummer for this book: "Parents Behaving Badly isn't just a sharp satire about Little League madness; it's also a shrewd and sympathetic portrait of a mid-life marriage. Scott Gummer writes with equal insight about wayward spouses and conniving coaches."  Perrotta is among my favorites of contemporary novelists, and I'm happy to say that if you like his work, you will love Parents Behaving Badly, which while in no way derivative, is certainly in the same vein as Perrotta's novels.
Scott gives a great interview, doubtless because of his years of experience as a working journalist.  He knows how to talk about his work and to present his story vividly without giving too much away.  I recommend his website as well.  He's also written a couple of very interesting nonfiction books about golf (this is his first published novel).