Publishing Talks: David Wilk interviews Deborah Emin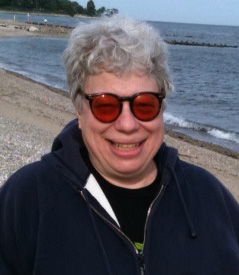 In this series of interviews, called Publishing Talks, I have been talking to book industry professionals about the future of publishing, books, and culture.  This is a period of disruption and change for all media businesses. How will publishing evolve as our culture is affected by technology, climate change, population density, and the ebb and flow of civilization and its economics?
I hope these Publishing Talks conversations will help us understand the outlines of what is happening, and how we might ourselves interact with and influence the future of publishing as it unfolds.
These interviews give people in the book business a chance to talk openly about ideas and concerns that are often only talked about "around the water cooler," at industry conventions and events, and in emails between friends and they give people inside and outside the book industry a chance to hear first hand some of the most interesting and challenging thoughts, ideas and concepts being discussed by people in the book business.
I learned about Deborah Emin from an article about Sullivan Street Press and her "throwback" program called the Itinerant Book Show.  Deborah and colleagues (they call themselves "bookies") travel to towns in the midwest as far as Iowa bringing books they select to events in art galleries, bars, coffee shops and the like.  Because they are featuring only books they have read and liked, it's pretty easy to understand how they are connecting successfully with audiences.  And as she points out on the Sullivan Street website,  the real key is what Deborah as a publisher and writer can learn about audiences.  Face to face, one to one.  It's invaluable intelligence for anyone concerned with understanding how a literary community works.
All of this resonates for me.  Her story reminded me of work some of us were doing more than thirty years ago, bringing books by new authors and publishers to booksellers and audiences around the country.  In the late 1970's what was then called the Coordinating Council of Literary Magazines (still going strong and known as CLMP) sponsored a number of grassroots efforts to bring independently published poets and writers into bookstores, which involved personal visits to bookstores, libraries, schools and even bars to sell books.
There were programs in North Dakota (where a budding young writer named Louise Erdrich interned), Rochester, NY, Minneapolis-St. Paul (where I was) and other locales, all sharing a commitment to connecting innovative new writers to new audiences, sometimes, one person at a time. Many then young publishers still publishing today, were introduced to their audiences through those early efforts.
So is everything old new again?  I think the spirit of independent publishing continues.  Writers find their readers, and readers their books one at a time, after all.  The magic of literary discovery still requires the kind of personal effort that Deborah Emin and the Itinerant Book Show put forth.  Which is also the kind of personal connection forged by booksellers with their customers.  Whether the books are printed by hand on custom paper using handpresses, or created digitally using HTML or ePub, learning about a book you will love is ultimately about a deep connection between the writer, and the reader, with one or more intermediaries making the hand off.
Sullivan Street Press consists of Deborah Emin, an editor and writer, Ron Lebow, a computer technologist, a business development professional and also a writer.  It's a pretty interesting and obviously fertile group of minds and talents.  The work they are doing is challenging and rewarding, and offers valuable lessons for publishers of any size and ambition.