Philipp Meyer: The Son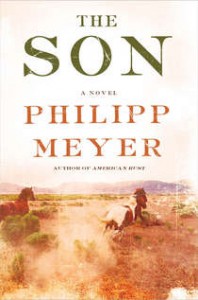 978-0062120397 – Ecco Press – Hardcover – $27.99 (ebook editions available at lower prices)
It is wonderful these days to come across a novel with big ambitions.  It is even better to come across one that succeeds so brilliantly as The Son, which is only the second novel by Philipp Meyer.  His first book, American Rust, was published in 2009.
The Son is rooted in Texas, which gives Meyer the chance to be epic, as the place itself, so large and so much a part of the romantic history of the American West, enables story telling on a grand scale.  There are three generations of stories in the novel, told in three separate voices, all of members of the same family, living out the story of European America.  It's a terrific story, complicated and sometimes challenging to keep straight whose voice you are hearing, which period you are in, but I was hooked from the outset of the book and could not put it down.  Admittedly, I am a sucker for stories that show American Indians as real people, not as stick figures, and which admit (and celebrate) the complexity of human beings rather than trying to judge them from the perspective of the present.
Meyer is a terrific writer throughout. To be this good so early in his career may put alot of pressure on him going forward.  It is difficult for any writer to continually come up with great stories and tell them well.  Talking to Meyer here about his work, and about how he came to write The Son, I gained a good deal of respect for this writer and his literary vision.  The next book I am reading this summer is American Rust and I am going to be looking forward to Meyer's next book, which I hope to be reading in the not too distant future.  Philipp Meyer is the real deal, a great writer telling stories of America that help is define who we are in this late era of the American Empire.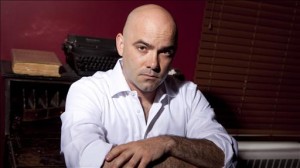 *Note to listeners – Meyer and I had an unusually long conversation, this interview runs a bit more than 42 minutes, I hope well worth your while to hear all the way through.