Mickey Leigh: I Slept with Joey Ramone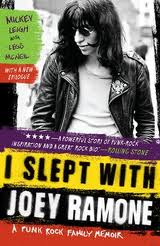 978-1439159750 – paperback – Simon & Schuster – $15.99 (ebook versions available $12.99)
Mickey Leigh grew up in Queens in the 1950s and 1960s as Mitchel Hyman.  His brother was Jeffrey Hyman, more famously known as Joey Ramone, lead singer of the great American punk rock band, The Ramones.  I Slept with Joey Ramone (subtitle: a punk rock family memoir) tells their story from the beginning to the end of Joey's relatively short life and just a bit farther into the almost present day.  Mickey had some writing help from rock journalist Legs McNeil, and throughout the book, the story is told compellingly in Mickey's voice and from his perspective.
We start in Queens where the boys grow up somewhat rockily.  Their family situation was never easy, and Mitchel and Jeff were bullied misfits.  Joey had both physical and psychological issues that manifested early in his life. Music became their savior very early, but at the beginning it was Mitchel (Mickey) who was the musician, and it took some time before the very complicated Jeff got together with the band that became the Ramones and found not only his voice, but his new identity.
The Ramones story as told by Mickey Leigh, is pretty incredible, even for fans who know something about the band and were there during the glory days.  The relationships between the various band members were legendarily terrible.  How this band stayed together and made such incredible music is still a mystery.  Mickey was there at the beginning; John Cummings, aka Johnny Ramone, was initially his best friend.  Mickey ended up being the band's first roadie, while Joey, the quintessential misfit outsider, became the front man singer of what eventually became one of the greatest rock bands of all time. Later Mickey had his own career with a number of bands, as well as being a songwriter too.
The many stories and incidents recounted in this book are never boring, even when the sometime strange and complicated elements of Joey Ramone's personality begin to repeat themselves over years.  There is a tremendous amount of love here, and some not so nice things as well.  Mickey's own story is complicated and he has alot to say about alot of the people he worked with, for and sometimes against throughout the years.  Nothing here is ever boring.  It's sometimes sad and frustrating to know how things were for Joey Ramone and his family, friends and associates, as it was often difficult, confusing and painful for all of them.  Even years later, when they were inducted into the Rock and Roll Hall of Fame, the Ramones created an emotionally complicated scene.
Ultimately, Mickey (and doubtless Legs too) has captured beautifully a unique and special part of modern musical history, that is also the story of redemption, which is after all, the real story of rock and roll.  And at the end Joey and Mickey always did make up.  As Mickey tells it, the last time really counted the most. "He pulled me down to him, and he just didn't let go. I can still feel that hug."  This is a book well worth reading for anyone interested in New York punk rock.  I had a great time talking to him about the book and his experiences in rock and roll.