Martin Lemelman: Two Cents Plain: My Brooklyn Boyhood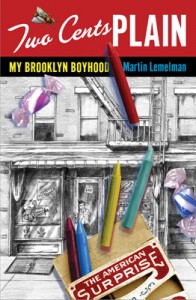 978-1608190041 – Bloomsbury – Hardcover – $26.00.
Martin Lemelman grew up in the back of a candy store in Brooklyn, NY.  He has illustrated more than thirty children's books and his work has appeared in numerous magazines.  Lemelman is now a Professor in the Communication Design Department at Kutztown University and lives in Allentown, Pennsylvania.
Martin's first memoir done in graphic format, with drawings, photographs of personal objects and places, was Mendel's Daughter, published in 2006.  Told in his mother, Gusta's voice, the book recounts the story of her life, beginning in pre-war Poland, through her harrowing experience of survival in the Holocaust and displaced persons' camps, and finally coming to Brooklyn, where she lived with her husband (also a survivor) and two children.
Two Cents Plain is not literally a sequel to Mendel's Daughter, but it is a continuation of Lemelman's family storytelling.  Two Cents Plain collects the memories and artifacts of the author's childhood in Brownsville, a neighborhood of Brooklyn filled with Jews speaking Yiddish and children growing up in a comfortable city neighborhood.  Later in the story, as times change, Martin and his family's experience in Brooklyn is not so pleasant.  But that's ultimately the background of the story Lemelman tells.  His real focus is the dynamic story of his parents and how their life experiences in the Holocaust shaped them, and of course shaped their children's experience as a family in post-War America.
Lemelman's story is full of struggle, his parents were complicated and sometimes difficult for their children to understand, and life in a candy store was never easy.  But his Brooklyn memories also is also include the joys of egg creams and comic books, malteds and novelty toys, where the neighbors, the deli man, the fish man, and the fruit man, all are brought to vivid life in story and illustration. The changes in the city during the sixties are very personalized for Martin and his family and in the climax of the story, the family must leave their home once again.
I really loved reading and absorbing this book, the combination of Lemelman's story telling voice and gorgeous illustrations work beautifully to transport the reader into another time and place.  And the author does a fine job of balancing between the sentiment of memory of his childhood with the clarity of the adult rememberer, which is keeps us anchored as the story unfolds.  There are layers of memory, emotion, people and place that are richly evoked in this book.
In our interview, I wanted to explore with Martin not only the story of his life and his parents gripping and sometimes painful experiences, but the period of the fifties and sixties and how he used the graphic memoir form to reflect and amplify the power of his story.  This is a unique and wonderful book whose creator is quite cogent about his work.  Martin has put together a very interesting and useful website for the book that is worth visiting (most useful after you have read the book, I think).  I am looking forward to reading the next book in this series of memory stories.