Kamran Pasha: Shadow of the Swords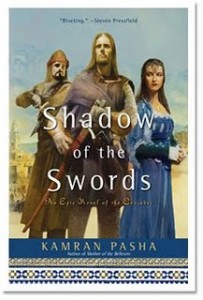 978-1416579953 – Washington Square Press – Paperback Original – $16.00 (e-book edition $9.99)
I love reading really good historical novels.  I'm actually not sure how I found out about this book, but I knew I wanted to read it when I learned that the author, Kamran Pasha, is a Muslim writing about the Third Crusade from a Muslim perspective.  That's definitely a fresh concept.  It turns out that Pasha is a terrific writer, and a deft story teller.
It's almost impossible for Western readers not to think about the Crusades from the Christian side.  The Third Crusade, headed by Richard the Lion-Heart, is one of the best known stories ever told, and our knowledge and understanding of the great Muslim ruler Saladin is without doubt cast by the Western version of the story.  In Shadow of the Swords, we see things very differently, and not just the Muslim side, there are intriguing Jewish and female characters who are integral to the storyline in many fascinating ways.
Some of the characters and events in this book are based in reality, others are made up, but they are always consistent and believable.  By inserting the fictional Miriam, daughter of the historical Maimonides into the story of Richard and Saladin, Pasha is able to link their personae and the real historical events of the battles between them into a much more personal context, which helps bring these complicated characters to life.  We realize as the story unfolds that through their opposition, the two main characters will come to know, understand, and appreciate the other, both literally and figuratively.  Which is a lesson our modern society could stand to learn too.
Kamran Pasha is a prolific writer.  He has created novels (his first book was Mother of the Believers, another historical novel), television (Kings), video games (Blood on the Sand), and is now currently working on a theatrical film as well.  He came to writing through an interesting career – he holds a JD from Cornell Law School, an MBA from Dartmouth and an MFA from UCLA Film School. He spent three years as a journalist in New York City before he went to Hollywood to become a full time creative writer.
I really enjoyed reading this book, and talking to Kamran Pasha was a terrific experience I hope you will also enjoy.   And do enjoy this serious, well written and very compelling novel.  It's literate, well written and packed with interesting ideas that lives up to its billing as an "epic novel."  Pasha blogs passionately about many current issues at his own website, well worth a visit.