Justin Kramon: Finny (A Novel)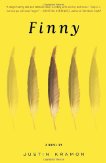 978-0812980233 – Random House – Paperback – $15.00 (also available as an ebook at $9.99 or less)
Finny is a wonderful first novel, a coming of age novel (and more), at the center of which is a wonderful character – Delphine "Finny" Short of course.   This is Justin Kramon's first novel, and he is a very good writer.  He's been writing and publishing short stories up to now, in literary magazines like Glimmer Train, TriQuarterly and elsewhere, but I think his future lies in the longer form a novel affords.
This novel begins when Finny is 14, and continues on through many more years of her life, with many adventures, and a large cast of really well drawn characters.  Many reviewers have mentioned Dickens as a comparative, and that is apt, as Justin himself makes clear that the Dickensian model was on his mind when he was writing this book.  He does very well with the large story arc, which gives the author enough room to really explore the inner life of his major characters.
Life is complicated, relationships that seem to have promise fall apart, and sometimes we have to deal with surprises in the way things actually work out.  As Finny says herself about life, it is "hilariously funny and devastatingly sad. And only if you saw both things could you ever have a realistic idea of the subject.''  It's hard not to agree with the author and his character on this point, especially after spending time with Finny and her life story.
So even though there's much in Finny's life that is difficult, sad or disappointing, in both family relationships, love life and friendships, overall, her character comes through as positive about life and how she has lived it, somewhat idiosyncratically, and with a good bit of humor.  That's probably true of the author as well, and it's a compelling journey for the reader.  There's a lot of richness here, and a thoroughly enjoyable novel it is.
I also enjoyed talking to Justin about his book, its characters, how he came to write this novel, his work as a writer and where he is going in the future.  He's got a really good sense of himself as a writer,an engaging personality, and a fine command of his craft at this early stage of his career.  I think there's much more good work to come from this novelist, work I will certainly be looking forward to reading.
I do also want to mention Justin's website, which is one of the better author or book sites I have seen lately.  There's alot of fun stuff there, especially fun is the section called "Finny's World" where the characters in the novel are drawn as imagined by artist David Ostow.  It's definitely worth a visit.