Jessica Maria Tuccelli: Glow (a novel)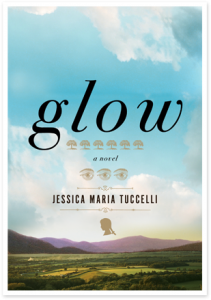 978-0670023318 – Viking – Hardcover – $25.95 (ebook versions available)
Jessica Maria Tuccelli's outstanding first novel, Glow, opens in the fall of 1941, in Washington, D.C., and traverses back and forth through time and place to Hopewell County, Georgia in 1836, and then across the century following.  We start with Amelia J. McGee, a young woman of Cherokee and Scotch-Irish descent, an outspoken pamphleteer for the NAACP, whose husband has been hauled off to jail as a draft protester, sending her daughter Ella, alone with her only her dog as company, on a bus home to Georgia.  This desperate act, meant to protect her daughter, turns out to be disastrous, as the girl, almost at her destination, is snatched by two drifters and then left for dead.
Ella is rescued and cared for by Willie Mae Cotton, an ancient root doctor and former slave, and her partner, Mary-Mary Freeborn, who live deep in the Takatoka Forest near Ella's ancestral home. While Ella heals, in a fluid and beautifully told story, we learn the history of her people and those who are caring for her.
Tuccelli is a lovely writer, and her almost magical ability to capture the voices and stories of the diverse characters in this novel is striking.  She does not shy away from pain and suffering, but manages to find transcendance and hope for her characters against tremendous odds.  The people in this novel are powerfully real, committed to family, to the land, and to the personal histories that make them who they are.
Tuccelli is a fine writer and also a terrific writer to interview.   It's of course impressive and a natural issue to discuss, that she is not from Georgia nor does she share any personal history with the people and place she has made her own in this novel.  There are some truly compelling characters in this book that I will never forget.  I had a great time talking to her and hope you enjoy our conversation as well.   Her excellent website is well worth a visit.