Jennifer Estep: Spider's Bite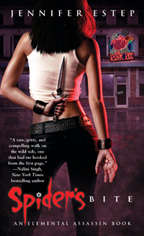 978-1439147979 – Mass Market Paperback – Pocket Books – $7.99
Jennifer Estep has written three books before this one, in an edgy paranormal romance series she called Bigtime.  Spider's Bite kicks off a new series, this one she calls urban fantasy, and I think the description is apt.  It's gritty, violent, tough, but full of love and a kind of self-defined punk-inspired love that has a depth and strength that is really admirable.
I know the book business likes to categorize books, sometimes quite narrowly, and there are good reasons for that.  So this book falls into a category that Publishers Weekly calls "urban fantasy."   While I am not quite sure I know what that means, this novel is certainly a full on fantasy novel set in a city, so I guess that label fits in a literal way.  But all labels and categories aside, author Estep has fashioned a terrific set of characters, in particular our hero, Gin.  The first line of the book makes clear what we readers are getting into: "My name is Gin, and I kill people."  And she does, she is an assassin after all.
I was very impressed with Estep's writing and she has fashioned a terrific story line.  Some of the characters run to type, but they fit the story so well, we don't mind.  The author has set her imagination loose on the southeastern city in which the story takes place, maybe in our future, or maybe in an alternate universe, it's wild and never dull.  I'm looking forward to reading the sequels too.
Jennifer and I had a fun interview talking about this book, how she started as a writer and where her ideas come from.  She's a dedicated reader turned writer, and her love for books, ideas and writing shines through her work and her words.
See an excerpt from the book at chptr1.com.  Visit Jennifer's well put together site to learn more about her and her books.