Gene Kritsky: The Quest for the Perfect Hive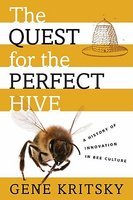 978-0195385441 – Oxford University Press – Hardcover – $24.95
I have never kept bees, but am in love with honey, and the idea of beekeeping has always fascinated me.  Gene Kritsky, who describes himself as "stung with the love of bees," has written a wonderful book that will appeal to serious beekeepers, amateur bee lovers and even general readers with an interest in the history of humanity's relationship with nature.  The book is beautifully illustrated with amazing photographs, drawings and woodcuts representing hundreds of years of beekeping history.
Humans discovered honey thousands of years ago and have been working with these amazing insects for a very long time.  What is interesting to the novice reader is how little beekeeping has changed.  There have been many innovations in beekeeping, especially so during the past couple hundred years, but traditional beekeeping methods still exist in many parts of the world.  And there is much that we can learn from past practices to help us understand how to stave off the epidemic of hive collapse that has become prevalent in so many places during the past few years.
Kritsky uggests that beekeeping's long history may provide us with clues to help modern beekeepers fight the decline in honey bee numbers. Kritsky takes readers through the history of beekeeping, from early mud-based horizontal hives to the ascent of the simple straw skep (the inverted basket which has been in use for over 1,500 years), from the Golden Age of hive design in Victorian England up to and into the present day.  In concise terms, aided by illustrated exampes, he talks about what has worked, what has not worked, and sometimes the things we have forgotten about hives of the past that might help counter the threats to modern bees and beekeeping.  While scientists have now sequenced the honey bee genome and advanced our knowledge, we still keep bees in hives that have not changed very much during the past hundred years. Kritsky argues that we must start inventing again if we are going to save our bees.  Thus the search for the "perfect hive" continues.
Gene Kritsky is a master of his subject in both depth and breadth, and thus is an easy author to interview.  Doubtless he could talk in depth for hours about bees and maintain the listener's interest.  It was a pleasure to talk to him about this interesting and unusual book, and I am confident that listeners will enjoy our conversation as well.