Dolen Perkins-Valdez: Wench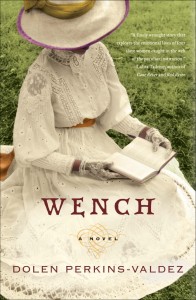 978-0061706547 – Hardcover – Amistad/HarperCollins – $24.99
Dolen Perkins-Valdez' first novel, Wench, just blew me away.  The writing is beautiful, and the story is compelling.  Perkins-Valdez has been able to imagine her characters in a very difficult time, in very difficult circumstances, capturing their pain and suffering as well as their joys, and the complexity of life lived by humans.  No stick figures here, male or female, black or white.  The author is sympathetic in the strongest sense of that word – she understands people.  She does not excuse anything, but she is able to imagine who they are, and therefore her readers are given no excuses either.  Here's the story of the book (I took this from the author's own website, which is one of the better author websites I have seen recently):
In 1851, a lawyer named Elias P. Drake purchased a plot of land near Xenia, Ohio with the intent to establish a summer vacation resort where the country's elite could relax and enjoy the mineral springs in the area. At the time, it was believed that natural water could cure illnesses and bring about good health.  What made this resort unusual, however, was that it became a popular vacation destination for southern slaveholders and their enslaved mistresses.  Ultimately, these flagrantly open relationships offended the northern abolitionists who also frequented the resort.  After four years, the resort closed.
This part of the story has been confirmed by historians.  I took this forgotten historical note and sketched in a fictional account of what it would have been like to be an enslaved woman traveling to this free state each summer.  Why wouldn't the women try to escape? What kinds of emotional attachments did they have with these men?  Initially, I believed that it was entirely possible that they actually loved the men.  Ultimately, I discovered that it was much more complicated than that.
Situated in the free state of Ohio, Tawawa House offers respite from the summer heat. A beautiful, inviting house surrounded by a dozen private cottages, the resort is favored by wealthy Southern white men who vacation there, accompanied by their enslaved mistresses.
Regular visitors Lizzie, Reenie, and Sweet have forged an enduring friendship. They look forward to their annual reunion and the opportunity it affords them to talk over the changes in their lives and their respective plantations. The subject of freedom is never spoken aloud until the red-maned, spirited Mawu arrives and voices her determination to escape. To run is to leave behind the friends and families trapped at home. For some, it also means tearing the strong emotional and psychological ties that bind them to their masters.
When a fire on the resort sets off a string of tragedies, Lizzie, Reenie, and Sweet soon learn tragic lessons,that triumph and dehumanization are inseparable and that love exists even in the cruelest circumstances as they bear witness to the end of an era.
That's the bare bones of the story.  Obviously, you need to read this book to understand how good it is.  And do listen to this interview.  In it, Dolen talks about how she became a writer, how this book came about, how she feels about her characters, and a great deal more.  Dolen Perkins-Valdez is a writer who deserves our attention.  I'm very much looking forward to her next book, and hoping she will be writing many more after that.
As an aside, the cover is beautiful, and perfect for this book, and has a sort of subliminal effect on me, which maybe contributed subtly to how much I liked reading this book and talking to its author.