Brando Skyhorse: The Madonnas of Echo Park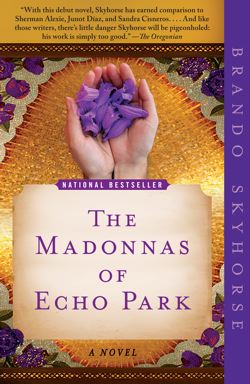 978-1439170847 – Free Press – Paperback – $14.00 (ebook versions also available)
Brando Skyhorse's spectacular debut is a novel created from a series of interlocking stories, all of which take place in the mostly Mexican Echo Park neighborhood of East Los Angeles.  Like the rest of Southern California, Echo Park is in a constant state of flux, being invented and reinvented constantly as new populations arrive and are absorbed into the diverse culture of the city.
The opening line of the book sets the stage: "We slipped into this country like thieves, onto the land that once was ours."
Each of the stories here focuses on the story of one character, and as the stories unfold, we realize that all of the characters we are meeting are entwined with each others lives, and particularly with the central tragedy that gives the book its name, the shooting of a three year old girl during a weekly afternoon Madonna dance party hosted by a group of local moms and their young daughters.
It took me some effort to keep track of all the characters and how they are related (it probably would have helped to have had a family tree), but all of them are so brilliantly written, I ended up caring about them enough not to worry too much about the details of their relationships.  Every one of the characters in this novel experiences pain and loss and redemption.  Each is in one way or another transcendent.  Brando's love for all of them, and for the community they live in and which lives in them, is palpable.
It's no accident that this book has so much to say about identity, and how individuals make their own, both because of and in opposition to their surroundings.  The author, Brando Skyhorse, grew up with five different stepfathers.  He grew up most of his life believing he was Native American and only learned he was Mexican as an adult.  Born and raised in Echo Park, Brando graduated from Stanford University and from the MFA Writers' Workshop program at the University of California, Irvine. For ten years, and until recently, he worked as an editor in New York publishing.
In our conversation, we covered a wide number of issues, the background and basis for this novel, how it evolved over the years he wrote it, and much about the characters and locale of the book.  We talked about identity, and what it means for fiction, for this author.
I really liked this book and recommend it highly to anyone who who likes modern fiction.  And I am not alone – in March, 2011, Brando received the 2011 PEN/Hemingway Award for a distinguished first book of fiction.  I'm looking forward to reading many more of his books.

Visit the author's website for more information, appearance schedule, etc.