Andrew Coe: Chop Suey: A Cultural History of Chinese Food in the United States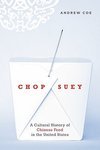 978-0195331073 – Hardcover – Oxford University Press – $24.95
Andrew Coe is a very fine writer indeed – his experience as a journalist shows.   Like Mark Kurlansky (Cod, still one of my favorite books among many others he has written), Andrew takes deeply researched historical information and presents them smoothly, telling stories that are packed with fascinating details to bring a subject we think we know into much clearer perspective.
In Chop Suey, Coe takes us on a long journey, beginning in 1784 with the earliest contacts between Americans and China.  Throughout, it is hard not to be surprised and sometimes embarrassed by the incredible self centered and disrespectful Americans.  At times they were better at understanding and working with the absolute foreignness of Chinese culture and experience than were the Europeans, but only marginally so.  At the time the first wave of Chinese immigrants came to America in the mid-19th century, only a few Americans knew anything meaningful or substantive about China and the Chinese, and much of what they did "know" was untrue or seriously exaggerated.  And later, American xenophobia reached astonishing heights, as Coe documents, with the now forgotten banning of citizenship to Chinese people who had as much right to be here as any other immigrants.
The gulf of understanding between Americans and Chinese had a great deal to do with the way Chinese food was received in this country, but Coe documents in compelling detail, the way that Chinese cuisine came to become the integral part of the American cuisine that it is today, with over 40,000 Chinese restaurants of many different kinds.  With the gradual Chinese migration to the East Coast, eventually New York "Bohemians" discovered Chinese restaurants, and made wildly popular, the seemingly new dish, chop suey.  In fact, according to Coe, it was a peasant cuisine from one part of China that came to dominate Chinese-American restaurants.
There are many great stories along the way to where we are today.  Coe talks about how American Jews fell in love with Chinese restaurants and in particular makes a great story of President Richard Nixon's 1972 trip to China and how it opened minds and palates across America.  This was a particularly fun part of the book for me.  For anyone who loves food of any kind, and especially the intersection of food and culture, this book will be a pleasure to read.
Talking to Andrew was a pleasure.  He gives a terrific interview – fully in command of his subject, and really fun to talk with.  I think that hearing our discussion will encourage readers to seek out this wonderful book.  I am certainly looking forward to his next book.