Amor Towles: Rules of Civility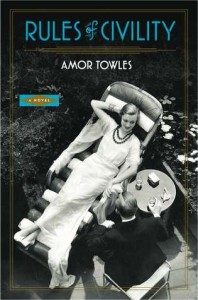 978-0670022694 – Viking – Hardcover – $26.95 (ebook and audiobook versions also available)
Amor Towles' Rules of Civility has become my favorite books.  This WritersCast interview series has allowed me to read some incredibly good books this year; Amor Towles' story of New York City in 1938 has risen to the top of my list of novels I fell in love with.
Rules of Civility opens with the book's heroine, older, successful, married, with her husband viewing the famous mid-sixties Museum of Modern Art showing of Walker Evans' 1938 New York City subway photographs. She and her husband see and talk about two particular photographs – a man she knew in 1938 and who mattered hugely to her life and helped shape the arc of her entire life.  Then the real story begins, as flashback to that high intensity period of her life, when by accident, she began the process of becoming the person we meet at the opening of the book.
It's a great way to start a book.  Reminding us of just how much a role chance and happenstance – and what we make of it – means to our lives.  Author Towles loves the way opportunity winds around us, especially it seems at the fraught time in our lives when we are setting out in the world to define ourselves, when we make the choices that define our lives, sometimes purely accidental, sometimes with just an inkling that these choices will have monumental effects.
There is a wonderful story here.  Our heroine, Katey (who grew up as Katya, an immigrant's daughter), is living in Manhattan.  It's 1938, still Depression era America, but just on the cusp of its ending.  New York is both gritty and glitzy at the same time.  Katey is working as a legal assistant, going out at night with her limited funds and her few friends.
One night, she and her best friend meet a man who will thrust Katey into a new life, where she meets the smart set of society, and gains the confidence to become a modern, successful woman, in many ways mirroring the American story arc of the same period.
Towles is a terrific writer, and I found myself reading some passages aloud to revel in the beauty of his sentences.  He brings New York in 1938 to life, reminding us how close we actually are to what is now almost a forgotten period of our history.  The book made me want to see again some of the great movies of this era, all of which shared the ironic understanding of modern culture this book displays.  I'm quite certain Towles has seen them all and internalized their values.
You need to read this story for yourself – it's complicated and has an utterly rewarding denouement.  Suffice to say, Katey learns a great deal about the people she meets, loves some, despises others, and absorbs what she learns on the way to becoming herself.  This one year is the pivot point for her entire life, and the sense we get from the story is that New York has engendered the same for millions who came there for a very long time, though probably for many less self-aware than Katey and her author, Amor Towles.    Here's one of the great lines from the book that in some ways encapsulates the story it tells: "from this vantage point Manhattan was simply so improbable, so wonderful, so obviously full of promise — that you wanted to approach it for the rest of your life without ever quite arriving."  Perfect.
This is Amor Towles' first published novel.  In our discussion, we talked about how he was able to write it, despite having a full time job and a family.  And we talked about the story of the novel, and its characters, and about New York in the 1930s, a great and somewhat neglected period for fiction.  It's a great book and I hope an equally rewarding conversation for listeners.
Amor Towles website is worth a visit.  And you also might enjoy George Washington's Rules of Civility (& Decent Behaviour In Company and Conversation) which plays a critical role in this novel.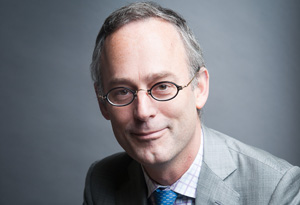 And a nonfiction piece he wrote called What I learned from Cole Porter on Oprah.com.