Alice Lichtenstein: Lost: A Novel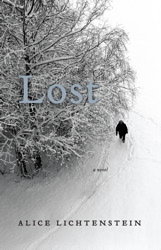 978-1439159828 – Scribner – Hardcover – $24.00 (also available as an e-book)
Some books are painful but must be read; the suffering of the characters we identify , endured, the story absorbed into one's bones.  I found that to be the case with Lost: A Novel by Alice Lichtenstein.  This story operates on a number of levels, as a good novel should.  Its three main characters are "lost"  but each in different ways.  And unlike the television show of the same name (I wonder how that congruency affects the potential readership of this novel?), the core of the story is not hidden away from us, the literal losses in this novel are by far not the deepest pain the characters endure, nor we the readers with them.
But don't get wrong, this is not a novel so full of pain that it drives you away, or causes you to wonder why you are there.  It's not a book that is simply devoted to misery, and certainly not the kind of suffering that drives us away from the book or its characters.  I was immediately drawn into the story, attracted to the characters, especially Susan, whose husband suffers from acute dementia, and has walked away into the winter, and Christopher, whose wife has left him.  Their losses and their relationship is at the heart of the novel, and will ultimately unite them in redemption.   I really liked the carefully woven web which connects the three key characters and the various subplots that eventually lead into the fullness of the novel.
And this is definitely a novel of winter in a cold country, which ironically provides much of the heat of the story.  The coldness in the book is palpable – the author does live in and deeply feels the north country; she describes the cold like a native.
As much as I enjoyed the novel,  I also very much enjoyed talking to the author, Alice Lichtenstein.  In our conversation, we explored the complexity of the novel and her characters' desires, their connections and the meaning of their losses.  This is a book I recommend to friends, and an author whom I think has alot to say about human life and emotion, and importantly, who writes really well.  Plus she is a good conversationalist.  It's not that easy a combination to find.