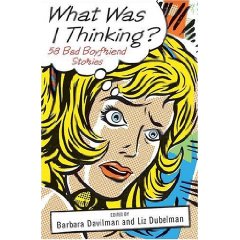 ISBN# 978-0-312-38472-2
St. Martin's Press, Hardcover $21.95
This fun WritersCast podcast has host David Wilk interviewing Liz Dubelman, co-editor of the wonderfully entertaining collection of first person essays by women describing those special moments in relationships when they suddenly realized: it's not going to work.  WHAT WAS I THINKING: 58 Bad Boyfriend Stories will be published February 3, 2009.  Dubelman, co-founder of www.vidlit.com, talks about the genesis of the book, how she and co-editor Barbara Davilman (co-author of YIDDISH WITH DICK AND JANE) collected the essays in the book, how women are responding to it, and why it seems men do not have the same sensibilities about relationships that women do.  Dubelman also talks about "Come to Your Senses Day" – February 15, and the book's website www.c2ysd.com.