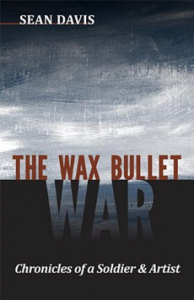 The Wax Bullet War: Chronicles of a Soldier & Artist – 978-1932010701 – paperback – Ooligan Press – $16.95 (ebook version available at lower prices)
Sean Davis grew up in Oregon, joined the Army after high school, went to art school for awhile, had an unsuccessful relationship with an attractive woman, and was working at an unsatisfactory job as a highway worker on September 11, 2001. The next day he walked into the Oregon National Guard recruiting office and re-enlisted, on the working assumption that he would be contributing to the greater good and giving himself a sense of direction and meaning. He had no idea he would soon end up on active duty in Iraq on the front lines of the war trying to figure out how to be a sensitive warrior in a strange country.
Davis is a talented writer and exceptional memoirist with a keen eye for details and a wry sense of humor. In Iraq he lost his best friend in an ambush and was himself critically wounded. He returns home after a lengthy period of recovery to deal with the aftermath of his experiences and suffers through what we now know is so common for the veterans of our seemingly endless recent wars, alcohol and drug dependency and a minimally helpful support system. Somehow, Davis managed to rediscover the interior place where his art comes from and was able to rebuild his life. He now has a family, an advanced degree, is actively an artist and a writer, and has created a nonprofit organization (A Rock or Something Productions: "veterans getting veterans into the arts") to connect other veterans to the healing power of the arts.
Davis recounts the seeming insanity of daily life in the war zone with humor and clarity, and clearly cares deeply about the civilians he encountered in Iraq as well as the men and women with whom he served.  As an example, the wax bullets in the title were what was used in training exercises in Kuwait prior to active deployment – to save money. Evidently it escaped the thinking of military planners that in the plus 100 degree temperature there, the bullets would melt, fouling the soldiers' guns, wasting time and endangering their lives. This is not the only example of how things go wrong for US soldiers and the Iraqi people in the midst of the war, which Davis describes with a soldier's sense of black humor.
His description of what happened to him after he returned home is terrifying and powerful. When he does rediscover himself, we are right there with him, joined with his indomitable spirit to become someone better, someone who can be alive and present and fully engaged in the beingness of humanity.
The Wax Bullet War is a beautiful book, incredibly moving and compelling. I'd recommend adding it to the short list of great books about war and specifically about the real experiences of soldiers who fight and then must live their lives in time of peace.  Put aside some quiet time to read it and let it sink in.  Sean Davis website. Publisher Ooligan Press website.
Sean Davis bio: Sean Davis is an artist, writer, and returning veteran of the Iraq War. He earned a bachelor's degree in English from Portland State University and an MFA in Writing from Pacific University. His previous work includes the novel Motivation and Toleration, published under the name Ian Avi, as well as contributions to the Portland Mercury, Nailed Magazine, and Split Infinitive. He has appeared on 60 Minutes and is one of the cofounders of Hubris Press in Portland, where he lives with his wife and daughters.