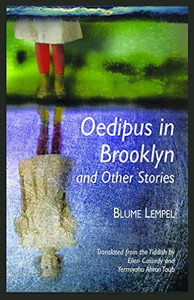 Oedipus in Brooklyn and Other Stories by Blume Lempel – Translated by Ellen Cassedy & Yermiyahu Ahron Taub – Mandel Vilar Press & Dryad Press – paperback – 9781942134213 – 240 pages – $16.95 (ebook versions available at lower prices)
This book was the winner of the 2012 Translation Prize awarded by the Yiddish Book Center.
Blume Lempel wrote in Yiddish, her native language. She was a wonderful storyteller with a strange and far reaching imagination. Hear writing slips beautifully between realistic and dreamlike states, lyrical and penetrating in style, completely compelling to the modern reader. What a surprise to discover this writer whose poetic language style is masterful.
As the publisher describes her stories: "A Holocaust survivor speaks to the shadows in her garden, a pious old woman imagines romance, a New York subway commuter forges a bond with a homeless woman, and in the title story a mother is drawn into a transgressive relationship with her blind son."
Ellen Cassedy and Yermiyahu Ahron Taub (the translators) on encountering Blume Lempel's stories wrote: "When we began reading and translating, we didn't know we were going to find a mother drawn into an incestuous relationship with her blind son. We didn't know we'd meet a young woman lying on the table at an abortion clinic. We didn't know we'd meet a middle-aged woman full of erotic imaginings as she readies herself for a blind date. Buried in this forgotten Yiddish-language material, we found modernist stories and modernist story-telling techniques – imagine reading Gabriel Garcia Marquez with the conversational touch of Grace Paley."
Lempel (1907–1999) was one of a very few writers in the United States who wrote in Yiddish into the 1990s. She immigrated to New York during the time that Hitler rose to power, and began publishing short stories in 1945. By the 1970s her work had become known throughout the Yiddish literary world. When she died in 1999, the Yiddish paper Forverts wrote: "Yiddish literature has lost one of its most remarkable women writers."
Blume Lempel (1907-1999) was born in Khorostkiv (now Ukraine). She immigrated to Paris in 1929 and fled to New York on the eve of World War II. This book is the first English-language collection of Lempel's stories and is based on a manuscript that won the 2012 National Yiddish Book Center Translation Prize.
Ellen Cassedy and Yermiyahu Ahron Taub received the 2012 translation prize from the Yiddish Book Center for their translation of short stories by Blume Lempel.  In 2016, Ellen Cassedy received a PEN/Heim translation grant for her work on the Yiddish writer Yenta Mash, the first time the prize has been awarded for a Yiddish book.  Ellen is the author of We Are Here: Memories of the Lithuanian Holocaust published by University of Nebraska Press.
Yermiyahu Ahron Taub is the author of four books of poetry, Prayers of a Heretic/Tfiles fun an apikoyres, Uncle Feygele, What Stillness Illuminated/Vos shtilkayt hot baloykhtn, and The Insatiable Psalm.  Tsugreytndik zikh tsu tantsn: naye Yidishe lider/Preparing to Dance: New Yiddish songs, a CD of nine of his Yiddish poems set to music, was released in 2014.  He was honored by the Museum of Jewish Heritage as one of New York's best emerging Jewish artists and has been nominated four times for a Pushcart Prize and twice for a Best of the Net award.  His short stories have appeared in Jewish Fiction .net, The Jewish Literary Journal, and Jewrotica.  Taub's website is www.yataub.net.
This is the first interview I have done with two writers simultaneously; I think it worked well, thanks to the interviewees handling this conversation so deftly.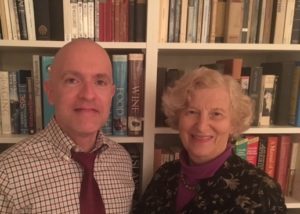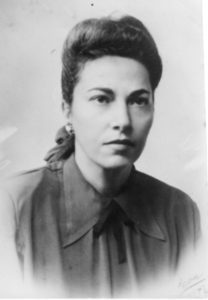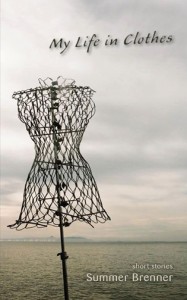 978-1597091633 – Paperback – Red Hen Press – $18.95  (ebook versions also available)
Summer Brenner is an economical and elegant writer whose fiction I have become very attached to (I read her noir novel, I-5, which I think is a terrific book, and interviewed her for Writerscast in December, 2009.  Her latest book, published by the very fine Southern California based independent literary press, Red Hen, is a collection of stories called My Life in Clothes.  It may as well be considered a novel, as the stories are interlocked and related enough to make one, marked by Ms. Brenner's characteristically beautiful writing throughout.
That she was a poet first is evident in the carefulness and precision of her language; she writes a gorgeous and transparent prose that is warm and fluid and easy to inhabit.  The Economist gave My Life in Clothes a terrific review, and called this book "a fierce and funny slip of a thing," and while I love the allusion to clothes in that comment, I think this book is much more than a "slip."   Brenner loves her characters and tells their stories effortlessly.  It's the retelling and and reimagining of her own life after all.  Clothes are the reference point throughout.
The story begins with Moshe Auerbach, a Lithuanian refugee who comes to America, then follows his family line to Atlanta and then the protagonist and her friends and lovers in California from the sixties onward. Along the way we meet Marguerite, the protagonist's mother, whose fixation on clothing and appearances is a key element of the book and her cousin Peggy, whose own interest in clothes and what they mean for self image is profoundly meaningful for her in every respect.
Brenner's writing shines.  She's funny, poignant and sharp.  Here's just one of the many great turns of phrase she manages in this book: "Peter and I used to sit for hours with rod and bait, our legs dangling over the pier, sipping beer, waiting for something to happen," she begins one story. "Most of the time, nothing did. But that didn't matter. We were looking for an excuse to do nothing and preferred if it had a name. Fishing is the best apology ever invented."  There are many more – I highly recommend this book to anyone who appreciates wonderful writing, and stories well told.
Brenner is a prolific and diverse writer.  She has published a dozen books of poetry, fiction, and novels for children.  Another recent title is Richmond Tales, Lost Secrets of the Iron Triangle, a novel for youth, which received a 2010 Richmond Historic Preservation award. Gallimard's "la serie noire" published another of Brenner's crime novels, Presque nulle part which PM Press will release by its English title, Nearly Nowhere, in 2012.
Her voice is wonderful to listen to as well, and I think you will enjoy our conversation about My Life in Clothes, and its wonderful stories and characters.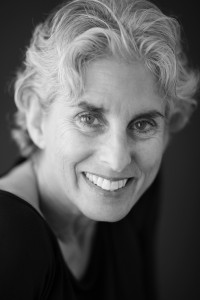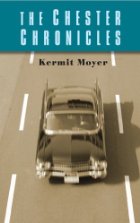 978-1579621940 – Hardcover – Permanent Press – $28.00
What a pleasure it was to discover this writer.  The Chester Chronicles is a collection of interlocking stories that serve to create what is essentially a coming-of-age novel.  We are introduced to Chet Patterson as a pre-adolescent and stay with him as he grows unto early manhood.  He is the son of a military man, so at the heart of the book is the peripatetic journey of a budding intellectual, who often does not fit in with the crowd and is always in search of both his internal and his social identity. There are lots of adventures along the way, many having to do with girls and sex, boys and drinking.
There are certainly elements here that will be most familiar to people of a certain age, who lived through the '50s and '60s, especially the defining moments of those times.  But as with any good book, the character and his story transcend the specifics of the place and time in which the book is set.   The point is, after all, for us to see him as a person on a journey, and to understand where he has been, and perhaps also, therefore, to understand who he will become.  As the author says of himself and of his character, he is "plagued with Oedipal anxieties and existential doubt, yet nonetheless convinced of his heroic destiny."  There are several moment in the book that can make the reader laugh out loud, and there are others where it is equally impossible not to deeply feel his pain.  I'd say that's a pretty good accomplishment for any writer.
In my interview with Kermit Moyer, we talked about some of the autobiographical elements of the book, some of the stories which stood out for me as a reader, as well as some of the characters in the book that affected me the most.  We talked quite a bit about autobiographical fiction and how this book fits into the tradition of fictionalized autobiography and works transformationally both for the author and the reader.  Moyer provides an interesting explanation of his writing which I hope will help introduce new readers to his fine writing.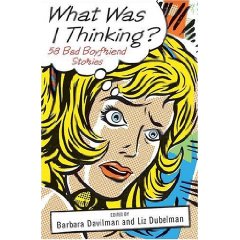 ISBN# 978-0-312-38472-2
St. Martin's Press, Hardcover $21.95
This fun WritersCast podcast has host David Wilk interviewing Liz Dubelman, co-editor of the wonderfully entertaining collection of first person essays by women describing those special moments in relationships when they suddenly realized: it's not going to work.  WHAT WAS I THINKING: 58 Bad Boyfriend Stories will be published February 3, 2009.  Dubelman, co-founder of www.vidlit.com, talks about the genesis of the book, how she and co-editor Barbara Davilman (co-author of YIDDISH WITH DICK AND JANE) collected the essays in the book, how women are responding to it, and why it seems men do not have the same sensibilities about relationships that women do.  Dubelman also talks about "Come to Your Senses Day" – February 15, and the book's website www.c2ysd.com.