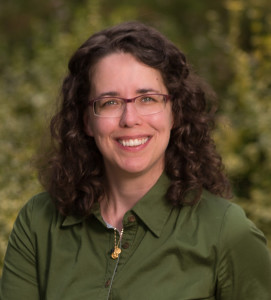 Publishing Talks began as a series of conversations with book industry professionals and others involved in media and technology about the future of publishing, books, and culture. As we continue to experience disruption and change in all media businesses, I've been talking with some of the people involved in our industry about how publishing might evolve as our culture is affected by technology and the larger context of civilization and economics.
I've now expanded the series to include conversations that go beyond the future of publishing. I've talked with editors and publishers who have been innovators and leaders in independent publishing in the past and into the present, and will continue to explore the ebb and flow of writing, books, and publishing in all sorts of forms and formats, as change continues to be the one constant we can count on.
It's my hope that these conversations can help us understand the outlines of what is happening in publishing and writing, and how we might ourselves interact with and influence the future of publishing as it unfolds.
There are two Jane Friedmans in the book business, which has caused no end of confusion for all sorts of people and many occasions (even Google can't figure this one out).
One Jane Friedman is the well known and iconic publishing executive who is the founder and CEO of Open Road Media, a leading digital book publisher. The "other" Jane Friedman, whose work I have been following for a number of years, is an expert in social media and digital marketing who advises and teaches writers in marketing their work and how to be writers in the current rapidly changing environment, as well as working with publishers and others on a wide variety of subjects and concerns. She continually impresses with her intelligence, acuity, passion for writing, and compassion for writers.
This Jane Friedman worked at Writer's Digest, where she ultimately became publisher and editorial director, and recently she served as the digital editor for the Virginia Quarterly Review, where she led a digital overhaul of the magazine. She is now teaching digital media and publishing at the University of Virginia and writes a column for Publishers Weekly (I frequently have recommended her smartly written columns). The Great Courses has released her 24-lecture series, How to Publish Your Book and she has a book of her own forthcoming from the University of Chicago Press called The Business of Being a Writer (2017).
Given that her thinking, writing and teaching has placed her in position to know a great deal about how things are for writers these days, I thought it would be good to talk to the "other" Jane Friedman for Publishing Talks. Our stimulating conversation follows. What Jane has to say will be valuable and important for writers and publishers alike.
You can follow Jane Friedman at her website, where she offers a myriad of insightful, practical and useful information, advice for free, and also online courses and consulting services at very reasonable rates.
Nice quote from Jane on her site: "The 3 things very important to me: compassion, service, and independence. I avoid environments (or people) lacking these qualities, especially organizations without a strong service component—a strong why—driving their work-play."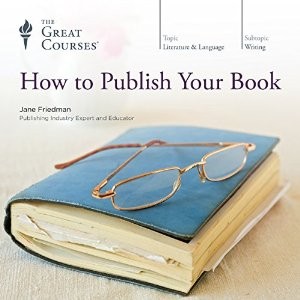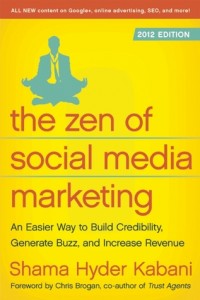 978-1936661633 – Ben Bella Books – $16.95 – paperback (ebook versions are available)
If you're involved in any business or any form of communication arts or entertainment, you already know that social media has rapidly become the buzz term of the new century.  Increasing numbers of people all over the world spend hours a day online in some level of engagement on Facebook, Twitter, Linked In, Tumblr and now Pinterest.   That the book I am talking about here, The Zen of Social Media Marketing: An Easier Way to Build Credibility, Generate Buzz, and Increase Revenue, is an updated 2012 edition of a book first published less than two years ago, indicates how dynamic and fast changing online social media have become.
Over the last four or five years, I have voraciously read or skimmed any number of books that cover either specific social media platforms, or more broadly on social media marketing and strategies for businesses and professionals.  Quite a few of them were very good and taught me valuable lessons.  None, however, was as penetrating and inspiring as this book.  Author Kabani deeply understands how social media marketing is so different from traditional marketing – and requires a very different approach from anyone attempting to "use" social media for their business or profession.  Zen is the right term.
Shama Kabani started her own marketing business, The Marketing Zen Group, right out of graduate school, and built it into a successful operation, learning as she went.  Her company used social media to attract clients; she practices what she preaches.  In the book, Shama lays out her  basic principles, contrasting the conversational and participatory approach of social media marketing to the megaphone approach of traditional product marketing that worked in the one way world of broadcast and publishing media for so many years.  Her core structure is compelling and simple: ACT: Attract followers, Convert them to consumer or customer, Transform your successes into magnetic attraction.
Throughout the book, Shama features anecdotes, guest experts in a wide range of subjects providing useful advice, and a steady stream of really powerful tools and behaviors that will help anyone from beginner to expert become a better social media participant and therefore a marketer.  For many businesses, becoming adept at working in social media has been the magic that has helped them succeed and thrive in a challenging and constantly changing environment.  I do believe that if you only have time to read one book on social media, this is the one to have.  So many of your customers (and potential customers) are so deeply involved with social media, you cannot afford to ignore them.
Talking to Shama was great fun, highly rewarding for me, and I think this interview will be useful and extremely valuable to all.  Writers and publishers in particular will find this conversation of particular value.  You can reach Shama directly in a variety of ways:
Email: shama@marketingzen.com; Facebook; Twitter; LinkedIn; Google+ 

Please post comments and any ideas and suggestions this discussion engenders.