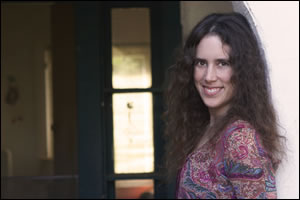 978-0345492623 – Ballantine – Paperback – $15.00 (also available as an e-book at $9.99)
Writerscast is proud to present the third in a series of authors reading from their work, called AuthorsVoices.   I hope you will agree that hearing these works read aloud by the original authors adds to your experience of the writing.
I love getting a sense of the author's distinct sense of her or his own words. With writers touring in support of their books less frequently now, these podcasts should provide readers with an opportunity to hear some of our best contemporary authors reading from, and sometimes performing their own works.
Gayle Brandeis' Delta Girls was a great discovery for me.  I loved her writing, her characters, and the pace and flow of the novel.  I particularly enjoyed the way Gayle set up the alternating stories of the two women, Izzy and Karen and of course brought them together with what was for me a very surprising climax to the story.  In this reading from the novel, Gayle reads the opening two chapters, where the two characters are introduced and their ultimately intertwining stories begin.
Gayle has a terrific website where you can learn more about her and her work.  Her's her brief bio as a writer:
Gayle Brandeis grew up in the Chicago area and has been writing poems and stories since she was four years old. She is the author of Fruitflesh: Seeds of Inspiration for Women Who Write (HarperOne), Dictionary Poems (Pudding House Publications), the novels The Book of Dead Birds (HarperCollins), which won Barbara Kingsolver's Bellwether Prize for Fiction in Support of a Literature of Social Change, Self Storage (Ballantine) and Delta Girls (Ballantine), and her first novel for young readers, My Life with the Lincolns (Holt).  It's great hearing her own voice here speaking the words she has written.