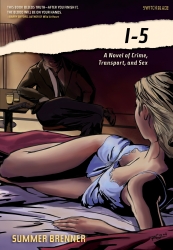 978-1-60486-019-1 – Paperback – PM Press – $15.95
This is a slim novel that packs a pretty powerful punch.  Summer Brenner was best known to me as a poet, but it turns out she has been writing fiction for quite some time.  She has a political interest, as this novel demonstrates, but it is not a tract.  It's a sensitive portrayal of an Eastern European woman who has been tricked into coming to America, where she has been enslaved in a money for sex ring that makes a business out of the correlation between the desires of women to escape the misery of their lives and men who are willing to pay for sex of all kinds with women, whose real lives they care nothing about.
As the story of I-5 unfolds, Anya, the main character, is traveling the interstate corridor up central California from Los Angeles to Oakland; adventures ensue, some of them strange, some of them desperate, all of them painful and sad.  Still, Brenner's characters matter, she is sympathetic to all of them as human beings, even the worst exploiters in the crew.  That makes this novel much more than a book about sex, money, power and violence; in Brenner's hands, these characters transcend their typologies to become real people trapped in their individual gulags.  She writes visually, so that with a relatively few words, we can see what she wants us to see, the places her characters inhabit, and even their interior worlds.  It's gut wrenching book, but our faith in the ability of people to overcome the obstacles between themselves and their humanity is never lost.
This is really a terrific book; yes, the cover makes it look like a trashy paperback from the 50s, but done in a modern enough way that there is no mistaking it for anything exploitative.  I-5 is a hardboiled story, and it is as noir as any book you will read, but it's a transformative experience to read and one that should not be missed.  In my interview with Summer, we talked quite a bit about the how she came to write this book, and many of the issues of sexual slavery in America and worldwide today.  She expresses a deep emotional connection with the characters in her novel, based on her own experiences as a woman.  Her abilities to imagine her characters and their stories is remarkable.  Summer Brenner is a writer more people should know, and one who important things to say.