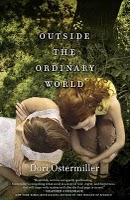 978-0778328896 – paperback original – Mira Books – $14.95 (ebook edition available at a lower price)
Dori Ostermiller's Outside the Ordinary World is a very strong and compelling novel, hardly recognizable as a first novel.   The novel's main character, Sylvia, is an artist and teacher who is grappling with the messiness and unhappiness of her life.  She's distanced from and frustrated with her husband enough to risk an affair with the somewhat exotic father of one of her students.  Since this is in many ways a reflection of Sylvia's own experience as a child, when her mother spent years in her own affair, it triggers Sylvia's memories and ambivalence about much of her own life and thus her unfolding story.
The story unfolds as Sylvia remembers her past and of course must reconnect with her family while she is trying to reconcile her own situation.  We learn about her unusual upbringing as a Seventh Day Adventist, her father, the mercurial and unhappy doctor, who abused his wife and children, and her mother, so unhappy and conflicted that she allowed (or forced) her daughters to participate in her complex "other" relationship, a lack of boundary drawing that has long term ramifications for Sylvia in her own life.  We also meet her grandparents and her sister in the present, for further complications to her situation.
It's risky turf for any writer to take on love, marriage, trust, infidelity and family history with a story line and characters so close to her own.  But I think imagination and creativity using the "stuff" of one's own apparent life is precisely where the most powerful art comes from.  Ostermiller writes beautifully about complex human relationships and tells a difficult story well.  In many ways this novel defines how fiction really works and works best – taking the difficult journey of the soul to resolve difficult emotional and psychic issues (for both the author and the reader).  I really enjoyed this book, as different from my own life experiences and situations as it was.  And it was great fun to talk to Dori about her work, the issues of fiction and the mysteries of human love.
Dori Ostermiller teaches writing and literature in Western Massachusetts.  She is the founder and director of Writers in Progress, a literary arts center housed in the Arts & Industry building (a refurbished old brush factory) in Florence.   Many of her students have published books of their own, including Alison Smith, Kris Holloway, Ellen Meeropol, Kyra Anderson and David Lovelace.
Dori is currently working on her second novel in Northampton, where she lives.  Her website is worth a visit.  And I for one am looking forward to reading her next novel.