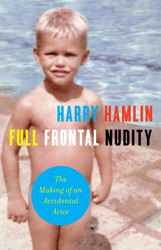 978-1439169995 –  Hardcover – Scribner – $24.00 (e-book edition available)
Harry Hamlin's autobiographical memoir is not what you might expect if you are looking for a traditional "famous actor" tells-all but really tells-very-little story.  Full Frontal Nudity is a completely honest, sometimes hilarious, sometimes sad, sometimes mind-boggling story about Hamlin's growing up in suburban California and coming of age through two different college experiences and the beginning of his life as a professional actor.
This book is a thorough pleasure to read; Harry is a fine writer, and has a remarkable sense of the accidents and sometimes mysteries that go into making us who we are.   And it's also true throughout, whether intentional or not, by telling his own story, he becomes part of the larger social fabric of the 50's, 60's and early 70's, and thus helps us understand what it was like to be alive during that now famous era of history.  And for those many of us who were also there then, his story will remind us of some of the beauty and dangers we lived through.
The subtitle of this engaging memoir is important too: "The Making of an Accidental Actor." Hamlin is clear that who he is today and how he got there represent the sum of a long series of accidents and choices with unintended consequences.  As the book opens, we discover that Harry has an arrest record from 40 years ago that has suddenly prevented him from traveling to Canada, where he actually now lives part of each year.
How this happened is a great story, but what I liked most about it was the way that Harry told it on himself, unafraid to bare the truth about his life.  I know that really good actors must learn how to do this, but they're usually acting someone else's drama, and thus are always protected on some level.  There's no hiding here, and it's a refreshing turn.  Hamlin is an actor, and a good one
Hamlin grew up in California, in a not quite normal household, and after high school headed for Berkeley at what some would say was just the right time – 1969.  On the way to college, he managed an accidental detour that got him, shall we say, distracted.  Intending to sign up for an architecture major, he found that there were no courses available, and the only ones available were drama, thus he embarked on what would eventually become his career.  His time at Berkeley was suitably exotic, and included the drug possession arrest that later caused him so much trouble with the Canadian immigration folks.  His time at Berkeley came to an untimely and early end because of a fire at the fraternity whose president he had become, and almost by magic, and again accidentally, he headed for Yale, where he flourished.  Then another more or less accidental turn – he gives up a safe job as a PBS production assistant and takes an offer from the American Conservatory Theater, where a role in the play Equus ultimately led him to an outstanding film and TV career (notably LA Law, many others).
Overall Full Frontal Nudity is a terrific and wonderfully enjoyable book, and unsurprisingly, we had a thoroughly interesting and revealing conversation about the book and many of the stories he wrote about.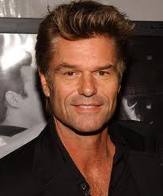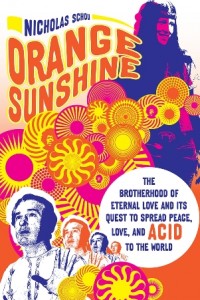 978-0312551834 – St. Martin's Press – Hardcover – $24.99
Nick Schou writes for the excellent OC Weekly (one of the several Village Voice papers) based in Orange County, California, home of Disneyland, Knott's Berry Farm, UC Irvine, the Los Angeles Angels of Anaheim, Little Saigon, and of course seemingly endless tracts of California suburbia.  But Orange County in the 1960's was also the birthplace of some of the most amazing scenes of hippiedom, and the little known "Brotherhood of Eternal Love."
In this book, Schou tells their story from beginning to end, and it is a pretty incredible saga, including what was probably the largest LSD manufacturing and distribution operation of all time, a world wide hashish and marijuana smuggling cartel, incredible tales involving Timothy Leary, and much, much more.
Known as "Hippie Mafia," the Brotherhood began in the mid-1960's as a small band of surfers (and in many cases petty criminals) in Southern California. After they discovered LSD, they took to Timothy Leary's mantra of "Turn on, tune in, and drop out" and resolved to make that vision a reality by becoming the biggest group of acid dealers and hashish smugglers in the nation, and literally providing the fuel for the psychedelic revolution in the process. In Orange Sunshine, Schou journeys deep inside the Brotherhood, combining exclusive interviews with many of the group's surviving members, former hangers on and supporters, and interstingly, the law enforcement establishment who pursued them and by doing so helped to launch what has now become an institutionalized government war on drugs.
Schou tells a compelling story of sex, drugs, and rock 'n' roll (and more drugs) that runs from Laguna Beach to Maui to Afghanistan, and a time when America moved from the golden era of peace and free love into the much darker time that soon followed, marked by hard drugs, international crime and paranoia.
Talking to Nick Schou gave me a chance to explore with him some of the background to the book, and to talk about the large amount of research he did to put it together, and the challenges he faced in getting some of the participants to even tell him what they did in those days.  We also talked about some of the more startling elements of the story of the Brotherhood, their involvement with Timothy Leary and Ram Dass, Orange County then and now, and much more.
This is a fascinating story, one that helps us understand some of the complex issues that began in the sixties and are still with us today.  This kind of grassroots history is important to document as it can give us all a chance to better comprehend the always diverse and sometimes simply amazing culture in which we live.