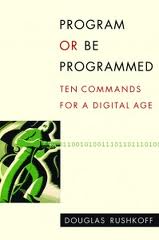 978-1935928157 – Paperback – OR Books – $16.00 (ebook edition $10.00)
with terrific original illustrations by Leland Purvis.
I think this book, Program or be Programmed: Ten Commands for a Digital Age by digital critic and thinker Douglas Rushkoff, should be required reading for anyone interested in modern culture, politics or economics.  It's a short book, densely argued, that requires careful reading and attention to its ideas.  Which probably makes it daunting to many in this era of fragmented ideas and short subjects.  But it's divided into ten clear sections (note "commands" as in programming inputs, rather than "commandments" as in biblical instructions) and is well worth the effort a reader must put into reading it.
I spent more time with this short book than with many much longer books I have read recently.  And I am very happy I did.  As Howard Rheingold says "Thinking twice about our use of digital media, what our practices are doing to us, and what we are doing to each other, is one of the most important priorities people have today."  It's impossible not to agree.  And Rushkoff understands the complexity of behavior and thinking that the always-on, always-connected internet has brought to modern culture.
It's not about whether the internet is good or bad, or whether online culture somehow supplants a more preferable offline one.  As the publisher says about this book, "the real question is, do we direct technology, or do we let ourselves be directed by it and those who have mastered it? "Choose the former," writes Rushkoff, "and you gain access to the control panel of civilization. Choose the latter, and it could be the last real choice you get to make."
Having the opportunity to talk about these ideas with Rushkoff was tremendously exciting and invigorating.  He's a really smart guy whose clarity of thought I admire alot.  I've spent alot of time participating in, reading about and analyzing new media and modern culture myself, and I know I have learned alot from Douglas Rushkoff's books and ideas.  I think Program or be Programmed is one of the most important books I have read in a long time.