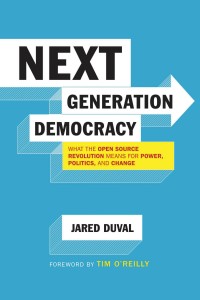 978-1608190669 – Bloomsbury – paperback – $15.00
Next Generation Democracy is an important book by a really smart and compelling young activist and writer, Jared Duval.  I like what Bill McKibben says about the book and by extension the author: "God knows previous generations have left those that are coming of age a world of trouble. Happily, they're figuring out a world of ways to set them right. Jared Duval's book offers a behind-the-scenes tour of the next wave of activism, organizing, inspiration, and change. It will give you cause to hope–and cause to go to work."
But even more than a behind-the-scenes look at how activists are working and thinking together in new ways, Duval gives us a strong sense of hope for making change in the future.  I think it's true enough that the past few generations have not succeeded in broadening democracy and making progressive change throughout the world, especially in environmental, social justice and peace, as broad stroke categories of change that is needed most.  But it's heartening to know that the younger generation includes individuals like Duval who are finding new ways to make change, resist the impulse to blame and create divisions, and who see the tools of change around them everywhere, and simply make use of them so easily and comfortably.
Jared sees open source software as the exact model needed for a reinvention of democracy.  Our government can be as open and transparent as the development of Linux, a story he tells here almost as a parable for political thinkers and activists.  In Next Generation Democracy, Jared covers key recent events, such as Hurricane Katrina, during which de-centralized leadership emerged to supersede traditional models.  He documents the success stories of these new leaders, both inside the government and out, who are finding effective, directly democratic ways to address the critical public challenges of our time. As he tells the stories of participatory organizations such as the brilliant SeeClickFix (originated in New Haven, Connecticut and now spreading to other communities) and America Speaks (which shows us how to meaningful re-engage citizens in the processes of government) Duval describes a new approach to solving complex problems that draws on the contributions of a wide array of activated citizens everywhere.
I do wish this book had come out earlier in the year, actually in time for election season, as I am certain that the thinking here could benefit anyone involved in the political process.  But in the end, what really matters is that people read Next Generation Democracy, become inspired in some way, small or large, to get involved, work with their fellow citizens, make change, small or large, and address the future in a positive way.  Reading this book and then listening to Jared Duval talk about his ideas and experiences certainly inspired me, and I am happy to recommend him and his book to anyone listening to this talk.
Jared Duval is a busy guy.  He is a fellow at the well respected Demos policy organization and earlier served as the National Director of the Sierra Student Coalition (SSC), the national student chapter of the Sierra Club and the largest student environmental organization in America. During this time he helped build the Energy Action Coalition and the Campus Climate Challenge campaign, serving as the effort's co-chair for two years.