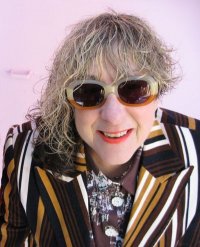 In this series of interviews, called Publishing Talks, I have been talking to book industry professionals and other smart people about the future of publishing, books, and culture.  This is a period of disruption and change for all media businesses.  We must wonder now, how will publishing evolve as our culture is affected by technology, climate change, population density, and the ebb and flow of civilization and  economics?
I hope these Publishing Talks conversations will help us understand the outlines of what is happening, and how we might ourselves interact with and influence the future of publishing as it unfolds.
These interviews give people in and around the book business a chance to talk openly about ideas and concerns that are often only talked about "around the water cooler," at industry conventions and events, and in emails between friends and they give people inside and outside the book industry a chance to hear first hand some of the most interesting and challenging thoughts, ideas and concepts being discussed by people in the book business.
Allee Willis is one of my all-time favorite people.  She is best known as a spectacular and hugely successful songwriter; her songs for Earth, Wind and Fire and the Pointer Sisters were giant hits, she wrote the theme song for "Friends," the music for the Oprah Winfrey produced Broadway musical production of "The Color Purple, collaborated with the web sensation Pomplamoose (Jungle Music), and as of the date of this posting, her song "I'm Here" was sung by Jennifer Hudson for Oprah Winfrey's Kennedy Center Honor Award.  But all of this musical success notwithstanding, as she herself says, Allee is "a one-woman creative think-tank. A multi-disciplinary artist and visionary thinker whose range of imagination and productivity knows no bounds, her success exuberantly defies categorization-'unique' pales as a descriptor."  You have to visit her website to begin to get an idea of what a creative powerhouse she is.  Her Allee Willis Museum of Kitsch is not to be missed.  She's constantly creating, integrating music, art, video, multi-media technology and lifestyle via a series of work which she co-composes, sings, plays, produces, draws, animates, directs, designs web worlds for and stars in. The first release, "Allee Willis Presents Bubbles & Cheesecake "It's A Woman Thang"-part of a 6-song collaboration with singer-songwriter Holly Palmer (aka Cheesecake) was selected as Official Honoree in the 2008 Webby Awards, and won three 2008 W3 Awards. Her second video, "Allee Willis Presents Bubbles & Cheesecake "Editing Is Cool" was also 'featured' on YouTube. At one point, Willis' 2009 video "Hey Jerrie," co-starring 91-year-old female drummer on an oxygen tank Jerrie Thill, was the 12th most popular video in the world on YouTube.
I wanted to talk to Allee mainly because she has been working with the internet in her work almost since the 'web went public – as she points out, the 'web itself is her medium.  She is the ultimate social being, her work itself is social art, her medium is her life.  Anyone working in an artistic discipline today can learn from what she knows and how she conducts herself as an artist.  I loved talking to Allee about her work and what she knows – which is a tremendous amount.  And now I am addicted to her website too.  Writers and publishers, please pay attention to what she has to say: art is social! books are bait!