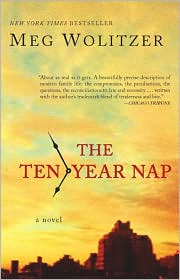 9781594483547 (paperback)
Penguin Group, $16.00
Writerscast host David Wilk interviews author Meg Wolitzer, whose novel The Ten Year Nap has recently been released in a paperback edition. This brilliantly written novel, set in contemporary New York City, portrays the lives of a group of women who have set aside their careers to raise children. Wolitzer paints her characters with the complexity and sympathy they deserve, but she never lets them off the hook for their foibles and failings. Women and men will recognize – sometimes painfully – much that is familiar to those who have lived through and come after the post-first wave of feminism in modern urban culture. Her humor is subtle but can make the reader laugh out loud as well.
In a wide ranging discussion Wilk and Wolitzer discuss the story line, characters and issues raised in The Ten Year Nap, as well as Ms. Wolitzer's approach to writing and books and how she works. For any fan of Meg Wolitzer's novels, and there are many, listening to this interview will be fun and illuminating. The Ten Year Nap is a wonderful book and highly recommended to anyone interested in contemporary American fiction.