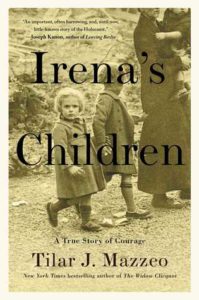 Irena's Children: A True Story of Courage – 9781476778501 – Gallery Books – Hardcover – $26 – ebook versions available at lower prices.
Author Tilar Mazzeo is a terrific storyteller, who took on the task to tell the world about an inspiring, heroic and terrifying story with this book, the true story of one woman who, with a network of associates, saved 2,500 Jewish children from the Nazis during World War II. The main subject of the book is Irena Sendler, who was a young social worker in Warsaw, living in a socially and politically progressive milieu, when the Germans began World War II by invading Poland.
Poland, of course, was quickly defeated by the larger and more modern German army. The conquered country's resources, human and otherwise, were turned toward the use of the German war effort, with hundreds of thousands of Poles used as slave laborers as their country was occupied by a brutal military regime. And the Germans then began their concerted efforts to destroy the large Jewish population of that country. While many Poles opposed the Nazis, with partisans fighting them from the outset of the war, some Poles were active collaborators with the Fascists, and many more simply did their best to survive under impossible conditions.
Some Poles risked everything to rescue Jews from the near total eradication of that community that the Germans sought.
Irena Sendler and a close circle of her friends and work associates undertook what we now can recognize as an heroic effort to save some of the children of the Warsaw ghetto. For almost four years, they took immense risks and dangers upon themselves and their families, to rescue innocents from the horrors they could see were happening all around them.
While everything in this book reads like a terrifying, fast-paced novel, Mazzeo has pieced together a completely true story of unimaginable heroism by many "regular" citizens of Poland. Irena Sendler, together with the help of a network of local people and the Jewish resistance, was able to save upwards of 2,500 Jewish children from likely death in the brutal concentration camps to which most Polish Jews were sent. Irena herself went back and forth into the Jewish ghetto, sneaking children out in a myriad of ways, and then found refuge for the children with local Polish families, convents, churches and farmers.
It was an incredible effort. Irena Sendler knew the terrible risks – she was at one point brutally tortured by the Gestapo – but also knew she could not fail to act.
It is incredible that she and so many of her cohorts survived the war. But then, of course, she and Poland had to survive the takeover of her country by the Soviets, and that meant that the story of her wartime heroism could not be told until long after the war had ended. Mazzeo's effort here to celebrate and tell this amazing story is extraordinary, and much appreciated. Irena Sendler and her network of heroes serves as inspiration and constant reminder that we "regular citizens" must be prepared to face moral choices at any time, sometimes with dire consequences. So many good people were killed in this terrible war.
It is impossible to read this book and not wonder how any of us would have responded then. And of course we must each ask our selves honestly, how will we respond when our time to act is upon us?
I really enjoyed reading this book. It brought up powerful emotions and important questions. Mazzeo is both a fine writer and a terrific researcher, and in this book displays both those talents in full flower. We had a really interesting conversation about this book. There is so much in it I did not want to discuss in detail, so readers will be able to have the full experience of the book for themselves, but we had much to talk about nonetheless.
Tilar Mazzeo is the Clara C. Piper Associate Professor of English at Colby College, in Waterville, Maine. She is the author of numerous works of narrative nonfiction, including the New York Times bestselling The Widow Clicquot.
There's a wonderful portrait of Sendler, written while she was still alive here and a website devoted to her life and story called Life in a Jar.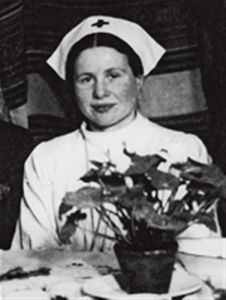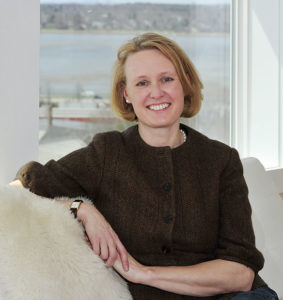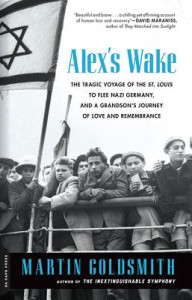 978-0-306823-71-8 – DaCapo Press – paperback – 352 pages – $15.99 (ebook editions available at lower prices)
I seem to have an inordinate interest in books about the Holocaust, doubtless because I think about my unknown relatives who perished in Lithuania and Poland during WW II, and feel somehow that knowing what happened to other Jews in that awful time will help me imagine the story of what happened to my own relatives. It's difficult not to wish that there were more accounts of heroic escapes from the Nazis and their allies in every country they occupied, but more often than not, the stories we do get to know are deeply sad, frustrating, or horrific.
Martin Goldsmith's parents came to the United States in 1939 from Germany, having survived the Nazi regime only because they were classical musicians who played in the Kulturbund, a special group of Jewish musicians that entertained other Jews in Germany (that was the subject of Martin Goldsmith's last book, THE INEXTINGUISHABLE SYMPHONY: A True Story of Music and Love in Nazi Germany).
This new book, Alex's Wake, is principally the story of Goldsmith's grandfather and uncle, who tried to escape Germany in 1939 on the ill-fated journey of the German luxury liner, the SS St. Louis, which took more than 900 Jewish refugees (at their own expense, paying high prices to the German steamship company) across the Atlantic, first to Havana and then, having been turned away by the Cubans, to the USA and Canada, which also refused the refugees entry to their countries. This meant that the ship had to sail back to Europe, where amazingly and after great effort, the refugees were accepted by England, Holland and France. Only those who went to England truly escaped, however, as soon after the Germans overran both France and Holland, and these forlorn, long suffering escapees were once again under the thrall of the Nazis, who now could kill European Jews without restraint.
Goldsmith's father suffered lifelong guilt for not being able to rescue his father and brother (and one must imagine, also his mother and sister, whose stories are really not told here, but who also were murdered in the war). That guilt was ineffably passed on to the grandson, and this book is Martin's attempt to expiate that guilt, and to understand as much as it is possible, the story of his family's travails more than 70 years ago.
Goldsmith and his wife traveled to Europe, spending six weeks retracing the journey of his antecedents, Alex and Helmut Goldschmidt. That journey forms the structure of the book, around which is built the narrative of his family's formerly happy and successful life in Germany, their struggles to escape the Nazis, the terrible journey of the SS St. Louis , and especially moving, the detailed tracking of Alex and Helmut's terrible time in occupied France where their hopes were truly lost, and where, after great suffering, they were transported to Auschwitz and finally their deaths. Along the way, Goldsmith learns a great deal about his family's life in Germany, meets many interesting people, and in fact helps to change the lives of others as well as his own.
This is a fine example of narrative nonfiction and while at times painful, well worth reading. Goldsmith's improbable effort to expiate his family's guilt and suffering brought forth forgiveness and a sort of transcendence both for himself and others involved in the story, and the book's honesty and beauty in the face of pain enables us to overcome the sorrow that inevitably arises when experiencing a story of deeply felt pain and loss. He's an engaging writer and memoirist, and a fine storyteller.
Martin Goldsmith has been a radio host for public radio and Sirius XM, where he now is director of classical music programming and appears on the Symphony Hall channel. Goldsmith has also sung with the Baltimore Opera Company and the Washington Opera. He has also acted in Washington-area theaters, including Arena Stage. His music reviews have appeared in the Washington Post and he is the author now of three books, including Alex's Wake.
Website for the book is here. Alert – we had a really good conversation so this interview runs slightly long at almost 42 minutes.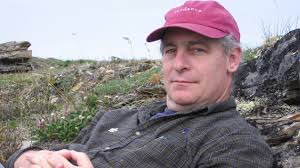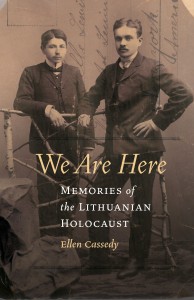 978-0803230125 – University of Nebraska Press – Paperback – $19.95 (ebook versions available at variable lower prices)
Finding this book was a happy accident for me.  Much of my own family is from Lithuania and I have long been interested in the history and culture of the Jewish community prior to World War II.  I've read a number of books by Jews who survived the Holocaust in Lithuania – terrible stories of suffering and loss.  But Ellen Cassedy's story resonated even more deeply for me.  She went to Lithuania to study Yiddish as part of her quest to connect to her Jewish roots on her mother's side and to explore the country and culture of her family's birth.
She also needed to learn some of the secrets of her Holocaust survivor Uncle's past, and as she explored and connected to Jews and gentiles alike, her experiences in modern Lithuania changed her perspective and understanding of the complex connections between people, their history, and their present.   Much of what she believed was true about Lithuania as well as her family's experience in the terrible war years was upended by what she learned and the people she met and interacted with there.
Cassedy's story should be meaningful not just for Jews seeking to understand their European roots.  Through her eyes, we learn a lot about her hard work in trying to master the complexity of the beautiful and difficult Yiddish language.  She spends time with old people, young people, survivors, witnesses, goes through old Lithuanian and Russian archives, interviews city and country folk, including an old man who wants to "speak to a Jew" before he dies and learns a great deal about the issues that confront a country that was taken over by both Nazi and Soviet dictatorships.  In the end, her journey transforms her, and in this memoir she allows us to travel with her through a difficult and rewarding emotional and physical landscape.  I truly enjoyed this book and talking to Ellen about it was a pleasure.  And I learned some new Yiddish words and expressions too!
Her own website is well worth a visit – nice video of Lithuania and more about her other work.