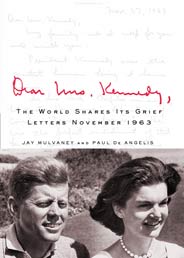 978-0312386153 – St. Martin's Press – Hardcover – $19.99 (also available as an e-book at $9.99)
Are there more books about the Kennedys than about the Lincolns?  I don't know, but I am certain that there are many of them and my guess is that many who lived through the Kennedy era and many who did not, may feel they know everything they need to know about the Kennedys, JFK and Jackie, and the rest of the family.  Reading this book may well change their minds.
In fact it's a wonderful window into the heart and soul of America and in fact the world in the period just after the assassination of JFK in Dallas in November, 1963.  Now almost a half century beyond that time, these letters, written by the famous and the ordinary, old and young, depict a period of extreme pain, emotional and social disruption, grief, sorrow, and disbelief that affected an incredible number of people all over the world.  It gives us an opportunity to understand a great deal about how human beings respond to a devastating public tragedy.  And some of the letters are simply beautiful, and transcendent in their expression of sympathy and emotion.
The story of the letters themselves is amazing – over 1 million condolence letters, notes and cards were sent to Jacqueline Kennedy in the months after the death of JFK.  They were filed away and saved for many years, and despite a controversial culling in the 1980's, there are still almost 400,000 letters, now cataloged and available for historians and journalists and the public to read and  review.  Editors Jay Mulvaney (who sadly passed away while working on this book) and subsequently Paul De Angelis, have given us a wonderful narrative and selection of letters that uses the words of the original writers to bring this terrible period in our history to life in an unusual and compelling tapestry of voices.
Paul De Angelis is a freelance editor and writer who lives in rural Connecticut.  He's been an editor, editorial director and editor-in-chief for a number of publishers.   In our conversation about Dear Mrs. Kennedy, he talks about the process of putting this book together and highlights a number of the most interesting stories and letters in the book.  For readers who lived through the 1960's, this book will bring back many difficult emotions, and for readers for whom this is only history, these letters can bring the events of that period to life in a very powerful and compelling way, as the writers of these letters always speak from their hearts.  You can see more from the book at Paul's own website.
Full disclosure: the co-editor of this book, Paul De Angelis is a friend and occasional colleague, which does not make this book any less worth reading, of course.