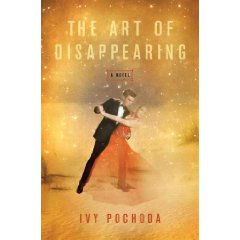 978-0312385859 – Hardcover – St. Martin's Press  -$24.99
The Art of Disappearing is simply a wonderful novel.  And it's the author, Ivy Pochoda's first too.  It's beautifully written, flows naturally, and as with all great novels, it's layered and complex.  A story that transforms the reader's experience can be considered a true work of art, and this is one of those.
This is a description from Ivy's own website:
Toby Warring seems too young and too attractive to be sending drinks to strange women in a small-town Nevada saloon, but that is exactly how he meets Mel Snow, a textile designer who is selling her wares throughout the country.  In a brief but strangely familiar conversation, Toby shows Mel that he is a rare "real" magician—actually creating the wine he places in front of her—and explains that all he has ever wanted is to perform in Las Vegas.  They marry the next day.
You can read excerpts from the book here to get a feel for her writing, which is luminous.  Magic is at the heart of the book, but it's not about parlor tricks.  In my interview with Ivy Pochoda, we talked about how she came to write this story, how it incorporates much of her own experience of place, and how she created the magical realism that imbues the book.  Ivy grew up in Brooklyn in a very literary family, fell in love with writing and books early, went to Harvard (where she was a champion squash player, and lived in Amsterdam for several years.  While living there,  she started work on the novel and it is where much of The Art of Disappearing is set, though Las Vegas and the American west are also important locales for the book and its characters.
I love this novel and will be looking forward to the author's next book.