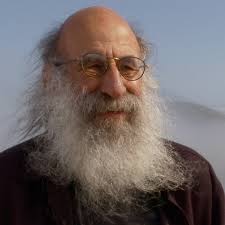 I think of Malcolm Margolin and Heyday Books as one of the iconic independent publishers of the modern era. Founded in 1974 in Berkeley, then and now a hotbed of independent publishing, Heyday began because Malcolm had written a book about walking in the East Bay called East Bay Out and wanted to publish and sell it himself as a locally based book. Its somewhat unexpected success led to his work on a book called The Ohlone Way, about native Americans of California, and by then Heyday was on its way to becoming an important cultural node that over its forty years has produced more than 350 titles.
The history of Heyday is documented in its newly published The Heyday of Malcolm Margolin: The Damn Good Times of a Fiercely Independent Publisher. The book, compiled by Heyday editor Kim Bancroft, is a wonderful collection of oral histories told by Margolin, his family, authors, friends, current and former staffers and some of the many Californians that have been involved with the press and its cultural work for so many years.
This book is a must read for anyone interested in the history of independent publishing and especially the inspiring Bay Area publishing movement of the last half century. Malcolm is truly one of the great story tellers of our time. Unassuming and irreverent, he is now experienced enough to have become an elder statesman, much loved by all who have worked with him.
Heyday is now a well-run and highly respected nonprofit organization. It has produced a significant body of work, and as an ongoing operation, it reflects the values and beliefs of its founder. Heyday, like Malcolm, is committed to the voices of authors, the beauty and power of California as place, and valuing culture as lived by individuals, more important than institutions. And the quality of the work has always been paramount. Every book produced by Heyday displays a high level of care and attention, learned and practiced over many years.
Heyday board member and former staffer Patricia Wakida describes the quintessential image of Margolin getting into his 1997 Volvo to drive to California's high country to hear yet another story around the campfire. "That's what it's all about," she says. "Forty years of listening."
I'm proud to offer this conversation with Malcolm, which gives you the singular opportunity to hear his wonderful voice and persona, to get a sense of why Malcolm and Heyday are so important and meaningful to so many – and what an impact a truly independent publisher can have.
Running time: 47 minutes. Enjoy!