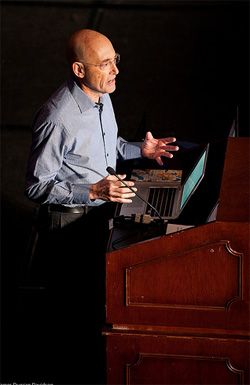 In this series of interviews, called Publishing Talks, I have been talking to book industry professionals about the future of publishing, books, and culture.  This is a period of disruption and change for all media businesses. How will publishing evolve as our culture is affected by technology, climate change, population density, and the ebb and flow of civilization and its economics?
I hope these Publishing Talks conversations will help us understand the outlines of what is happening, and how we might ourselves interact with and influence the future of publishing as it unfolds.
These interviews give people in the book business a chance to talk openly about ideas and concerns that are often only talked about "around the water cooler," at industry conventions and events, and in emails between friends and they give people inside and outside the book industry a chance to hear first hand some of the most interesting and challenging thoughts, ideas and concepts being discussed by people in the book business.
Bob Stein is for me one of the great visionary innovators and someone I greatly admire.   He most recently co-founded The Institute for the Future of the Book, which quite modestly describes itself as "a small think-and-do tank investigating the evolution of intellectual discourse as it shifts from printed pages to networked screens. We are funded generously by the MacArthur Foundation, and affiliated with the University of Southern California. We are located in Brooklyn, NY and London, UK."  Bob's bio includes founding the excellent Criterion Collection of classic films, which he ran for 13 years, as well as The Voyager Company, which produced more than 75 innovative multi-media projects in CD-ROM formats.  Subsequently, Stein started Night Kitchen to develop authoring tools for the next generation of electronic publishing. That work is now being continued at the Institute for the Future of the Book.
In our conversation Bob talked a bit about his background and his history of working in publishing as lead in to a wide ranging discussion of digital publishing issues.  Bob's vision of how reading and books work in the digital, networked social environment – "books as conversation" as well as or perhaps instead of "books as objects" – and how authors and readers interact in the emerging environment is compelling.  Bob has a deep experience that combines conceptual and hands-on work on so many of the issues that concern anyone interested in books and reading which for me makes his point of view so important to experience.