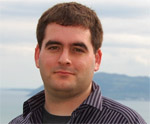 In this series of interviews, called Publishing Talks, I have been talking to book industry professionals about the future of publishing, books, and culture.  This is a period of disruption and change for all media businesses. How will publishing evolve as our culture is affected by technology, climate change, population density, and the ebb and flow of civilization and its economics? Publishing Talks interviews help us understand the outlines of what is happening, and how we might ourselves interact with and influence the future of publishing as it unfolds.
These interviews give people in the book business a chance to talk openly about ideas and concerns that are often only talked about "around the water cooler," at industry conventions and events, and in emails between friends.
I believe these interviews give people inside and outside the book industry a chance to hear first hand some of the most interesting and challenging thoughts, ideas and concepts being discussed within the industry.
Eoin Purcell works and lives in Dublin, Ireland. He is a publishing industry analyst and commentator. He runs Green Lamp Media, a publishing and publishing services company and also edits Irish Publishing News.
He has worked as Commissioning Editor with one of Ireland's oldest independent publishers Mercier Press and at Nonsuch Ireland (now The History Press Ireland). He writes occasional blog posts and columns on the Irish book trade for The Bookseller magazine.
I was prompted to talk to Eoin by his persuasive and cogent article that appeared in (Ed Nawotka's highly recommended online newsletter) Publishing Perspectives called "E-Books are a Cul-de-sac: Why Publishing Needs to Rethink its Digital Strategy."  In my view, Eoin consistently thinks and writes clearly about the unfolding future of a digital publishing future.  In this conversation we talked mainly about how publishers (and authors) can and must adapt to the emerging environment created by new technology (and new distribution models), including practical ideas and actions they can take to embrace new tools and methods of reaching readers in a profitable way.  He expressed his view that publishers need to focus on longer term trends, the values they can provide to readers (and writers) and then build their businesses around identifiable communities of readers.  We also talked about the differences in marketing paradigms that digital publishing establishes for publishers, the idea of "publishing as community" and much more.
Eoin provides a fresh, incisive perspective along with realistic ideas and strategies for publishers who want to embrace a new paradigm of publishing based on a web-centric environment.  I think this conversation will be valuable to anyone (publisher or author) who is interested in creating a successful digital strategy for the long term future.