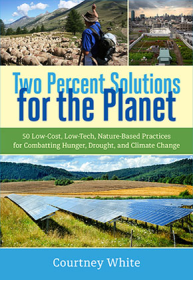 Two Percent Solutions for the Planet: 50 Low-Cost, Low-Tech, Nature-Based Practices for Combatting Hunger, Drought, and Climate Change – 9781603586177 – Chelsea Green Publishing – 240 pages – paperback – $24.95 – October 2015 (ebook versions available at lower prices)
It's my belief that climate change and its consequences are the single most important issue of our time. I am almost continuously upset by the responses of our society to environmental and planetary matters, which usually range from denial to despair.
Part of the problem is simply its scope. Solving planetary scale problems is simply beyond the ability of most of us to comprehend, much less to try to accomplish anything meaningful for us.
When I ran across this book, published by my friends at Chelsea Green Publishing in Vermont, I knew it would be a book I would like. And having read it, I continue to be inspired by its simple practicality. I've learned a lot from author Courtney White and can recommend this book to all, regardless of whether you are actually in a position to apply any of the ideas here. Even if you are a couch potato or a city dweller, this book will help you understand what is possible and practical for us to do in order to make a meaningful change in how we live on this earth.
I lifted the following paragraph from Courtney's website, A West That Works, because it best explains what this project is all about, and places it meaningfully in context.
We live in what sustainability pioneer Wes Jackson calls "the most important moment in human history," meaning we live at a decisive moment of action. The various challenges confronting us are like a bright warning light shining in the dashboard of a speeding vehicle calledCivilization, accompanied by an insistent and annoying buzzing sound, requiring immediate attention.
I call this moment the Age of Consequences – a time when the worrying consequences of our hard partying over the past sixty years have begun to bite hard, raising difficult and anguished questions.
How do you explain to your children, for example, what we've done to the planet – to their planet? How do you explain to them not only our actions but our inaction as well? It's not enough simply to say that adults behave in complex, confusing, and often contradictory ways because children today can see the warning light in Civilization's dashboard for themselves. When they point, what do we say?
As a parent and as a writer, this anguished question created a strong desire to document the sequence of events that I was witnessing as well as attempt to explain our behavior as a society. Hopefully, we would manage to turn off the warning light in the dashboard, but if we did not I was certain that future generations would want an accounting of our behavior.
So, in 2008 I began to write, blending headlines, narrative with travel and research into chronological installments, crossing my fingers.
I think he has done an admirable piece of work toward giving us a better future. Our conversation should add to an understanding of what is possible. Do go buy this book!
A former archaeologist and Sierra Club activist, Courtney dropped out of the 'conflict industry' in 1997 to co-found The Quivira Coalition, a nonprofit dedicated to building bridges between ranchers, conservationists, public land managers, scientists and others around the idea of land health. Today, his work concentrates on building economic and ecological resilience on working landscapes, with a special emphasis on carbon ranching and the new agrarian movement. His writing has appeared in numerous publications, including Farming, Acres Magazine, Rangelands, and the Natural Resources Journal. His essay The Working Wilderness: a Call for a Land Health Movement was included by Wendell Berry in 2005 in his collection of essays titled The Way of Ignorance.  Island Press published Courtney's book Revolution on the Range: the Rise of a New Ranch in the American West and Courtney co-edited, with Dr. Rick Knight, Conservation for a New Generation, also published by Island Press. He lives in Santa Fe, New Mexico, with his family and a backyard full of chickens.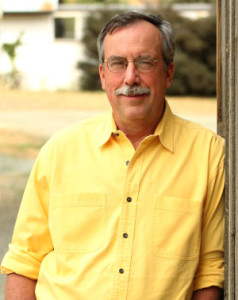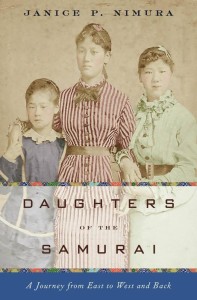 DAUGHTERS OF THE SAMURAI: A JOURNEY FROM EAST TO WEST AND BACK
978-0-393-07799-5 – W.W. Norton – Hardcover – 336 pages – $26.95 (ebooks available at lower prices, paperback edition to be published in May 2016)
Janice Nimura's Daughters of the Samurai is a wonderful book about an extraordinary and little known episode in modern Japanese history. In 1871, soon after the Japanese civil war that led to the modernization of the country, the Japanese government decided to send five young girls to the United States to educated. They were sent along with a delegation of diplomats and civil servants, with a very specific mission to be educated in modern Western ways and then to return to help create new generation of men and women to lead Japan. While each of these young girls had been raised in very traditional samurai households, they were all displaced from their families and clans. Three of the girls stayed the course, while the other two girls went home.
On their arrival in San Francisco, and later, traveling across the country, the Japanese girls became significant public celebrities, written about by newspapers across everywhere. It's incredible to imagine what it must have been like for the girls as well as for the American public, who had never seen anyone from Japan before.
Sutematsu Yamakawa, Shige Nagai, and Ume Tsuda all were raised in middle class or upper middle class homes in the United States and grew up in many ways as typical American schoolgirls, despite their obvious differences from their American friends and family members. Within the families and then in the various schools and colleges they attended, they developed lifelong friendships and connections, and after their ten year sojourn was completed, they returned home to Japan almost as foreigners.
They had started their sojourn in America in radically cross-cultural environments and experiences, then learned a completely new culture, only to return home as yet again out-of-place foreigners, this time in the culture they actually came from. Their unusual experience gave them an incredibly unusual perspective on Japanese culture. As adult women living in a still male dominated society struggling with the tension between modernity and tradition, they each determined to revolutionize women's education and lead their country forward. Ume Tsuda, in particular, made a significant impact on Japanese education that continues into the modern era.
It's impossible not to be captivated by these incredible women and their life stories, both in the United States and in Japan. Nimura's narrative is fascinating and compelling; she brings to life what was once an obscure piece of history, and through the lens of these interesting women, a period in both American and Japanese history of great change in every aspect of culture.
After reading Daughters of the Samurai, it's impossible not to want to share the story with anyone who will listen. I am fortunate that I was able to talk about it with the author herself.  This is a book I am happy to recommend to readers.
Janice Nimura graduated from Yale and then moved to Japan with her new husband, where she lived for three years, became proficient in Japanese, and later earned a Masters degree from Columbia in East Asian Studies, specializing in 19th century Japanese history. At one point she stumbled across a book written by Alice Mabel Bacon (originally from New Haven) called A Japanese Interior, which is about Bacon's visit to Japan in the 1880s. Alice Bacon's story captured Nimura's imagination. She learned about Sutematsu Yamakawa Oyama, Bacon's foster sister and Vassar's first Japanese graduate; Ume Tsuda, whose pioneering women's English school Alice helped to launch; and Shige Nagai Uriu, the third of the little girls who arrived with the Iwakura Mission in 1872 and grew up in America, and then took up the challenge of researching and writing about this amazing episode in modern Japanese and American history.
Author website here.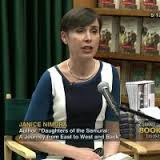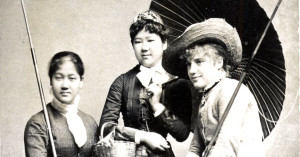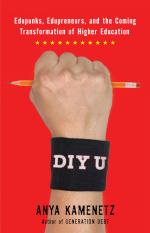 978-1603582346 – Chelsea Green Publishing – paperback – $14.95 (also available in e-book formats)
In some ways the title of this book is a bit misleading, as there is no reference to a major part of the book – an extensive discussion at the beginning of DIY U that is a history and analysis of American higher education.  It's an important discussion for millions of Americans who question how the system got to where it is, and how it could be made to change.  I think of myself as pretty knowledgeable about how things work but I was completely surprised at some of the things I learned about modern higher education in this part of the book.  I'm willing to say that it's a must-read for anyone interested in public policy and the future of our society (hopefully that's alot of people).  We need to question every aspect of how we educate our citizenry.
Which leads us to the next part of the book, which is really what the title refers to.  Whereas the entrenched systems appear to be immoveable, there is so much ferment and change afoot, so much that is enabled by the web and the networked, decentralized, open source nature of emerging, modern culture, that there really is hope for the meaningful and significant change we need.  As Chelsea Green says about DIY U on their website: "The future lies in personal learning networks and paths, learning that blends experiential and digital approaches, and free and open-source educational models. Increasingly, you will decide what, when, where, and with whom you want to learn, and you will learn by doing. The university is the cathedral of modernity and rationality, and with our whole civilization in crisis, we are poised on the brink of a new Reformation."
I loved talking to Anya Kamenetz and wish we had more time to talk – not just about her book and the work she did to write it, but her incisive ideas and her many interests in modern, connected culture.  We had a great conversation talking about her book and so many of her ideas.  She's incredibly intelligent, has complete command of her subject and is a terrific writer  – her extensive experience as a journalist serves her well both in conversation and in the longer form of a full length book.  She can work with big swatches of information and ideas and make them clear and understandable, and importantly, never bores her readers.  Hopefully I'm not alone in wanting see this book help us envision and then implement significant change in education, learning and social change.  This is a book that can make a real difference.
Anya Kamenetz is a staff writer for Fast Company magazine. The Village Voice nominated her for a Pulitzer Prize for contributions to the feature series Generation Debt, which became a book in 2006. She has written for the New York Times, appeared on CNN and National Public Radio, and been featured as a "Yahoo Finance Expert." A frequent speaker nationwide, Anya blogs at Fastcompany.com, The Huffington Post, and anyakamenetz.blogspot.com. She lives in Brooklyn with her husband.