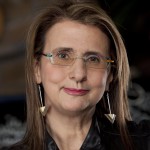 Publishing Talks began as a series of conversations with book industry professionals and others involved in media and technology about the future of publishing, books, and culture. As we continue to experience disruption and change in all media businesses, I've been talking with some of the people involved in our industry about how publishing might evolve as our culture is affected by technology and the larger context of civilization and economics.
I've now expanded the series to include conversations that go beyond the future of publishing. I've talked with editors and publishers who have been innovators and leaders in independent publishing in the past and into the present, and will continue to explore the ebb and flow of writing, books, and publishing in all sorts of forms and formats, as change continues to be the one constant we can count on.
It's my hope that these conversations can help us understand the outlines of what is happening in publishing and writing, and how we might ourselves interact with and influence the future of publishing as it unfolds.
Dominique Raccah is the founder and CEO of independent publisher Sourcebooks, based in Naperville, Illinois, which she began in 1987 after an earlier career in advertising. Reflecting Raccah's background and interests, Sourcebooks has always been strongly oriented toward marketing and promotion, devoting countless hours and dedicating significant resources to research, intelligence and outreach, and to understanding what customers want. This significantly differentiates Sourcebooks from most other independent publishers, so many of whom are more focused on developing content as opposed to what the customer needs or wants.
But Raccah is more than a smart marketer. She is a highly capable business person, an active entrepreneur, and somewhat of a visionary in terms of technology, business structure. She has been  and continues to be willing and able to pivot on her business models and plans much more quickly and readily than most of her peers.
At this stage, after more than a quarter century of successful innovation, she has become a thought leader in the book industry and her presentations about publishing and business structure and opportunities are often models of clarity and deep perception, that are valued by colleagues and competitors alike. In November 2013 she was named FutureBook's Most Inspiring Digital Publishing Person of 2013.
Indicative of the ways Raccah has embraced technology to drive her business forward, in an interview with the Chicago Tribune last year she said that digital technology "has been transformative because it allows you to tackle new kinds of problems and create new ways of connecting books and readers."
In our conversation, which took place in New York City in January, 2015, we covered a wide range of topics, from the history of Sourcebooks, through the present business and publishing landscape that interests and motivates Dominique as she continues to moves her company forward in a highly challenging environment. Much of our conversation focuses on Raccah's industry leading efforts to work directly with readers to make Sourcebooks' publishing brands meaningful to readers, and to learn directly what consumers want in their reading experiences. After a concerted effort over the past few years, Sourcebooks is now one of the leaders in the book industry in selling books directly to readers. It was a pleasure speaking with Dominique – who gives a great interview – and I hope this is a conversation that will be both useful and valuable to anyone interested in contemporary publishing.
Sourcebooks features a long list of innovative and successful publishing programs and projects, including Poetry Speaks, The Shakesperience, an interactive iBook that combines audio, video and a glossary to aid understanding of Shakespeare's plays, and Put Me In The Story, which customizes children's picture books with the reader's own name and photos to get kids excited about reading.
Raccah has a master's degree in quantitative psychology from the University of Illinois at Chicago Circle and worked at Leo Burnett's quantitative research department before starting Sourcebooks in her home in 1987.
Sourcebooks now has 120 employees, eight imprints and publishes more than 350 titles annually, several of which have been national best-sellers in recent years.
Some worthwhile links:
Dominique's TedX slideshare The Book in Transformation: A Publisher Vision for the Future
Chicago Tribune interview with Dominique Raccah
Mercy Pilkington article Sourcebooks Dominique Raccah Speaks on Driving Innovation
Put Me in the Story site