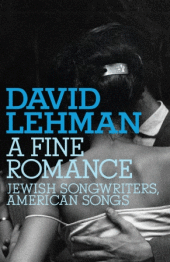 978-0805242508 – Shocken Books – Hardcover – $23.00 (also available in e-book format)
What a lovely book this is.  David Lehman is an acclaimed anthologist and a poet (his most recent book of poems is Yeshiva Boys), and David's approach to the great American songbook of the 20th century is complex and personal, written from an interior place, while at the same time, erudite and celebratory of the full glory of the words and music he writes about.  Lehman brilliantly evokes the individual lyricists and composers who made this music, so many of whom were the first generation children of immigrants from eastern European countries and were somehow able to meld their art with the true soul of America.  They created music that both evoked their era, and simultaneously defined it.
Lehman explores the rich complexity of American music in the early to mid-Twentieth Century, as the musical soul of Jewish songwriters melded itself to the African-American jazz and blues tradition to make something new and unique.  All the greats are here, Berlin, both Gershwins, Rogers, Hart, Hammerstein, and many more.  He tells the stories behind the songs, and brings to life the composers and lyricists who wrote them.
For David Lehman, this music is touchstone to his being, and that deeply felt connection shines through his words. Reading this book allows one then to connect to the author, also in a deeply felt way.  Lehman is a fine writer, in full command of his subject.  I liked what John Ashbery said about David: "David Lehman's A Fine Romance wittily explores the enormous contribution of Jewish writers and composers to the American musical scene. Lehman finds Jewish influence, or what he calls 'a plaintive undertow,' even in such unlikely upbeat anthems as Gershwin's 'Love Walked In.' His love-struck history is itself a major entertainment."
Talking to this author about the stories and music, and especially the songwriters themselves was for me a natural extension of reading the book, and inhabiting the author's personal life through its pages.  We covered alot of ground, including much about the unusual, impressionistic style and structure of the book, and of course the music, the songwriters, his many anecdotes and stories, and David Lehman's obvious love of his subject.  I hope you will enjoy listening to it as much as I enjoyed the conversation with the author.