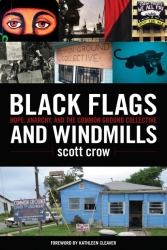 978-1604860771 – PM Press – paperback – $20.00.
I knew I would be interested in reading Black Flags and Windmills after reading the publisher's description of this book:
When both levees and governments failed in New Orleans in the Fall of 2005, scott crow headed into the political storm, co-founding a relief effort called the Common Ground Collective. In the absence of local government, FEMA, and the Red Cross, this unusual volunteer organization, based on 'solidarity not charity,' built medical clinics, set up food and water distribution, and created community gardens. They also resisted home demolitions, white militias, police brutality and FEMA incompetence side by side with the people of New Orleans.
crow's vivid memoir maps the intertwining of his radical experience and ideas with Katrina's reality, and community efforts to translate ideals into action. It is a story of resisting indifference, rebuilding hope amidst collapse, and struggling against the grain. Black Flags and Windmills invites and challenges all of us to learn from our histories, and dream of better worlds. And gives us some of the tools to do so.
This short description made me realize that I had not really thought about what it was like in New Orleans and the Gulf Coast during and after Katrina, beyond the media images of human suffering and devastation we all saw on television and online.  And that I really had no idea what was going on there in the weeks and months after this massive dislocation.  I think I suspected that things were pretty grim, but I wanted to learn more first hand.
crow is an anarchist organizer who went to New Orleans immediately after the storm hit, mainly to look for a colleague and friend he knew had stayed in the city throughout.  His story about the early days there, where he and a few other people tried to assist, outside of all official structures and organizations, is mind blowing and powerful.  But the ongoing story of the work that he and others did to help create community based self-help structures is really at the heart of his memoir, and is at once uplifting and inspiring for anyone who is searching for ideas and principles that will help us, not just in times of stress and turmoil, but all of the time and forever, as we try to find better ways to build community and live together on a crowded planet without falling into authoritarian and top down structures and systems.
No doubt that not every reader will agree with everything that scott believes in and does, but this is a valuable story for anyone interested in how human beings can work together for the common good.
Here's his official bio, for those who want to know more about his background and current work: scott crow is an Austin, TX based anarchist community organizer, writer, and trainer who began working on anti-apartheid, international political prisoner and animal rights issues in the mid 1980s. He is the co-founder and co-organizer of several social justice groups and education projects throughout Texas and the South including Common Ground Collective (with Malik Rahim), Radical Encuentro Camp, UPROAR (United People Resisting Oppression and Racism), Dirty South Earth First!, and North Texas Coalition for a Just Peace. He has trained and organized for Greenpeace, Ruckus Society, Rainforest Action Network, A.C.O.R.N., Forest Ethics, and Ralph Nader, and many smaller grassroots groups. He is currently collaborating on long-term sustainable democratic economic mutual aid projects within Austin.
This is a talk that I think is well worth a listen.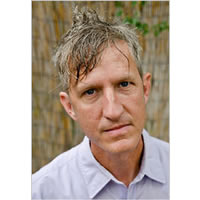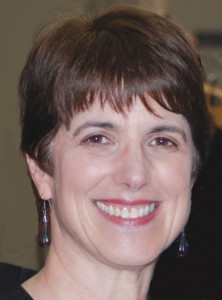 In this series of interviews, called Publishing Talks, I have been talking to book industry professionals and other smart people about the future of publishing, books, and culture.  This is a period of disruption and change for all media businesses.  We must wonder now, how will publishing evolve as our culture is affected by technology, climate change, population density, and the ebb and flow of civilization and  economics?
I hope these Publishing Talks conversations can help us understand the outlines of what is happening in the publishing industry, and how we might ourselves interact with and influence the future of publishing as it unfolds.
These interviews give people in and around the book business a chance to talk openly about ideas and concerns that are often only talked about "around the water cooler," at industry conventions and events, and in emails between friends and they give people inside and outside the book industry a chance to hear first hand some of the most interesting and challenging thoughts, ideas and concepts being discussed by people in the book business.
Since so many of the people I've talked to in the Publishing Talks interviews have been in the areas of publishing and technology, I have wanted to broaden the conversation to include other perspectives.  And following the conversation with Hugh McGuire about the future of libraries (a hot topic it seems, as a recent post by Seth Godin seems to indicate), it made sense to talk to a librarian who is working on the issues of access and technology from the user side of the publishing equation.   I live near Westport, Connecticut, which has a fabulous library, with a myriad of public events, an incredibly active and engaged community, and a deep commitment to using technology to increase access to knowledge and information, as well as a wonderful and engaged staff.
Maxine Bleiweis is the Director of the Westport Public Library.   She is a terrifically innovative manager, known for her ability to predict trends and determine ways to meet the latest "customer" needs as they emerge.  Before she became director in Westport in 1998, she was director in Suffield, CT for six years and Newington, CT for 18 years.
I also noticed that she was recently named Outstanding Librarian for 2011 by the CT Library Association, so she is recognized by her peers as well as her own community.
Maxine has a great deal to say about publishing and technology, and her thoughts and ideas are well worth paying attention to.  And even though the Westport Public Library does represent the beliefs and commitment of a very affluent, educated and progressive town, what this library does to enrich the intellectual and artistic life of its community is not enabled simply by having more resources than others.  The principle at work here will work elsewhere – the idea of paying attention to what the community needs and doing everything possible to meet those needs is universally applicable.  You can see what they are doing here.
Maxine and I had a wide ranging conversation about books, community, the future of publishing in the digital age, how libraries will handle ebooks and digital access, and how some of the controversies that have arisen in these important areas may be resolved.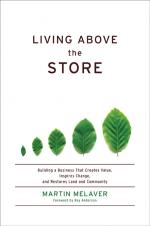 9781603580854 – Hardcover
Chelsea Green Press – $27.95
This is one of the most important and challenging books I have read in a long time.  In this book Martin Melaver tells stories about his life, his business, his family, and his community, as a  framework for understanding how business can (and must) change, in order to become truly sustainable, to become additive rather than extractive, and to rethink the way business is done.  As the publisher says: "Living Above the Store is for readers who care about issues of community and sustainability as well as for those who want to learn more about how a socially responsible business can first redefine, and then find, success."  In this interview, Martin and I talk in depth about the key ideas in the book, and talk in detail about some of the practical issues the book raises for so many who want to make a difference.  Martin demonstrates his clarity of thought and deep commitment to truly making change in business and community.  Highly recommended!
Martin Melaver has been CEO of Melaver, Inc., since 1992. Never content with the well-trod path, he has a PhD in literature from Harvard University and an MBA from Northwestern University's Kellogg School of Management. He is actively involved with numerous community organizations in and around Savannah, Georgia. Melaver splits his time between Savannah and Tel Aviv, Israel. …