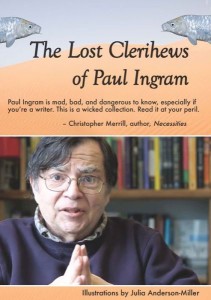 The Lost Clerihews of Paul Ingram – 978-1-888160-77-2 – paperback original  – Ice Cube Press – $19.95 (no ebook edition!)
The clerihew is a somewhat obscure form of poetry invented by the English writer Edmund Clerihew Bentley as an alternative to the limerick. It has a particular focus, which is to skewer or make fun of a famous person, is only four lines long, with irregular line length and meter. Rhymes follow the AABB structure with as much humorous contrivance as possible to do what needs to be done to accomplish the goal of the poem – fun at the expense of a well known individual.
I first was introduced to this form by my old friend and mentor, Jonathan Williams, whose quirky and creative sense of humor was perfectly fit for this fun form. He wrote a wonderful book called the Fifty Two Clerihews of Clara Hughes, which is well worth seeking out (produced in a limited edition and long out of print, but should be available in a few libraries, and I found a audio version of it online.)
Brits invented the form and seem to like it a lot. Auden wrote clerihews and so did Bentley's friend G.K. Chesterton. One of Bentley's earliest clerihews is still one of his best:
Sir Christopher Wren
Said, "I am going to dine with some men.
If anyone calls
Say I am designing St. Paul's.
And now we have another great collection of clerihews, written by the hilarious and well read Iowa City based bookseller, Paul Ingram. Paul has been a friend of mine (and of hundreds of writers) for a long time. He's known far and wide as one of the great booksellers and talkers about books and visitors to Iowa City seek him out at the wonderful Prairie Lights Bookstore* to talk to him about books.
As he tells us in the introduction to his book, Paul has been writing clerihews for more than twenty years, mostly as the spirit struck, often on tiny pieces of paper that seemed to disappear. Thus the "lost" in the title of the book. We can only be grateful that this packrat managed to keep and find most of the poems he wrote so that we can enjoy them here. As Roz Chast says "after you read it, you will need to put aside whatever important work you are doing and write several of your own." Clerihews are like candy.
Almost all of Paul's clerihews are fun, hilarious, some are political, and some are much more weighty than the form suggests, like this one:
General Custer
Lost all of his luster,
And most of his pride
On his final ride
It is difficult to resist consuming this book like candy.  I enjoyed having the chance to hear Paul about his own writing, poetry and book selling. You will too. This is a fun book with alot to say. Like the author himself.
Paul's book has wonderful illustrations by the Chicago artist Julia Anderson-Miller. Publisher website here.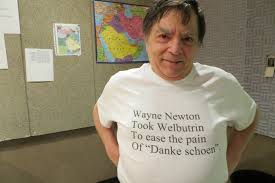 *I interviewed Jan Weissmiller, proprietor of Prairie Lights, for Writerscast a few years ago,