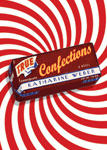 978-0307395863 – Hardcover – Shaye Areheart Books – $22.00
What a fun (and challenging) book!  Any novel that takes place in my favorite city, New Haven, Connecticut, is a book I will want to read.  And I did really enjoy reading this book.  Katharine Weber has created a wonderful main character, the complicated and challenging Alice Tatnall Ziplinsky, who has married into the family that runs the famous Zip's Candy Company.  True Confections is her story, and through her, it is also the story of an immigrant family in America, the romance of candy, family secrets, and the complexity of relationships.  Because the entire story is told by Alice, we don't ever quite know what is real and what is not, and we are forced to confront actual meaning of narrative.
So it turns out that this this funny, warm, and sometimes poignant novel masks an underlying depth of transposed loves, where family becomes defined by relationship rather than blood.  In fact, almost every important character in the book has to deal with displacement.  It's great to read a book with depth and complexity.  As the author says: "… at its heart, True Confections is about timeless and universal themes: love, betrayal, and of course, sweets."  I should also add that fire – of the destructive kind – also plays an important role in this story, so it's not all about the sugar.
I enjoyed the opportunity to interview Katharine Weber about the novel, her characters, and of course, New Haven, where she lives, and where this novel is set.  The book is rich in subjects and so is our discussion; we talked extensively about her novel, New Haven, the unreliability of narrators, candy, Jewish families and their businesses, and of course, candy.  True Confections is a terrific novel; Katharine Weber is a fine writer who also knows how to talk engagingly about her work.