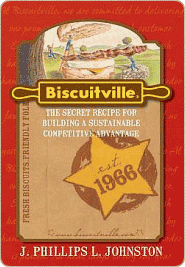 978-1-935212-05-8 – Hardcover – Easton Studio Press – $21.95
Biscuitville – the company – is a small family owned chain of breakfast restaurants based in North Carolina.  It's a very successful company financially, but what makes it special is its commitment to real values and to its people above everything else.  This is a company that "walks the talk" in ways that are really striking and deserve attention.
Despite knowing about and even having lived in North Carolina at one point, I had not heard of the company before reading this book.  I was really impressed by what I learned here.  This is not your standard issue company, nor is this your standard issue business book.  Author Phil Johnston is a veteran in business himself, as his biography indicates: he's a "serial CEO", having founded 10 successful venture-backed companies, earning him the CED Entrepreneur of the Year award in 1997.  He has been a director of five public companies, including a NYSE-listed company. He holds degrees in economics from Duke University, The Stern Graduate School of Business at NYU, his J.D. from the University of North Carolina Law School and was a scholar at the JFK School of Government at Harvard.
This book tells the story of Biscuitville, the company, but the focus of the book is really about seeing this successful small business as a model for how all business should work.  Scale is no excuse for giving up the values that have marked the growth of the Biscuitville chain.  Anyone in business can learn from the lessons taught by the founders and subsequent generations that are now operating Biscuitville.  It's really a great story, optimistic and uplifting for anyone who wonders whether American business can be saved.
In my interview with author Johnston, we talked about the Biscuitville company story, and how he came to write it, and we touched upon his wide experience in business, especially on the public side, and how the lessons of this small private company can be transferred to bigger businesses and organizations.   Phil is a great storyteller, with broad and deep knowledge, and an understanding of business issues I hope more people will get to experience through this talk.
Posted 3.22.10.  An excerpt of the book can be found at Chptr1.com.