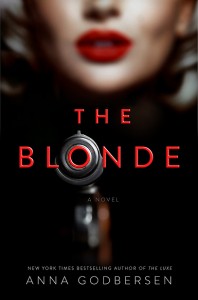 The Blonde – a novel – 978-1602862814 – paperback – Weinstein Books – $16 –  ebook editions available
Author Anna Godbersen has come up with a terrifically compelling novelistic premise – Marilyn Monroe as a mostly unwilling but still cunning spy for the Russians, whose task is to get something on President Kennedy the Russians can use. In return, her mysterious and very persuasive contact, who convinces MM that her father was also working for the cause of international communism, will connect her to the one man in the world she truly cares about.
It's a great reinvention, weaving together known elements of Marilyn's life and characters like Arthur Miller, Joe DiMaggio, JFK, and many others, with the addition of some invented characters and a hefty dose of imagination, Godbersen is able to draw out an entertaining and compelling thriller. In particular, I loved the way she empowers Marilyn, and shows her to be a brilliant, albeit often desperate character, who is able to far better understand the motives and behaviors of men and women than most, and to do what she must to achieve her own goals and protect those she loves.
Along the way, Godbersen draws compelling portraits of the key players in Marilyn's life and times, and the events she lived through. Marilyn becomes human, empathetic, and strong. And she tells a great story – no matter how well you know the actual history, you will enjoy this novel and its unfolding mystery. Could Marilyn have been connected to the conspiracy to assassinate Kennedy, perhaps in a surprising way? Do you really believe that Marilyn Monroe committed suicide or died of an overdose of pills? Godbersen's version of the story we will never know for sure in some surprising ways makes more sense than the history we do know.
And the book does have a wonderful cover.
Anna Godbersen was born in Berkeley, California, attended Barnard College, and worked for Esquire Magazine. She is best known as author of a number of young adult best sellers for Alloy Entertainment, include Luxe and Bright Young Things. Author website here.  More about the book here.