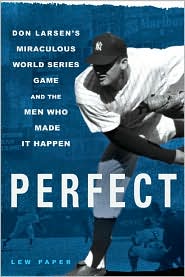 978-0451228192 – Hardcover – New American Library – $24.95
An entire book about one baseball game is probably unimaginable to many people.  Even diehard fans, even those who feel they have heard the story of Don Larsen's unique feat more than enough times, will be surprised at how easy this book is to (avidly) consume.  Lew Paper manages to keep our attention, even though we know how the story comes out, even though we may know the game, the players, the era so well.  And there are plenty of surprises in these pages.
Paper is a very good writer, almost effortless, and a he is a natural storyteller who plainly loves the material he is writing about.  He uses the game as the structure for telling much more than the story of a single game, of course.  He portrays many of the players in this game, Dodger greats like Jackie Robinson, Carl Furillo, Roy Campanella, Junior Gilliam, and hard-luck pitcher Sal Maglie, the powerful Yankee team of the fifties, which sported Mickey Mantle, Yogi Berra, Billy Martin, Gil McDougal, Moose Skowron and Hank Bauer, all in the prime of their careers.  He brings to life the story of this great team rivalry between two boroughs of the greatest city on earth in the middle of the 1950s, an era that still can fascinate and enthrall us.  And of course baseball is the constant through time, whose essence does not change at all.
It does help to be a baseball fan to like this book, I am sure, and maybe having grown up in or near this great era of intra-New York City competition adds to one's interest as well.  It was definitely a different time than today, when even star players held real jobs during the off season, and the amount of money won in a World Series could be just enough to give a player some modest luxuries and fleeting financial security.  And of course many of these players had grown up during the Depression, lived through or even fought in World War II or the Korean War.  That may account for some of the different attitudes and behaviors they exhibited on the field and among friends.
But there can be no doubt that Lew Paper has brought this game, these players, this era, vividly to life in a beautiful and brilliant manner.  Talking to him about this book, the research he did to write it, and some of his experiences in talking to surviving players, relatives and witnesses to Don Larsen's spectacular (and still unique) feat , was a great pleasure for me.  I do love baseball, the game and its history have a terrific pull on me, as it does on many others, but baseball is also just a wonderful lens through which to see human beings, our culture, our foibles, our strengths and our desires.  Thanks to Lew Paper for this book and a terrific interview about it.