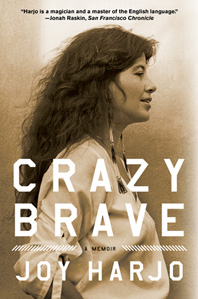 978-0-393-34543-8 – W.W. Norton – paperback – 176 pages – $14.95 (eBook versions available at lower prices)
Joy Harjo has been one of my poet heroes for a really long time. I have been reading her poems for so many years I have lost count. Her writing is inspiring, mystical, deeply human and politically explosive. The perfect word to describe Joy's work is "unflinching," which she is with herself and with her commitment to following poetry and spirit wherever it takes her.
Recently I read her very personal memoir of self becoming called Crazy Brave, and was stunned by the language, heart and soul of this book. This is the story of Joy Harjo's becoming a person, unfolding into poetry, and discovering her true self.
The writing in this book is literally transcendent, as Harjo recounts the her earliest memories and family life.
Here are the basics: Joy Harjo was born in Tulsa, Oklahoma and is a member of the Mvskoke Nation. Her mother remarried a deeply abusive man, and Harjo was lucky to escape to an Indian arts boarding school and from there went on to get her BA from the University of New Mexico and eventually an MFA from the Iowa Writers' Workshop.
Crazy Brave is about all of this, but it is really the telling of her path into poetry, the words that saved her, the voice that enabled her to become. It's a beautiful, power-full, magical book I urge you to read as soon as possible. This is a book whose inner song will stay with you for a long time. Joy Harjo once said this about her own work: I feel strongly that I have a responsibility to all the sources that I am: to all past and future ancestors, to my home country, to all places that I touch down on and that are myself, to all voices, all women, all of my tribe, all people, all earth, and beyond that to all beginnings and endings. In a strange kind of sense [writing] frees me to believe in myself, to be able to speak, to have voice, because I have to; it is my survival.
It was a heartfelt pleasure for me to speak to Joy Harjo about this book and her work as a writer. If you've never read her poetry, you can find some of her work online, including reading her fine poem, She Had Some Horses.
And here, a poem I really love:
Perhaps the World Ends Here
The world begins at a kitchen table. No matter what, we must eat to live.
The gifts of earth are brought and prepared, set on the table. So it has been since creation, and it will go on.
We chase chickens or dogs away from it. Babies teethe at the corners. They scrape their knees under it.
It is here that children are given instructions on what it means to be human. We make men at it, we make women.
At this table we gossip, recall enemies and the ghosts of lovers.
Our dreams drink coffee with us as they put their arms around our children. They laugh with us at our poor falling-down selves and as we put ourselves back together once again at the table.
This table has been a house in the rain, an umbrella in the sun.
Wars have begun and ended at this table. It is a place to hide in the shadow of terror. A place to celebrate the terrible victory.
We have given birth on this table, and have prepared our parents for burial here.
At this table we sing with joy, with sorrow. We pray of suffering and remorse. We give thanks.
Perhaps the world will end at the kitchen table, while we are laughing and crying, eating of the last sweet bite.
"Perhaps the World Ends Here" from The Woman Who Fell From the Sky by Joy Harjo. Copyright © 1994 by Joy Harjo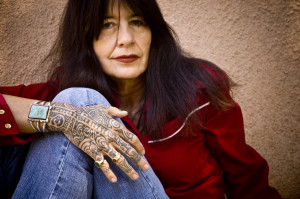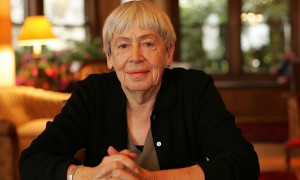 Ursula Le Guin has had a long and wonderful career as a writer. Her extraordinary work has influenced many other writers, particularly in science fiction, for which she is probably best known, but Ursula has also written extensively about the art and craft of writing, as well as children's books, and books for young adults. She is also a poet of some note, with four poetry collections published. Altogether she has had published almost fifty books and more than a hundred short stories.
Ursula was born and raised in Berkeley, California, where her parents were the anthropologist Alfred Kroeber and the writer Theodora Kroeber, author of the very famous book, Ishi. She went to Radcliffe College and did graduate work at Columbia University. Ursula married Charles A. Le Guin, a historian, in 1953; they have lived in Portland, Oregon since 1958.
Le Guin's best known fantasy works, the six Books of Earthsea, have sold millions of copies in America and England. Her first major work of science fiction was The Left Hand of Darkness, whose radical investigation of gender roles and literary complexity have made the book a classic and a must read work of literature. Among her books for children, the Catwings series has become extremely popular. She also published a translation of Lao Tzu's Tao Te Ching, after forty years of working on it and practicing Taoist principles in her life.
Three of Le Guin's books have been finalists for the American Book Award and the Pulitzer Prize, and among her honors are a National Book Award, five Hugo Awards, five Nebula Awards, SFWA's Grand Master, the PEN/Malamud Award, and in 2014 she was awarded the National Book Foundation Medal for Distinguished Contribution to American Letters.
While Le Guin is no longer writing fiction, she continues to write poetry, as she has done virtually her entire life. With the appearance of this new collection of poems from 2010-2014, Late in the Day, published by the excellent PM Press, I had the opportunity to speak with her about her writing and her recent writing. In these poems she explores a variety of poetic forms, all of which she easily masters. The poems are most often about relationships, connecting to the natural world, to myth, story, and of course, other humans, always with a careful eye and a deft understanding of the complexity of all things.
And the Afterword on poetic form and free verse is itself a small masterpiece of explication and joy. Ursula Le Guin is truly one of the great writers of our time. It is my great honor to have had the chance to speak with her here for Writerscast. If you are not aware of Ms. Le Guin's work as a poet, this new collection of sharp and compassionate compressed expression is definitely worth your time to read. We talked about many subjects, including writing, her career, Oregon, the recent occupation at Malheur, a place with which she is very familiar, and of course the poems in this book, one of which she was kind enough to read aloud for us.
There is an excellent interview transcription with Ursula by Choire Sicha in Interview Magazine; the author's own website is a rich source of material by and about her great body of work.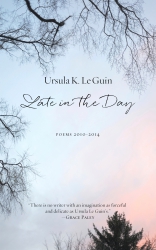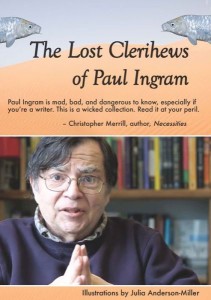 The Lost Clerihews of Paul Ingram – 978-1-888160-77-2 – paperback original  – Ice Cube Press – $19.95 (no ebook edition!)
The clerihew is a somewhat obscure form of poetry invented by the English writer Edmund Clerihew Bentley as an alternative to the limerick. It has a particular focus, which is to skewer or make fun of a famous person, is only four lines long, with irregular line length and meter. Rhymes follow the AABB structure with as much humorous contrivance as possible to do what needs to be done to accomplish the goal of the poem – fun at the expense of a well known individual.
I first was introduced to this form by my old friend and mentor, Jonathan Williams, whose quirky and creative sense of humor was perfectly fit for this fun form. He wrote a wonderful book called the Fifty Two Clerihews of Clara Hughes, which is well worth seeking out (produced in a limited edition and long out of print, but should be available in a few libraries, and I found a audio version of it online.)
Brits invented the form and seem to like it a lot. Auden wrote clerihews and so did Bentley's friend G.K. Chesterton. One of Bentley's earliest clerihews is still one of his best:
Sir Christopher Wren
Said, "I am going to dine with some men.
If anyone calls
Say I am designing St. Paul's.
And now we have another great collection of clerihews, written by the hilarious and well read Iowa City based bookseller, Paul Ingram. Paul has been a friend of mine (and of hundreds of writers) for a long time. He's known far and wide as one of the great booksellers and talkers about books and visitors to Iowa City seek him out at the wonderful Prairie Lights Bookstore* to talk to him about books.
As he tells us in the introduction to his book, Paul has been writing clerihews for more than twenty years, mostly as the spirit struck, often on tiny pieces of paper that seemed to disappear. Thus the "lost" in the title of the book. We can only be grateful that this packrat managed to keep and find most of the poems he wrote so that we can enjoy them here. As Roz Chast says "after you read it, you will need to put aside whatever important work you are doing and write several of your own." Clerihews are like candy.
Almost all of Paul's clerihews are fun, hilarious, some are political, and some are much more weighty than the form suggests, like this one:
General Custer
Lost all of his luster,
And most of his pride
On his final ride
It is difficult to resist consuming this book like candy.  I enjoyed having the chance to hear Paul about his own writing, poetry and book selling. You will too. This is a fun book with alot to say. Like the author himself.
Paul's book has wonderful illustrations by the Chicago artist Julia Anderson-Miller. Publisher website here.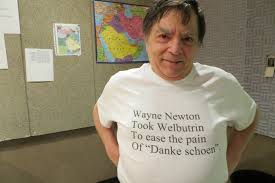 *I interviewed Jan Weissmiller, proprietor of Prairie Lights, for Writerscast a few years ago,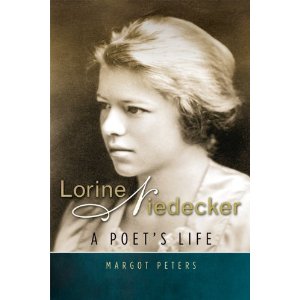 978-0299285005 – University of Wisconsin Press  – Hardcover – $34.95
I have loved the poetry of Lorine Niedecker, and been deeply influenced by her work and life since being introduced to her writing by the great poet and independent literary publisher, Jonathan Williams, just a few years after her untimely death in 1970.   His outstanding press, The Jargon Society, published one of the largest collections of her work during her all too brief lifetime (T & G: Collected Poems, 1970).  In the years since her death, she has been discovered by many writers, scholars and general readers and her work is available now in several great collections, including Collected Works, edited by Jenny Penberthy, from the University of California Press.
For the many who still do not know of her, Lorine Niedecker (1903-1970) was born, raised, schooled and lived almost her entire life in Wisconsin.  She was a poet her entire adult life, mostly self-educated, but always deeply involved in the milieu of modernist poetry and experimental writing.  The most famous of her peers were William Carlos Williams (who knew and appreciated her writing), Louis Zukofsky (with whom she had a very deep and complicated relationship), and George Oppen and Carl Rakosi, among many others.  But as a woman writer who worked hard for a living during a time when men ruled the literary roost, she wrote mostly in obscurity, known only to a small number of other writers who appreciated the brilliance of her imagination and craft.
My friend tree
I sawed you down
but I must attend
an older friend
the sun
Margot Peters' new biography, Lorine Niedecker, A Poet's Life, is a wonderful book, reflecting Peters' own love and appreciation for her subject's life and writing.   Lorine's life story is important to read about, whether you have read her poetry or not.  It's a powerful introduction to a complicated and unique American life.  Lorine never had it easy.  Her family life was difficult, her poor eyesight was a difficulty for her entire life, her relationships with men were complicated and often painful for her, and she never received the attention her writing deserved.  Peters tells the story of her life in great detail, but is never boring.  She interviewed people who knew Lorine where she lived in Wisconsin, and even those who, like me, think they know Lorine and her work will learn a great deal about her.  Peters is perceptive and clear eyed about Lorine and aware of the difference between the life as lived and the poetry as written.  For the poet, it is always the words that matter.  Peters knows this too.
Reading about Lorine Niedecker continually reminded me of the power of her intellect and the depth of her brilliance as a poet.  She honed and sharpened constantly, like a jeweler bringing a stone to life.  Her reading was vast, her intelligence and clarity of vision virtually unmatched.  I do not think it is an understatement to call Niedecker one of the greatest poets America has ever produced.
Poet's work
Grandfather
advised me:
Learn a trade
I learned
to sit at desk
and condense
No layoff
from this
condensery
Every poet, every writer, should read and absorb these words.
If it's not obvious, I have been smitten by this poet's work for a really long time.  This biography is a terrific addition to the Niedecker opus, and is highly recommended.  I had a great time talking to Margot Peters, whose knowledge of Niedecker, Wisconsin and poetry is broad, deep and very well put together.
Please visit the Lorine Niedecker website to learn more about her, sample some poetry, and to get a feel for Fort Atkinson, where she lived most of her life.  You can visit Margot Peters' website for more about her book as well.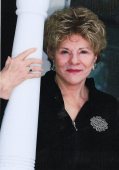 There is now an annual Niedecker Poetry Festival in Fort Atkinson, Wisconsin every fall.
Books by and about Niedecker:
New Goose. Prairie City, Ill.: Press of James A. Decker, 1946.
My Friend Tree. Edinburgh: Wild Hawthorne Press, 1961.
North Central. London: Fulcrum Press, 1968.
T & G: Collected Poems 1936-1966. Penland, N.C.: Jargon Society, 1969.
My Life By Water: Collected Poems 1936-1968. London: Fulcrum Press, 1970.
Blue Chicory. Edited by Cid Corman, New Rochelle, N.Y.: The Elizabeth Press, 1976.
From This Condensery: The Complete Writings of Lorine Niedecker. Edited by Robert J. Bertholf, Jargon Society/Inland Book Company, 1985.
The Granite Pail: Selected Poems of Lorine Niedecker. Edited by Cid Corman, North Point Press, 1985.
Collected Works. Edited by Jenny Penberthy, Berkely: University of California Press, 2002.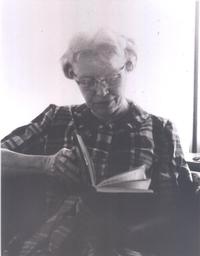 (note, I owe apologies to LN – in the poem Poet's Work above, I could not get the spacing to work right here, please read it either on the Niedecker site or in the Collected Works to see it the way the poet meant it to look on the page)
978-0375401954 – Hardcover – Knopf – $24.00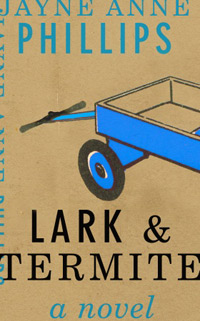 Lark and Termite is one of the best novels I have read in a long time, written by one of the best writers we have.  Jayne Anne Phillips writes fiction that is always deeply luminous, complex and beautiful.  There's an almost meditative quality to this novel, as the author switches between multiple perspectives and voices brilliantly, almost lulling the reader into not realizing that a complex and intricate story is being told.  Phillips gives voice and life to her characters, defining a family and the complex web of events and places that give it structure, deep and viable across place and time in an extraordinary, mysterious and beautiful story.
As Alice Munro says about Lark and Termite: "This novel is cut like a diamond, with such sharp authenticity and bursts of light."
In this interview, Jayne Anne Phillips talks in detail about her newest novel, the genesis of the story and its characters, their history as she imagines them, how she works as a writer.  We also talk about her first book, Sweethearts, published by my Truck Press in 1976.  Overall this is a varied and interesting conversation with a writer who is in complete command of her abilities.
— David Wilk, September 2009
Knopf makes an excerpt of Lark and Termite available for readers to sample, well worth visiting the book site or click below.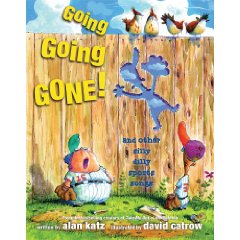 Going, Going, Gone!: And Other Silly Dilly Sports Songs
Alan Katz and David Catrow
ISBN# 978-1416906964
Simon & Schuster, Hardcover $16.99
The first WritersCast podcast of 2009 has host David Wilk interviewing author humorist Alan Katz, author of more than 20 books for children and adults. His newest book is Going, Going, Gone, coming in February 2009. Wilk and Katz talk about a wide range of subjects, including Katz's writing methods and experience as a writer. Alan Katz gives his first public performance of songs from his newest book.