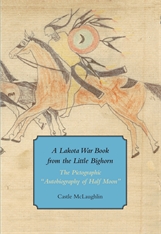 A Lakota War Book from the Little Bighorn: The Pictographic "Autobiography of Half Moon" (Houghton Library Publications)- 978-0981885865 – Paperback – Peabody Museum Press – $50 (no ebook version of this title!)
I was so excited by this book, I had to read Castle McLaughlin's A Lakota War Book from the Little Bighorn several times over, studying the brilliant and beautiful reproductions of a nineteenth-century ledger book of pictographic drawings by Lakota Sioux and Cheyenne warriors that was found in 1876 in a funerary tipi on the Little Bighorn battlefield after Custer's defeat. There is so much richness in McLaughlin's story of the almost miraculous discovery of this document in Harvard's Houghton Library and her subsequent years-long study of the book, together with Butch Thunder Hawk, historian of the Lakota Sioux, it was, for me, completely engrossing.
Nineteenth century journalist Phocion Howard acquired the book from one of the soldiers who took it from the battlefield, and later added his own illustrated narrative to the original pages, and had it bound in new leather with his own invented interpretation of the illustrations made by Cheyenne and Lakota artists.
Howard's fabricated story had the seventy-seven Native drawings made by a "chief" named Half Moon, but McLaughlin persuasively argues that these beautifully made drawings, mostly of war and courting exploits, were drawn primarily by six different warrior-artists, some of whom she is able to identify with some certainty as historical figures who fought the invading settlers during Red Cloud's War in 1866-1868.
These wonderfully evocative and powerful first-person illustrated scenes reflect a native view of the historic events of the plains tribes' war for survival in this terrible period of American history. For the Lakota and other Plains tribes, art played an important role in recording and preserving their narratives of events of pre-reservation, pre-conquest tribal life, so books like this one provide a uniquely meaningful record of their lives.
McLaughlin tells the long story of the Howard book, provides detail and analysis of its cultural and historic significance, and places it within the context of Lakota and Cheyenne culture of the Plains during their fight against the invading Europeans. There is so much exciting work here for anyone who wants to know more about the events in the American west, where cultures clashed for nearly two centuries. During this time, Lakota, Cheyenne and other Plains tribes created a war based culture whose actual nature has not been fully understood. Most of our view is colored by images of that era framed by dime novels of the time and romanticized films of the 20th century. The ledger books give us an opportunity to see and experience this fraught period through actual Lakota and Cheyenne eyes, which is complicated and challenging. They also illustrate how warriors of that time appropriated the physical objects of their opponents as a way to capture their power as well.
The illustrations themselves are incredibly beautiful, and the stories they tell us, as interpreted by McLaughlin and Thunder Hawk, are completely engrossing. Getting a chance to talk to Ms. McLuaghlin about this book and her experiences as a social anthropologist was a great honor for me.
There is a great review of the book by Thomas Powers in the NY Review of Books, which is accompanied by excerpts of the art here.
Original exhibit of the book materials described here.
Castle McLaughlin is actively involved in the Nakota Horse Conservancy, which preserves some of the descendants of Lakota and Cheyenne horses. More about that here.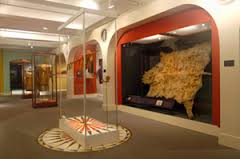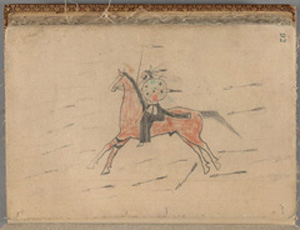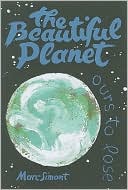 978-1935212-09-6 – Easton Studio Press – Paperback – $15.00
The Beautiful Planet: Ours To Lose is an impassioned anti-war cartoon book by one of America's foremost illustrators. Marc Simont's drawings, taken from five decades of editorial cartooning, capture the essence of a brooding Nixon, a smiling Reagan, a bland Bush One, and a dumbfounded Bush Two as they prosecute their wars. Simont's fierce portrayals of the Military-Industrial Complex are intimately linked to his passionate indignity on behalf of all civilians, soldiers, and prisoners who have suffered.
Continually struck by the majesty of the planet as it floats in space like a jewel, Simont asks, will it survive?

 Born in Paris in 1915 to Catalonian parents (his father was himself a world renowned illustrator), Marc Simont spent his childhood in France, Spain and finally the United States, where he settled in 1934. After serving time in the U.S. Army during World War II, Simont went on to illustrate over a hundred books working with a wide range of authors, including Margaret Wise Brown, Red Smith, and James Thurber.  Simont received the Caldecott Medal in 1957 for his illustrations to A Tree is Nice by Janice May Udry and a Caldecott Honor in 1950 for The Happy Day by Ruth Krauss.

 He is the author/illustrator of seven books, most recently The Stray Dog (2001), which won yet another Caldecott Honor, was chosen by The New York Times as one of the ten best illustrated books of the year, became an ALA Notable Children's Book and received the Boston Globe-Horn Book Honor Book Award.
Internationally acclaimed for its grace, humor and beauty, Marc Simont's art is in collections as far afield as the Kijo Picture Book Museum in Japan.  He was chosen as the 1997 Illustrator of the Year in his native Catalonia and received the Hunter College James Aronson Award for Social Justice Journalism in 2008.
Interviewing Marc about this terrific book was a special occasion for me.  I love the illustrations he has done for so many exceptional children's books, many of which I know well, having read them to my own children.   I was lucky to have the opportunity to work with him in producing The Beautiful Planet, which collects the pithy, humane and piercing political cartoons he has been making and publishing in The Lakeville Journal since the 1940's.  In this conversation, we talked about his early life, coming to America, his early work as an illustrator, his many well known collaborators, and of course his political cartoons that are collected here in this, his newest book.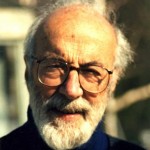 Marc's approach is never to attack, but always to expose fallibility.  He is a wonderful man whose work is marked by a love for humanity and an appreciation for actual human beings; he is a true humanist and a brilliant artist.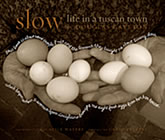 978-1-59962-072-5 – Hardcover – Welcome Books – $50.00
If you love beautiful books, Slow: Life in a Tuscan Town by Douglas Gayeton will be irresistible.  Gayeton is a film maker who ended up living in a small town in Tuscany that his wife (at that time) was from.  When she left him, he stayed.  He learned to speak Italian, and fell in love with the people, the place, and the pace of a community that was completely foreign to him and his American way of being.  As he told me in this interview, as a film maker, he is used to telling stories.  When he began to take photographs, thousands of them, the only way he could make sense of them was to create a narrative from them.
Which he did, by writing notes on the actual photographs, and also by layering multiple shots of the same scene over time.  The effect of the images and words here is mesmerizing.  And of course the representation of these people, their way of living, and the places they inhabit embody the stories Gayeton tells here.
This is both a personal narrative and one that – as great art must do – transcends and transforms the specific experiences portrayed.  Gayeton takes us on his journey to help us understand ourselves through an experience of others, just as he did.  I view these photographs and read the writing on them (notes, anecdotes, recipes, and many facts about Tuscany and Tuscan life), and find myself transported – beyond the "real" places he pictures to an almost spiritual state of being that is based in the imagination and soul of place.  "Slow" living is something all of us who are seeking meaning need to experience, Slow: Life in a Tuscan Town is a doorway that will help us enter that experience.  Welcome Books deserves a lot of credit for making this spectacular book.
DOUGLAS GAYETON is a filmmaker, photographer, and writer. His images are held in a number of influential museum and private collections around the world, and have been featured in numerous print and online media, such as Time Magazine. Since the early 90s he has created award-winning work at the boundaries of traditional and converging media for AOL, MSN, MTV, Yahoo, Fox, Vivendi, Sony, Viacom, Sega, Intel, National Geographic, PBS, Warner Bros., Columbia, and Virgin Records. Recent projects include LOST IN ITALY, a 26 episode interstitial TV series Gayeton created, directed, and shot for Fine Living, and A SECOND LIFE ODYSSEY for HBO, the first documentary shot inside a virtual world.
Doug Gayeton is also a terrific interviewee, who tells his story particularly well.