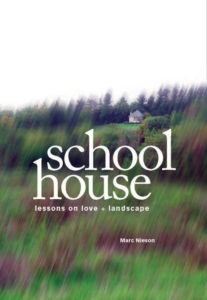 Schoolhouse: Lessons on Love & Landscape – Marc Nieson – Ice Cube Press – paperback – 9781888160925 – 272 pages – $19.95
Memoirs are most often stories of self discovery. To work for readers, they have to engage us indirectly – we have to buy into the narrator's central problem the story will show us being solved. Marc Nieson's memoir is about a period in his life when he was confused about love and self-identity. He left his home and long term lover in New York City to attend the famed Writer's Workshop at the University of Iowa, and ended up living in a former one room schoolhouse on 500 acres of beautiful Iowa landscape.
Escaping the travails of modern life, and living in the woods, the comparisons to Walden cannot help being made. City-bred Nieson learns how to observe the natural world, and in so doing, learns how to understand himself at the same time. Nieson keeps us involved throughout his narrative, and we come to the end of the story fully engaged in his personal adventure.
The book is structured like a schoolbook, each chapter being named after a school subject (i.e. Geography, History, Social Studies, What I Did On My Summer Vacation), which gives the book a certain charm, and while it's a conceit, this organization helps keep the narrative moving forward. It's a fully transformational story, even if you have never experienced the woods or the Iowa landscape.
As Nieson writes: "Here on a quiet Iowa hillside, I was hoping … to both learn and unlearn who I was. To try living not only alone and apart, but a more consciously observed life — both inside and out." I think he achieved what he was hoping to do in Iowa.
"Those of us who have lived in old one-room schoolhouses understand the solitude, solace, and proximity to nature that they provide. During his year living in Union #9, Marc Nieson embraced these opportunities for inner growth. His new memoir—a must read—traces the story of his journey of discovery along the trail through the woods surrounding his house and along the path of human relationships. Read Schoolhouse, and you will open the door to the mind of an engaging voice, a probing, reflective writer who delights the reader with his lyrical prose on every page."
—Mary Swander, author, Out of this World: A Woman's Life Among the Amish
Marc Nieson has degrees from both the Iowa Writers' Workshop and NYU Film School. His background includes children's theatre, cattle chores, and a season with a one-ring circus. He's been awarded a Raymond Carver Short Story award and recent fiction appears in Everywherestories: Short Fiction From A Small Planet (Press 53), Museum of Americana, and Tahoma Literary Review. He is also a screenwriter, whose credits include Speed of Life, The Dream Catcher, and Bottomland. He teaches at Chatham University in Pittsburgh, and is working on a new novel, Houdini's Heirs.
In this interview, Marc and I talked in detail about this excellent book and his work as a writer and teacher. Special kudos to Ice Cube Press for publishing this memoir.
Author website here.
Ice Cube Press website here.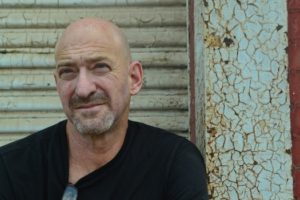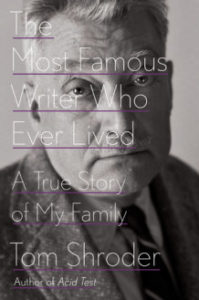 The Most Famous Writer Who Ever Lived: A True Story of My Family – Tom Shroder – Blue Rider Press – hardcover – 9780399174599 – 416 pages – $28 – published October 4, 2016 (ebook editions available at lower prices)
Tom Shroder is an excellent writer and an experienced editor who has had a long career as a journalist, as well as having also written some really interesting books. As it turns out, he is the grandson of the once-bestselling author, MacKinlay Kantor, who won the Pulitzer Prize in 1956 for his sprawling historical novel about the Civil War, Andersonville. I expect that a number of my listeners will have read that book, and many will quite possibly remember MacKinlay Kantor as someone who was an extremely well known and popular author in the fifties and sixties.
Like so many of us, Shroder grew up mostly taking his grandfather for granted, and while he was close with both his grandfather and grandmother, Tom did not really know very much about their actual lives before he was born, when their lives were very different. Their daughter, his mother, was also a writer as Tom was growing up, but he did not want to identify with the literary milieu of his youth. It was only later in his life that he was spurred to learn more about his family history, and to begin to understand himself within any kind of a personal literary context.
This book recounts the thoroughly compelling MacKinlay Kantor's very colorful and intentional life as a writer, as well as weaving together Shroder's own story, which is one of becoming a writer without perhaps intending to do so. It works amazingly well, and even if you have never read Andersonville or any of the other many books Kantor wrote during his long and checkered career, this particular book is likely to captivate you. It is full of wonderful stories and empathetic emotional connections.
Shroder's journey to understanding who his grandfather was turns out to be almost as epic as Kantor's actual life, full of twists and turns, discoveries and surprises. I read Andersonville long ago, and remember being fully engaged by its epic scope and historical detail. But I had forgotten that Kantor was also the ghost writer for Curtis Lemay later in his life, when things were not going so well for him. His was a complicated and very American 20th century story, story, and Shroder tells it exceptionally well.
Tom Shroder has been an award-winning journalist, writer and editor for nearly 40 years. His books include Acid Test: LSD, Ecstasy and the Power to Heal (2014), a mind-altering account of the resurgent research into the medical use of psychedelic drugs; Fire on the Horizon: the Untold Story of the Gulf Oil Disaster (2011) (co-author); and Old Souls: Compelling Evidence From Children Who Remember Past Lives (1999), a study of the border between science and mysticism.
He was the editor of The Washington Post Magazine between 2001 and 2009, where he oversaw Gene Weingarten's two Pulitzer Prize-winning feature stories, "Fiddler in the Subway" and "Fatal Distraction."
Shroder's The Hunt for Bin Laden (2011) was based on 15 years of reporting by The Washington Post. Shroder is also known for co-creating the Tropic Hunt, a mass-participation puzzle which has become The Washington Post Hunt in Washington, D.C.
Shroder was born in New York City in 1954.
You can visit Shroder's author website here.
"Fascinating…As Shroder vividly tells the story of this larger-than-life writer who was a generous and often doting grandfather, he contemplates the fleeting nature of fame….a biographical gold mine and an object lesson in the ultimate fading away of the best-selling, prize-winning success many writers dream about."
—Susan Cheever, The Washington Post
This book was a pleasure to read, and the conversation with Tom Shroder was a lot of fun for me as well. He made this interview extremely easy for me to conduct.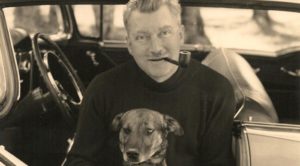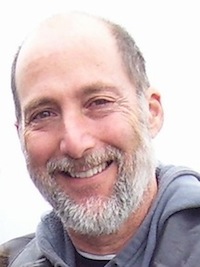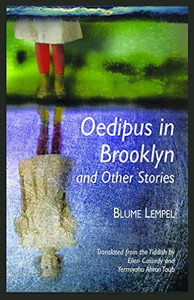 Oedipus in Brooklyn and Other Stories by Blume Lempel – Translated by Ellen Cassedy & Yermiyahu Ahron Taub – Mandel Vilar Press & Dryad Press – paperback – 9781942134213 – 240 pages – $16.95 (ebook versions available at lower prices)
This book was the winner of the 2012 Translation Prize awarded by the Yiddish Book Center.
Blume Lempel wrote in Yiddish, her native language. She was a wonderful storyteller with a strange and far reaching imagination. Hear writing slips beautifully between realistic and dreamlike states, lyrical and penetrating in style, completely compelling to the modern reader. What a surprise to discover this writer whose poetic language style is masterful.
As the publisher describes her stories: "A Holocaust survivor speaks to the shadows in her garden, a pious old woman imagines romance, a New York subway commuter forges a bond with a homeless woman, and in the title story a mother is drawn into a transgressive relationship with her blind son."
Ellen Cassedy and Yermiyahu Ahron Taub (the translators) on encountering Blume Lempel's stories wrote: "When we began reading and translating, we didn't know we were going to find a mother drawn into an incestuous relationship with her blind son. We didn't know we'd meet a young woman lying on the table at an abortion clinic. We didn't know we'd meet a middle-aged woman full of erotic imaginings as she readies herself for a blind date. Buried in this forgotten Yiddish-language material, we found modernist stories and modernist story-telling techniques – imagine reading Gabriel Garcia Marquez with the conversational touch of Grace Paley."
Lempel (1907–1999) was one of a very few writers in the United States who wrote in Yiddish into the 1990s. She immigrated to New York during the time that Hitler rose to power, and began publishing short stories in 1945. By the 1970s her work had become known throughout the Yiddish literary world. When she died in 1999, the Yiddish paper Forverts wrote: "Yiddish literature has lost one of its most remarkable women writers."
Blume Lempel (1907-1999) was born in Khorostkiv (now Ukraine). She immigrated to Paris in 1929 and fled to New York on the eve of World War II. This book is the first English-language collection of Lempel's stories and is based on a manuscript that won the 2012 National Yiddish Book Center Translation Prize.
Ellen Cassedy and Yermiyahu Ahron Taub received the 2012 translation prize from the Yiddish Book Center for their translation of short stories by Blume Lempel.  In 2016, Ellen Cassedy received a PEN/Heim translation grant for her work on the Yiddish writer Yenta Mash, the first time the prize has been awarded for a Yiddish book.  Ellen is the author of We Are Here: Memories of the Lithuanian Holocaust published by University of Nebraska Press.
Yermiyahu Ahron Taub is the author of four books of poetry, Prayers of a Heretic/Tfiles fun an apikoyres, Uncle Feygele, What Stillness Illuminated/Vos shtilkayt hot baloykhtn, and The Insatiable Psalm.  Tsugreytndik zikh tsu tantsn: naye Yidishe lider/Preparing to Dance: New Yiddish songs, a CD of nine of his Yiddish poems set to music, was released in 2014.  He was honored by the Museum of Jewish Heritage as one of New York's best emerging Jewish artists and has been nominated four times for a Pushcart Prize and twice for a Best of the Net award.  His short stories have appeared in Jewish Fiction .net, The Jewish Literary Journal, and Jewrotica.  Taub's website is www.yataub.net.
This is the first interview I have done with two writers simultaneously; I think it worked well, thanks to the interviewees handling this conversation so deftly.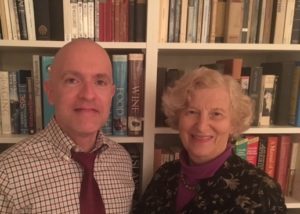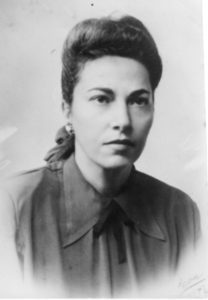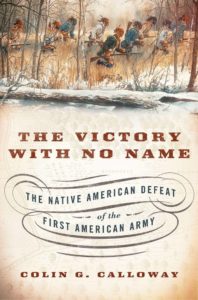 The Victory With No Name: The Native American Defeat of the First American Army – Oxford University Press – paperback – 214 pages -978-0190614454 – $16.95 (ebook versions available at lower prices)
I think it's safe to say that most Americans have not given much thought to the very early history of the United States. During the first decades after the country was formed, there was much concern about the survival of the new nation. The British were still well established in the north, the Spanish were in the south and southwest, and large numbers of Indians inhabited the vast area to the west. Pressure was being exerted on the federal government to open these western lands to settlement, putting the US on a collision course with the natives who lived there.
This area was known as the Northwest Territory – comprising what are now the states of Ohio, Indiana, Illinois, Michigan, Wisconsin and parts of Minnesota. Almost all Americans dismissed the land claims of the Native Americans. These tribes they saw simply as impediment to American growth. While some American leaders preferred to purchase the Indians' land, the need for the government to pay its debts by selling (Indian owned) land overwhelmed all other concerns, and led ultimately to a war of extermination with the tribes.
Historian Colin G. Calloway is exceptionally perceptive and knowledgeable about the early history of the United States of America. This short, well written book focuses on a single unnamed battle that took place in late 1791 in what is now Fort Wayne, Indiana. In this period, before there was a standing army, President George Washington ordered Arthur St. Clair, the governor of the Northwest Territory, to direct a military campaign aimed at defeating the tribes that had refused to accept the unfair land deals the United States had proposed to them.
Calloway shows that the Native Americans were well organized and well-led, both politically and militarily. This surprised St. Clair as much as it may surprise us today. The American Indians were led by Little Turtle of the Miamis, Blue Jacket of the Shawnees and Buckongahelas of the Delawares (Lenape). Their war party numbered more than one thousand warriors, and included a large number of Potawatomis from eastern Michigan, a broad confederacy presaging similar Indian efforts to come in later years.
As Calloway points out: "Indians fielding a multinational army, executing a carefully coordinated battle plan worked out by their chiefs, and winning a pitched battle—all things Indians were not supposed to be capable of doing—routed the largest force the United States had fielded on the frontier." It's useful to note that the American army was poorly organized, included a large number of ill-trained militia, and was also victimized by crooked suppliers, starting a longstanding American tradition of private gain by military purveyors we recognize all too well today.
Unfortunately for the Native Americans, their victory was short lived. The stunning American defeat led directly to a number of changes in the way the new government operated. The House of Representatives initiated the first investigation of the executive branch, Congress established a standing army and gave the president authority to wage war. A liquor tax was created to finance the Army (which led to the Whiskey Rebellion that ironically, President Washington used the tax-financed militia to put down). The Indian confederacy did not last, and in 1794, General "Mad Anthony" Wayne built Fort Recovery and defeated another Indian war party at the Battle of Fallen Timbers, ultimately bringing an end to Northwest Territory Indian resistance and opening the way for the first stage of westward growth of the new American nation.
There is so much interesting history that relates directly to the story told in this book. It's a compelling read for anyone interested in the early period of the American republic. My conversation with Colin Calloway reflects the stirring nature of his book, and the breadth of his knowledge. This book is an important American story, well told, and I highly recommend it.
Colin Calloway is the author of a number of excellent works, including one of my personal favorites, One Vast Winter Count: The Native American West before Lewis and Clark. He is the John Kimball, Jr. 1943 Professor of History and Professor of Native American Studies at Dartmouth, where he has taught since 1990. He received his Ph.D. from the University of Leeds in England.
Length note – this interview is slightly longer than average at about 35 minutes.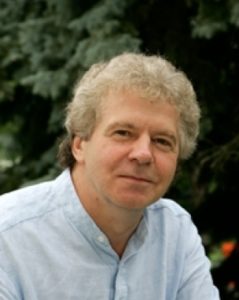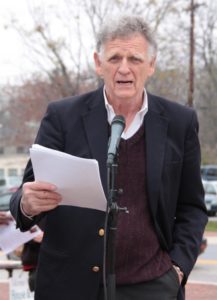 Publishing Talks began as a series of conversations with book industry professionals and others involved in media and technology about the future of publishing, books, and culture. I've talked with many people about how publishing is evolving as our culture is affected by technology within the larger context of changes in civilization and economics.
I've broadened the series to include conversations with editors and publishers who have been innovators and leaders in independent publishing both in the past and into the present. Through these talks, I hope to continue to explore the ebb and flow of writing, books, and publishing in all forms and formats, as change continues to affect our lives.
For the past several years, I've been talking to editors and publishers of independent presses about their work, including a number of important literary publishers. Most recently, I had the pleasure of speaking with Merrill Leffler, the co-founder and publisher of Dryad Press. Leffler and his publishing program have been fixtures in the Washington, D.C. area poetry and indie press scene, but are by no means local in interests or scope of work.
Merrill and his friend Neil Lehrman published the first issue of Dryad, a small poetry magazine, in 1968. Their journal, like many others in that era, began as a quarterly. After the first several issues, their publication dates became more variable, and in roughly 1975, Dryad evolved into Dryad Press — two issues of the magazine were sent to subscribers as books. In a further evolution over the years Dryad expanded from publishing poetry to include fiction and non-fiction as well.
With almost a half century of self-taught publishing behind him, Merrill Leffler, a writer and poet of some note himself, has much to talk about. In this conversation, we talked about the history of Dryad and its evolution as part of the modern era of independent publishing, as well as poetry, fiction, and much more.
Compared to many other writers and independent press publishers, Leffler has an unusual and singular background. He was trained as a physicist, worked for NASA's rocket program and was the senior science writer at the University of Maryland Sea Grant Program, where he focused on research involving the biology of the Chesapeake Bay. In addition, for a number of years he taught English at the US Naval Academy in Annapolis.
Merrill Leffler has also published three collections of his poetry, most recently a collection called Mark the Music. There's a great article about him ("Can a poet lose weight by snacking on poems?") that mentions his role as the Poet Laureate of Takoma Park, Maryland here. And an excellent piece about Dryad and its history by Leffler at a DC area literary website called Splendid Wake.
Leffler is warm, generous, and was a pleasure for me to speak with. I hope you enjoy this interview as much as I did!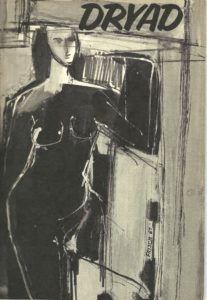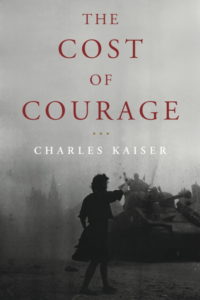 The Cost of Courage – Other Press – Hardcover – 288 pages – 9781590516140 – $26.95 (ebook versions available at lower prices)
I read this beautifully written book about one family's experience of World War II in France just before our recent election. At that time, I was not expecting to have to think about it in the context of our own political situation. Even without understanding that the incredible courage of his subjects may be instructive to us today, this book is about an incredible story of bravery and sacrifice. As of this moment, The Cost of Courage must be read in a new context.
All of us need to consider the lessons learned from the experience of everyday people in horrible circumstances like those of the French in occupied France. These were times of brutal repression and daily violence for individuals who constantly made momentous moral decisions with life and death consequences.
The Cost of Courage recounts the true story of the three youngest children of a bourgeois Catholic family, who worked heroically in the French Resistance during the Nazi occupation of France. Charles Kaiser was lucky enough to know this family from the time he was a small boy, because his uncle was billeted with them after the liberation of Paris by Allied forces.
In 1943, André Boulloche was working underground as General Charles de Gaulle's military representative in Paris, coordinating Resistance activities in northern France. Unfortunately, he was betrayed by one of his associates, arrested and taken prisoner by the Gestapo. His two younger sisters continued to fight against the Germans until Paris was freed in 1944. André Boulloche managed to survive his time in three concentration camps through sheer force of will.
The  elderly Boulloche parents and the oldest brother were also arrested when the Gestapo tried to capture the two sisters. Tragically, these three were on the last train the Germans ran from Paris to Germany before the Allies liberated the city, and they died soon after in Nazi concentration camps.
After the war, the Boulloches remained silent about their terrible wartime. Ultimately, Charles was able to convince the last surviving sister to finally tell her family's incredible story. The Boulloche story is moving and powerful, and we are fortunate it could be told to us by this fine and sensitive writer.
It was a true pleasure for me to be able have this opportunity to talk to Charles about his book and his experience of writing it. Charles and I were in high school together, but have had very little contact since then, and while I have followed his outstanding career as a journalist and author, we have not talked often over these many years. I am gratified to have read this book, and have been inspired by its story. I urge my listeners to read The Cost of Courage, as we are ourselves now live through times that will challenge our own willingness to pay the true cost of courage.
Charles Kaiser started writing for The New York Times while still an undergraduate at Columbia. He spent five years at the Times as a reporter, and after that was the press critic at Newsweek for two years. After writing about media and publishing for the Wall Street Journal, he wrote his first book, 1968 in America, published in 1988. His highly praised book, The Gay Metropolis was published in 1997.
His writing has appeared in New York, the New York Observer, Vanity Fair, the Washington Post, the Los Angeles Times and Manhattan,Inc. among many other publications.
Kaiser was a founder and former president of the New York chapter of the National Lesbian and Gay Journalists Association. He has taught journalism at Columbia and Princeton, where he was the Ferris Professor of Journalism. To learn more about his work, visit his website here.
"In this poignant personal tale, Kaiser explores the emotions and breaks through the silences that haunted an amazing family after their experiences in the French resistance to Nazi occupation. The result is a compelling and heart-wrenching book about courage, love, and the complex shadings of heroism."
—Walter Isaacson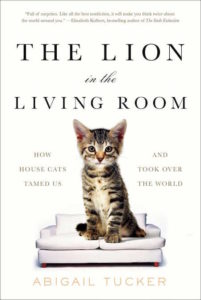 The Lion in the Living Room: How House Cats Tamed Us and Took Over the World – Simon & Schuster – 256 pages – ISBN 9781476738239 – October 2016 – $26.00 (ebook versions available at lower prices)
Let me start off by stating forthrightly that I am not a cat person. I much prefer dogs. But I am intrigued by the fact that so many otherwise rational people are completely irrational about cats. And while I don't love them, I certainly do not hate cats, and am interested in understanding their role in human culture. It's always seemed that the cat's relationship to humans is more complicated than that of the dog, and this thoroughly compelling – and entertaining – book by science writer, Abigail Tucker, certainly makes that clear.
Tucker covers alot of ground with this book, and it will be a fun read not just for those who are besmirched with cat fancy. As the fine science writer she is, Abigail Tucker has taken years of research into animal biology, as well as human and animal behavior, and made a great story out of it all.
If you love cats, this book will help you understand why, and may even teach you how to be a better (and more effective) cat owner. If you are more of a cat tourist, or even if you don't like them at all, you still will want to know more about what makes them tick. After all, these are semi-untamed apex predators living in our homes. That's a pretty interesting notion to consider just by itself.
Tucker shows great humor and personality throughout this book, as she demonstrates that these animals, whose powers we have probably underestimated, have managed (us) to become one of the most dominant species on our planet. That may help all of us understand who these beasts are that live among us.
As Tucker says about the book herself:
It wasn't until recently that I felt ready to cover an animal whose habitat is also my own house. But as soft and fuzzy as domestic cats may initially seem, The Lion in the Living Room presented a major journalistic challenge, since I hoped to simultaneously draw from the two schools of animal-writing: using the strange story of house cats' rise to global dominance as a means to understand humanity's vast environmental influence and — more importantly — as a narrative end unto itself. Rather than snuggling my subjects close, I tried to keep house cats at arm's length, like termites or red-painted rattlers, to be handled with snake hooks and trembling hands — the better to see them for the exquisite conquerors they really are.
Abigail Tucker is a correspondent for Smithsonian magazine, where she has covered a wide range of topics from vampire anthropology to bioluminescent marine life to the archaeology of ancient beer. The Lion in the Living Room is her first book. She now lives in Ridgefield, Connecticut, where she grew up (as I did as well).
Abigail and I had a wide-ranging chat about this book that I hope you will enjoy as much as I did. You can read or listen to an excerpt of the book here at the (very good) Simon & Simon site.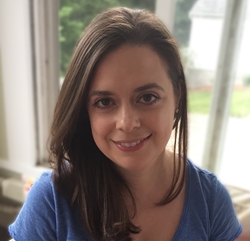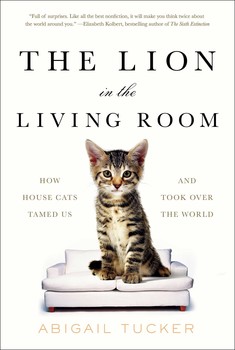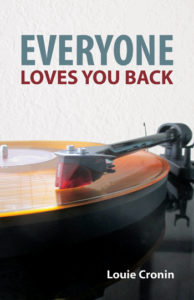 Everyone Loves You Back – 9781941576229 – Gorky Press – paperback – $15.95
I very much enjoyed reading this well written and humorous novel. It's set in Cambridge ("our fair city" MA), and depicts the sort of culture clash that has occurred all over America as livable cities are reinhabited by the latest version of what we used to call yuppies. These newcomers to city neighborhoods have completely different values – and economic realities – than the folks who grew up there. It's a rich environment for fiction too. So this is a novel that will likely resonate for many readers on a sociopolitical basis, in addition to its deft handling of the relationships between the sexes. And because Cronin comes from public radio – she was a producer and writer for the much loved and missed Car Talk – the setting of this novel is one that many of us whose industries have undergone wholesale modernization, can appreciate as well.
Is there a category of novel for "late Baby Boomer" coming of age stories set in the present? I am not well enough read to say. The publisher calls this a "coming of middle-age novel," which seems apt. I do think that especially for readers of "a certain age" this book could become a favorite. And you don't have to struggle with a changing neighborhood or have issues with your love life to appreciate the joyfulness and humor of this novel.
Louie and I had a fun time talking about her book, her work and the way she was able to inhabit her male main character, a feat of imagination and courage for any novelist.
Louie Cronin is a writer, radio producer, and audio engineer. She worked as a producer/writer for Car Talk on NPR for ten years. Her fiction and essays have been published in a variety of magazines and journals. She is not the technical director for PRI's The World and lives in Boston with her husband, the sculptor James Wright.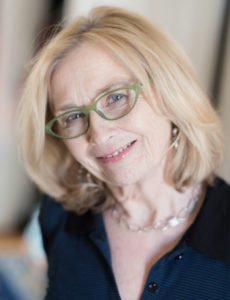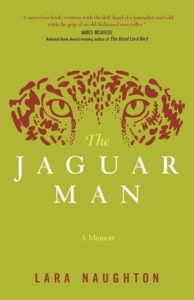 The Jaguar Man – 9781942094203 – paperback – Central Recovery Press – $15.95 – ebook editions available at lower retail prices
The Jaguar Man is a harrowing, powerful and uplifting memoir. On the fourth day of a long awaited vacation in tropical Belize, and in the midst of a new romance, author Lara Naughton was kidnapped by a man who pretended to be a cabdriver. He drove her into the forest, held her captive and raped her.
In this deftly written memoir, Naughton describes how she coped with her ordeal with the figure she called the Jaguar Man. As she makes so clear in a beautiful, complicated and difficult narrative, compassion for her attacker became her only defense, her only coping method, and myth making a passage of self therapy and reclaiming of her personal power.
There is so much going on in this very short memoir, it is difficult to easily describe. I don't think I can remember reading such a vivid, honest and convincing story. Lara Naughton changes up all our expectations of what it means to be a victim of sexual assault.
In her story telling, Naughton works with myth and spirituality to make sense out of her difficult experience and to be open to the power of compassion. Talking or writing about rape and assault is scary and challenging. Naughton has taken on this difficult task with grace and brilliance. She works through an impossibly difficult experience, using the magic of telling as a way to both navigate and make sense of the psychological effects of trauma both for herself and for readers. It's completely transformational. I can't think of any book I can compare to this one.
Our conversation about this book and Lara's experience was truly rewarding for me and I hope for all my listeners. The opportunity to speak with her about this book was important and deeply meaningful to me.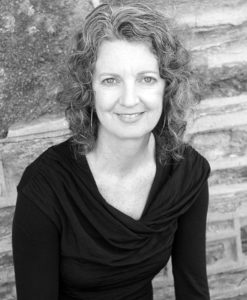 I have seen many amazing reviews for this book. Clearly, this book has been  extremely powerful to many readers, and can be highly recommended.
"A marvelous book written with the deft hand of a journalist and told with the grip of an old fashioned storyteller.The magic of this book is not so much that Lara Naughton had to reach deep into a cauldron of wit and courage to survive an ordeal from a vicious, twisted villain, but rather that her redemption created a new level of understanding and wisdom that she embraced, so that she might live long enough to share this wisdom with others.That is why we read books.And that is why this is an excellent one."
—James McBride, National Book Award-winning author of The Good Lord Bird
Lara Naughton, MPW, is Director of New Orleans based Compassion NOLA. She has worked with students K-12 as well as adults, and has led workshops with individuals who have faced challenging circumstances, including homelessness, HIV/AIDS, wrongful conviction, incarceration, and torture. As a writer and documentarian, she often incorporates personal narrative exercises into her classes, and assists individuals who wish to tell their own stories. She is Chair of Creative Writing at New Orleans Center for Creative Arts, and a certified Compassion Cultivation Trainer through the Center for Compassion and Altruism Research and Education (CCARE) at Stanford University School of Medicine. Visit her website for much more about this book and her work.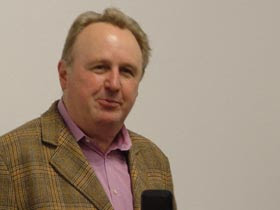 Publishing Talks began as a series of conversations with book industry professionals and others involved in media and technology about the future of publishing, books, and culture. As we continue to experience disruption and change in all media businesses, I've been talking with some of the people involved in our industry about how publishing might evolve as our culture is affected by technology and the larger context of civilization and economics.
I've now expanded the series to include conversations that go beyond the future of publishing. I've talked with editors and publishers who have been innovators and leaders in independent publishing in the past and into the present, and will continue to explore the ebb and flow of writing, books, and publishing in all sorts of forms and formats, as change continues to be the one constant we can count on.
For the past several years, I've been talking to editors and publishers of independent presses about their work, including a number of important literary publishers. It's a great pleasure for me to add Bill Corbett to this group. He's been a key figure in the Boston literary scene for more than forty years, though he has now moved to Brooklyn.
Corbett's house in the South End was an essential literary salon for local and many visiting artists, poets, and writers. Corbett has been active in what has been known as the "New York School" of poets, with a deep and abiding interest in the intersections of art and poetry. In a review of Corbett's All Prose, Kevin Gallagher said "Corbett is ambassador to a strange land."
Editing and publishing have also been central to Corbett's work. He edited the literary journal Fire Exit with Fanny Howe and The Boston Eagle, with Lewis Warsh and Lee Harwood, wrote for the Boston Phoenix, and has been involved with literary magazines Ploughshares, Agni, and Grand Street. In 1999, Corbett founded Pressed Wafer, a small press publishing poetry, essays, and art writing. Corbett taught writing at MIT, and also has taught at Harvard and Emerson.
Patrick Pritchett summed up Corbett's work rather well as follows:
For several decades now, Corbett has been one of our leading men of letters – the phrase itself has been rendered almost extinct in this age of ubiquitous bloggery and relentless peer-review – but I use it here to indicate a breadth of range and a fineness of attention that once upon a time was the norm, rather than the exception. As poet, essayist, memoirist, art critic, literary historian, publisher and tireless promoter of other writer's work, Corbett is – yet ought not to be – sui generis. But even if the present time were more thickly populated by writers of comparable range, he would still be a force to be reckoned with, in a category of his own.
In this conversation, we talked about a wide range of topics, but it seems we may have barely scratched the surface of Corbett's work in art and writing. I hope we will have a chance to talk again soon.
Links:
Pritchett essay about Bill Corbett on the blog Writing the Messianic
Pressed Wafer books "poetry fiction essays art memoir etc"