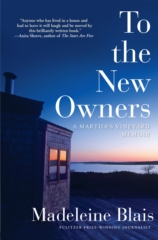 To the New Owners: A Martha's Vineyard Memoir – Madeleine Blais – Atlantic Monthly Press – Hardcover – 978-0-8021-2657-3 – $26.00 – 272 pages – July 2017 (ebook versions available at lower prices)
Madeleine Blais is a truly wonderful writer – she began her writing career as a journalist, now teaches journalism at the University of Massachusetts, and won a Pulitzer Prize for her 1994 book In These Girls Hope is a Muscle. But I had never really read her work before my friend George Gibson, knowing I had spent time on Martha's Vineyard, recommended this book to me. Reading this book was a great experience for me, one of those times when I found myself reading sections aloud to my wife, who spent most of her life going to Martha's Vineyard each summer. This book is full of beautiful passages about place, family, and the magical experiences that summer vacations engender for so many of us.
Back in the 1970s, Madeleine Blais married into the Katzenbach family, and with them, their somewhat rustic vacation house on Martha's Vineyard. Located on an old one-lane dirt road, the house was more a shack, without electricity or running water. But for spending old fashioned quiet vacations decompressing from daily life, the house was ideal, and very representative of the kinds of places that were then common in traditional east coast vacation spots.
The house was near Tisbury Great Pond, facing the ocean and open to the sky, and over the years, the old shack was rebuilt and modernized, but the more or less rustic lifestyle of the family and their visitors remained a constant. There was no heat, no TV, and no telephone, and typically terrible cell service. But as Blais documents, the days were marked by time spent on the beach and on the Vineyard's beautiful waters, meals prepared and enjoyed with extended family and their many visiting friends, all logged in a series of notebooks made by the family over the decades – almost half a century of family stories to be preserved and loved.
But life is full of changes and with the passing of the original family owners, in 2014, the house was sold. In To the New Owners, Madeleine Blais tells some of these stories of the house and her family's life within it, and stories of the Vineyard, including some of its recent history, and some of the people whose visits have now made it so well known.
But this book is really about the places that matter in our lives, the power of place to ground and center our lives and the importance of memory and stories to help us understand who we are.
While this book is a memoir about this one distinctive east coast island, it will resonate for the many of us who have experienced well-loved places that have changed over time. Change is the constant feature of modern life, and family summer places like this one may be disappearing forever. New generations will find their own ways to understand and appreciate the places around which they build their histories. Those of us who have had the pleasure of experiencing Martha's Vineyard will likely love this book as much as we love the island itself, and remind us of our own stories and the memories that keep us whole.
Madeleine Blais was a reporter for the Miami Herald for years before joining the faculty of the School of Journalism at the University of Massachusetts. She is the author of In These Girls, Hope Is a Muscle, Uphill Walkers, and The Heart Is an Instrument, a collection of her journalism. She lives in Amherst, Massachusetts.
Aside from being a fine writer, Madeleine also tells great stories, and gave us a wonderful interview. Special thanks to George Gibson for recommending this excellent book to me.
"For anyone who has ever been curious about life on the Vineyard, or fantasized about settling in, Blais offers a diverting portrait . . . Blais has stitched together [the memoir] from the writings and stories of others, as well as her own wistful, often wry observations . . . Throughout, Blais exhibits a veteran reporter's instinct for even-handedness."―Boston Globe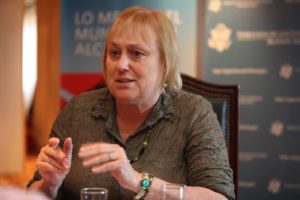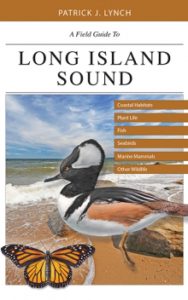 A Field Guide to Long Island Sound: Coastal Habitats, Plant Life, Fish, Seabirds, Marine Mammals, and Other Wildlife – Patrick Lynch – Yale University Press – paperback (flexibind) – $27.50 – 9780300220353 – 416 pages
I grew up around Long Island Sound, and have lived near it most of my life. I have always loved the shoreline and the water, the birds, marine life and the landscapes of the coast, and I have enjoyed its beauty and diversity, and even spent time as an amateur naturalist studying its ecosystems, but it was not until I read Pat Lynch's comprehensive guidebook that I felt I fully understood this magnificent environment.
This book is beautifully illustrated, and full of fascinating and readable information about the natural history of Long Island Sound, and its varying New York and Connecticut coastlines. This estuarine body of water is surrounded by millions of people – and threatened not only by over-population and industry, but now by climate change as well. While we have made a great deal of progress in recent decades in improving the ecological health of our waters, we must increase our level of involvement now, as climate change will have tremendous impacts on the all important marshlands of the Sound and other coastal zones.
Long Island Sound comprises a diverse collection of marine, estuarine, and terrestrial ecosystems, and is located in one of the most densely populated regions in the United States. The Sound and its coastlines are home not only to myriad species of plants and animals—from shorebirds and turtles to whales, seals, and fish—but also to more than twenty million people.
Author and illustrator Patrick Lynch has put together a thoroughly engaging guide to this incredibly complex set of environments. The book includes maps, photographs, and drawings, and covers every aspect of the Sound's various ecosystems and locales.
On reading the book, I felt that I learned more than I have done in a lifetime of living on or near the Sound and for me, it is now an indispensable companion whenever I walk the coastline or am lucky enough to get out on the water near where I live. If you live anywhere near New York or Connecticut, this book will help you fully understand the importance and breadth of the Sound environments. And even if you live in another part of the country, Long Island Sound is well worth learning about, just as any other great natural area would be. I only wish we could have had this conversation at the beach or some other interesting outdoor venue, but the Sound is too windy for making intelligible recordings.
Patrick J. Lynch is a former senior digital officer in Yale University's Office of Public Affairs and Communications and is an award-winning author, designer, illustrator, and photographer. He lives in North Haven, Connecticut. He was kind enough to spend some time with me in New Haven recently to talk about this book and his sense of the future of Long Island Sound.