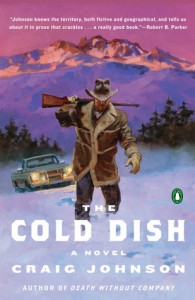 978-0143123170 – Penguin Books – Paperback – $15.00 – ebook editions available
What a great discovery!  This is really about an entire series of novels, not just this first book, The Cold Dish (which is exceptional, by the way).  As soon as I started reading this novel, I was hooked, and knew I would be reading and enjoying many more of Craig Johnson's novels.  Out of the seven he has published thus far, I've read four this summer, and I would have read more of them if I had not been distracted by a very busy period with lots of intense work.  So I am actually looking forward to this fall and winter when I can sit by the proverbial fire and read three more really good books.
As Craig said when we talked, this series of books is driven by his characters, and it's true enough, everyone in these books is vividly drawn and incredibly alive.  That's what got A&E Television to buy the books to turn into their latest successful television series, a story Craig definitely enjoys telling.  Walt Longmire, the Sheriff of Absaroka County, Wyoming, is one of the great modern heroes, full of flaws and the kind of intrepid it's impossible not to love.   And unusually for me, at least, I don't mind at all the way these books have been adapted for television.  A&E wisely kept them character based, and while it is plainly impossible for any video medium to be as imaginatively rich as a great novel, they've done a terrific job with Longmire.
Author Johnson is plainly having a great time writing these novels, and well he may.  He's created a cast of characters it's impossible not to be attracted to.  The Cold Dish introduces us to Walt Longmire, a twenty-five year veteran sheriff in the least populated county in Wyoming, his best friend, Henry Standing Bear, and his favorite deputy, Philadelphia-born Victoria Moretti.   Longmire is not an altogether happy man, having lost his beloved wife, and now lives alone in what might loosely be called an unfinished house.  His daughter is away in law school and he is mostly alone.  His peaceful unhappiness is interrupted by the death of Cody Pritchard, a young man who had previously been involved in an ugly incident of rape two years earlier with three other high school boys, all of whom had been given suspended sentences for raping a local Cheyenne girl.  He's shot at long distance by an unusual and historic 45-70 Sharps buffalo rifle.  Thus starts an adventure that can only be called gripping and powerful.  As one reviewer said: "Longmire faces one of the more volatile and challenging cases in his twenty-four years as sheriff and means to see that revenge, a dish that is best served cold, is never served at all."
Johnson is a fine literary writer taking on a popular form and making it his own.  The Longmire series is the kind of book series readers love, and it's just as attractive to those who are seeking adventure between book covers.  Talking to Craig about his books was a true pleasure for me.  Craig lives in Ucross, Wyoming, population 25, where he truly lives the kind of life he writes about.
Author website here.  A&E Longmire site here.
The book series:
The Cold Dish
Death Without Company
Kindness Goes Unpunished
Another Man's Moccasins
The Dark Horse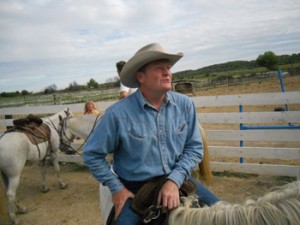 Junkyard Dogs
Hell is Empty
As the Crow Flies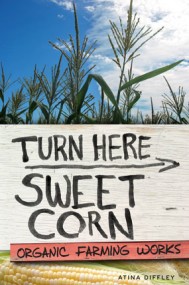 Turn Here Sweet Corn: Organic Farming Works – 978-0816677719 – University of Minnesota Press – Hardcover – $24.95 (ebook versions available)
As I write this, it's August, 2012, and sweet corn is beginning to be abundant here in Connecticut, where I live.  This is my favorite season, and my favorite summer vegetable too.  When I discovered this wonderful book, I picked it up immediately, and began to read it voraciously.  I really like this book, and corn is, of course, an evocation of much more for the author and her readers.  Atina Diffley has a great story to tell, and she tells it well in this lovely, powerful, evocative book.
Atina's story is literally grounded by her connection to the earth and to living in community.  As she tells us, she has always wanted to farm.  As she has worked with the land to grow food, she has learned how farming is a synthesis of land and people.  Wherever she is, along with her farmer husband, Martin, she is a sensitized and active member of her the ecosystem, paying close attention to the living world around her.  It's a great lesson for a world that seems alienated from the natural world.  Atina tells us about how she came to being a local organic farmer, a story of farming within close range of the Minneapolis/St. Paul urb for more than thirty years.  It's been an incredible struggle, but also, an incredible success, as she shows how a conscious connection between farm and city, between farmer and the food system can create healthy systems that last.  There are many practical lessons as well as inspiration, beauty, and sustenance here for anyone interested in building a new food system in America.
And in addition to a brilliant and beautiful story of land and living, Atina also tells the incredible story of the battle she and Martin led against the Koch brothers pipeline across Minnesota.  It's more or less mind boggling to imagine what they went through, and inspiring to see that it is possible for intelligent and organized opposition to powerful corporate forces can in fact be victorious – right over might.
This is a great book and one I am very happy to recommend to friends, family and colleagues.  Talking to Atina about her book was a great pleasure for me, and I hope our conversation will be illustrative of how wonderful this book is.  And thanks to the courageous and intelligent University of Minnesota Press for publishing this terrific memoir (a terrific publisher!).  Having sold the farm to the food cooperatives that supported it for so many years, Atina is now an organic consultant and public speaker on farming and food issues.  Her website is here.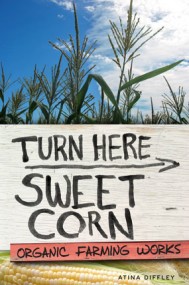 We had a great interview in which we covered a wide range of subjects related to her book and to the important issues she raises about our connection to the land, to food, to the reason why organic farming is so important, and to the meaning of food to our lives.