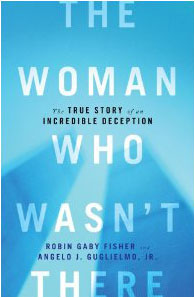 978-1451652086 – Touchstone – Hardcover – $26 (ebook edition available at lower prices)
You really need to know the subtitle of this book to get the full impact – The Woman Who Wasn't There: The True Story of an Incredible Deception. It is an incredible story, about a woman who became one of the leaders of the 9/11 survivors movement, who then turned out to be a complete fraud.  How she managed to convince so many people of a story that was so much a part of our public experience (and so much a part of the terrible private experiences of other survivors and family members) is what makes this book compelling.
Journalist Robin Gaby Fisher wrote this book with Angelo J. Guglielmo, Jr., a documentary film-maker who was very close to the main character of the book and who was part of the story itself.
Tania Head told a dramatic and heart stopping story of survival from an upper floor of the World Trade Center, and quickly rose to a position as leader at an early stage in the development of the World Trade Center Survivors' Network.  She became a prominent public figure helping to establish the group, gave a public face to the survivors' group, and was deeply emotionally involved in the lives of hundreds of people.  Until her story unraveled and the truth became known.
It is a tricky thing for a writer to maintain the reader's interest when the end of her story is already known – Fisher handles this problem successfully by painting an engrossing and detailed picture of Tania Head and all the people around her, and by keeping us waiting for the important details of how her story actually came apart.  And while it is impossible for anyone to truly know and understand Tania, who will not speak publicly about anything at all, Fisher paints a deft portrait of a complex psychological being, who joins a long list of famous public frauds who have taken on personae that did not factually belong to them but whose beings were poured into their fantasies in service of deeply felt emotional needs.
It's also hard not to wonder about the human need for heroes and leaders, which these sorts of confidence men and women prey on.  This could happen to any of us, and perhaps especially when we are ourselves emotionally vulnerable and desperate for someone to show us the better side of the human spirit.  In many ways, this story illuminates more about the nature of human suffering and stress than it could ever help us to understand the perpetrator of the fraud itself.  It's a very rewarding book to read and my discussion with Robin Gaby Fisher about the book will illuminate some of the important issues raised in her book.
Robin Gaby Fisher is a two-time finalist for the Pulitzer Prize in Feature Writing and a member of a Pulitzer Prize-winning team at the Newark Star-Ledger. She teaches Journalism at Rutgers University in Newark, New Jersey.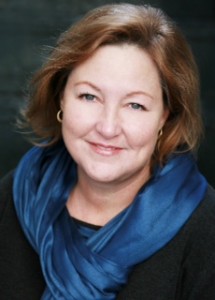 In this series of interviews, called Publishing Talks, I talk to book industry professionals and other smart people about the future of publishing, books, and culture.  This is a period of disruption and change for all media businesses.  How will publishing evolve as our culture is affected by technology, climate change, population density, and the ebb and flow of civilization and  economics?
I hope these Publishing Talks conversations will help us better understand the outlines of what is happening in publishing, books and reading culture, and how we can ourselves both understand and influence the future of books and reading.
There has been alot of talk around the publishing business this year about "book discovery" as it is clear that the decline of bricks and mortar bookstores has lessened the opportunity for readers to discover books they want to read through the kinds of browsing and personal recommending that have been the hallmarks of physical bookselling up to now.  Online bookselling and even social media have thus far been less than perfect mechanisms for either writers or readers, with lots of frustration expressed especially by publishers and writers about the whole process.  We're not sure we know what readers think about all this, but there is doubtless much to be inferred.
The relatively steep decline in overall sales of print books, and the increase in the concentration of sales to best sellers (witness 50 Shades of Gray, among others) suggest that readers are not finding it easy or practical to take advantage of the online availability of just about every book in print.  There are too many books and not enough connection tools for most of them.
Meanwhile, there are intelligent people out there seeking to solve these twin "problems" of too many choices for readers, and ineffective online marketing tools for authors and publishers.  One new project that is the result of some deep thinking about both issues is Bublish, which seeks to create opportunities for social discovery of books by readers.  One of the founders is Kathy Meis, whom I met briefly at this year's IDPF summit at Book Expo in New York City.
Here is what Kathy said about Bublish in an online interview she did recently with Madison Woods:
With Bublish, authors share book bubbles, and readers get to browse through them. A book bubble consists of an excerpt and an author's insight about that excerpt. We call this the story behind the story. Both of these elements are presented in a beautifully designed book bubble that also includes the author's photo and bio, the book's cover and synopsis as well as links to the author's website. It's about as close to the bookstore discovery experience as you can get online. And because we match writers and readers by genre and keywords, we can connect the right authors and books with the right readers without ruining the serendipity of browsing. In an age of immense content abundance, you need a few filters when you're looking for good books.
Bublish is designed to solve a number of problems for writers and readers. For authors, Bublish will let them repurpose their best writing, the content of their books, and enrich it with the story behind the story. This creates an entirely fresh piece of content for authors to share across multiple social networks. Authors have a lot of demands on their time. We think it's important to make it as easy and effective as possible for them to facilitate discovery of their work without feeling like salespeople. With Bublish, the social conversation starts with the voice of the author, just like it does in the bookstore. And since authors can create and share book bubbles in seconds, Bublish significantly lightens the author's promotional content load.
For readers, Bublish recreates online all the pleasure of the bookstore discovery experience. No ads, no algorithms, no distractions…just browsing. Of course, once a reader finds a book or author they love, they'll want to share it. Word-of-mouth continues to be the most popular way for readers to find new books. That's why book bubbles are highly shareable across multiple social networks. Finally, Bublish will create a wonderful community for writers and readers to engage around stories. Imagine getting an invitation to chat with one of your favorite authors or being able to follow the book bubbles of an author you've never even heard of before.
In my interview with Kathy we talked about Bublish and also about many of the perplexing issues surrounding writing and reading, as we enter a new stage in the ways that writers, publishers and readers will relate to each other, indeed a very exciting and challenging time for us all.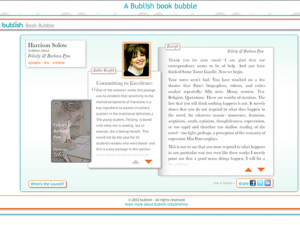 Kathy Meis has been a professional writer for more than twenty years. She founded Serendipite Studios to empower those who create and enhance quality content. You can follow her on Twitter @katmeis or @BublishMe.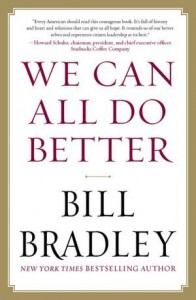 978-1593157296 – Vanguard Press – Hardcover – $24.99 (ebook versions available at lower prices)
Bill Bradley is one of my favorite contemporary politicians.  I felt badly for all of us when he left the national political scene and then went to work in investment banking.  Much like another politician I admire, Mario Cuomo, he is smart, well versed in a wide range of subjects, able to communicate complicated ideas without dumbing them down, and above all, he is passionately a humanist, who clearly likes people, and loves what America could and should be, as a leader on the world stage.
While I certainly do not agree with all of his ideas, what he has to say is well worth paying attention to, especially since he is so intelligent, and his arguments are so well reasoned, grounded in ideas and carefully constructed (how novel!)  Moreover, he represents what the current political discourse so desperately needs, namely leadership that does not trivialize, demonize or mock those with whom one disagrees.
Bradley believes deeply in the power of citizens to make change, and dispensing with so much of what goes for political discourse these days, in We Can All Do Better Bradley makes a strong case for why America cannot continue on its current deeply divided, politically gridlocked, and ineffectual political, social and foreign policy paths.
Bradley first reviews the current "state of the nation."  He makes clear that, contrary to right wing pronouncements,  government is not the cause of our problems. He rightly points out the damaging and dangerous role of money and politics, talks cogently about why and how our existing foreign policy, electoral, and economic paths will lead to a dismal future for America, and sets forth clearly and coherently what needs to be done to for us to  make changes for the better.
As the book title says, "we can all do better."  Rather than blaming and scapegoating (groups of other citizens, the other political party, or just government itself) or as so many do, simply ignoring what we don't like, and disengaging from the political process, Bradley continually and powerfully makes his case we can all—elected officials and private citizens alike—do a better job together.  Bradley is a great voice for uniting rather than dividing, for working together, and for allowing ourselves to see more clearly who we are – and can be – as citizens and participants in the modern world.
Bill Bradley, born and raised in Missouri, was a star basketball player at Princeton, a Rhodes scholar, and then had a Hall of Fame career in the NBA.  He was a three term senator from New Jersey, and ran for president in 2000.  We Can All Do Better is his sixth book.  He's been involved in investment banking and serves as a corporate director for a number of companies.  He hosts a radio show called American Voices on Sirius/XM satellite radio.
("For 40 years, I've traveled around America listening to the stories Americans tell about their lives. I was always moved, and so I wanted to create a show where you can hear some of them too." – Sen. Bill Bradley)
It was a great pleasure for me to have the opportunity to speak to Senator Bradley about We Can All Do Better for Writerscast.  You can learn more about the book at Sen Bradley's website.